By Blacksheep
I was at the game with Tony but (as he said in the last post) seated downstairs in the North Bank Lower tier. I didn't count the A4 cards but it wasn't many and Tony has a better view than me.
There were a few directly behind me but they moan most weeks anyway so I didn't bother to engage with them. The 'man-from-Row-nine' (who seems only to bother to come along when there is a protest) went off half cock, which seems a useful metaphor for the whole protest movement. At the end there were three larger banners in the Red Action section of the North Bank.
As a protest I found it a tad pathetic but probably reflective of the collective inertia of the team and the impotence of modern football supporters.
I want CHANGE; like many who go each week the main change I'd like to see is on the pitch. I'd like us to be playing attractive attacking football again and rolling teams over before half time.
I'd like to see us chasing down Leicester for the title and not fending off United for 4th place. I'd like another day out at Wembley instead of watching United sneak a lucky last minute winner against Palace.
But I have no influence over much of this. I can't change the manager or the board any more than I can guarantee sunshine for my BBQ next Saturday.
And as Arsenal supporters (or fans, or customers, whatever) we can't do much any more either. All we can do is cheer on the team and support them and each other.
Stan Kroenke may be the problem; Ivan Gazidis may be the problem; Arsene Wenger may be the problem; even Theo may be the problem – but nothing a handful (or even 1000) A4 cards can do will change any of that.
So the protest was pathetic because it was misplaced. I respect the view that a change of manager might help, I appreciate that nothing lasts forever. But I also believe that most Arsenal supporters want a sensible transition to a new manager and I think Arsene Wenger is the best person to make that happen.
Given all of that I thought the most stupid part of the protest was the 78th minute show of cards: this was much less well observed than the one after 12 minutes perhaps because at that stage we were 1-0 up and hanging on. Norwich won a corner and people were torn between their desire to express their opinion or to follow their instinct and support the team in a moment of tension.
I hate to think what would have happened if the Canaries had scored. All out civil war I imagine.
Before the game I asked one of the stewards I also say hello to if he was expecting trouble. 'I don't mind the trouble' he said, "I just don't want the paperwork'. Luckily there wasn't any need for him to get his pencil out.
I would say this: I admire Arsene Wenger and appreciate everything he has done for Arsenal FC. I've enjoyed his stewardship and love his football philosophy. For all of that (and the trophies he has brought) he deserves respect. He gets well paid but that's a red herring: anyone in his position gets well paid, its all relative.
He won't be Arsenal manager in 10 years and by then we might have had 2 or even 3 more managers – I hope not. I hope when he does move on (upstairs I'd prefer*) we find someone else who cares as deeply about The Arsenal as this rather stiff and reserved Frenchman does.
We'll be so lucky (Arsenal)
* maybe he could sit with Tony and write the occasional blog.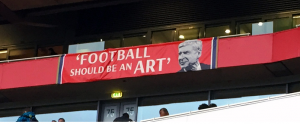 The Untold Banner at the Emirates, looking down on proceedings yesterday
Untold Arsenal has published five books on Arsenal – all are available as paperback and three are now available on Kindle.  The latest is
The Arsenal Yankee by Danny Karbassiyoon with a foreword by Arsene Wenger.
You can find details of all five on our new Arsenal Books page