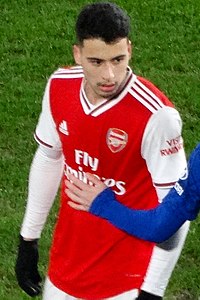 By Bulldog Drummond
In the lead up to today's game Mr Arteta suggested Bukayo Saka was being assessed after he was substituted at half time in the victory over the tiny totts, because of an injury.  But he hopes he is ok by today. 
I would suspect that means he might give this game a miss and instead be ready to torment WHAM on Sunday.
As for Gabriel Martinelli, he went all the way to Greece, sat on the beach, and then came back.  The manager has said however, "he has done everything perfect" to earn a place in the team and that, "he trains incredibly well every day," and that "His attitude cannot be any better. He is disappointed he is not playing more [and] obviously and I have spoken to him, but he needs to be a little bit patient.   The competition for the front positions is very tough but he needs to be patient and he will get his chance."
OK lots of competition – but if we are going to keep him, he needs to get some game time and this looks like a perfect opportunity.
Aubameyang on the other hand will have to "earn his place".  
Continuing the manager's review of the team he said of Martin Odegaard, he is "getting better and better.  I think his understanding of what we want is excellent.  His work-rate has been phenomenal and then he's doing something that, in my opinion, could improve a lot, which is getting in the opponents' box and maybe being more decisive in the scoreline.  If he adds that to his game, he becomes a real complete player."
As for the stats etc, we normally expect to go through having won the away leg, but we didn't last time around when Oly beat us 2-1 at the Ems.   And that raises the point that we have lost our last two home games against them (2016 and last season).  But on the other hand we have never lost three consecutive home matches against a European team – not even Bayern.  
And besides Oly don't normally do well against English teams, in fact (and I really don't like this stat) the only English club they have beaten away is Arsenal – and they have done that twice.
Now if Auba actually does play and scores he will be the first player since Robin van Persie to score in four consecutive games he plays in, in Europe, outside of the qualifiers. 
As for Oly, the main thing to remember is that they have the man asking all the questions.  [I refuse to allow any more Sokratis jokes.  That is the last one – Tony].
Sports Mole suggest it will end 2-1 to Arsenal with our team being
Leno;
Bellerin, Luiz, Mari, Tierney;
Xhaka, Ceballos;
Pepe, Odegaard, Smith Rowe;
Aubameyang
The Hard Tackle go for 2-0 and have in their team exactly the same line up as Sports Mole.
Goal don't want to seem to give us a team today so instead we move on to the Standard which tell us the score will be 2-1 and the Arsenal XI will be
Leno;
Bellerin, Luiz, Gabriel, Tierney;
Elneny, Xhaka;
Pepe, Odegaard, Smith Rowe;
Aubameyang.
So just two variants there, with Gabriel and Elneny entering the fray.
The Short Fuse also think 2-0 is a safe bet and their team is
Leno;
Bellerin, Holding, Mari, Tierney;
Ceballos, Xhaka;
Pepe, Smith Rowe, Willian
Aubameyang.
PainintheArsenal also settle for the comfortable 2-0 and for the team suggest
Leno;
Bellerin, Luiz, Mari, Cedric;
Partey, Xhaka, Smith Rowe;
Willian, Aubameyang, Pepe
Putting that all together we get these players by general consensus, although the positioning projections do differ slightly.
Leno;
Bellerin, Luiz, Mari, Tierney;
Ceballos, Xhaka;
Pepe, Smith Rowe, Willian
Aubameyang.
We however don't like this pussy footing around, so we're going 4-1.
But either way, a nice fine win here will set us up for knocking the wham out of WHAM and then a bit of a rest.  What on earth shall we find to talk about?
The Arsenal video collection: free
100 historic Arsenal videos with more being added each day
Arsenal's history