The Untold Banner: the history of the project and the Roll of Honour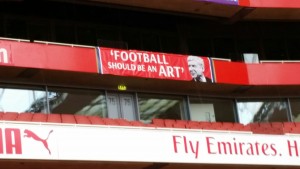 The Untold Banner was erected at the Emirates Stadium following the development of the idea by Untold Arsenal editor and contributor, "Blacksheep" with whom I travelled at the time from the East Midlands, to Arsenal games.
The banner was designed for us by Jennie Bradley, and we were greatly assisted by Mark Brindell at Arsenal in seeing this project through.
The background is below, but here is the video of the banner being acknowledged by BBC TV
Background
In 2015, when Blacksheep first came up with the idea for an Untold Arsenal banner at the Emirates I must admit to feeling the success of the project was unlikely.  But Blacksheep took the idea forwards, liaised with the club and with RedAction, found a designer in Jennie Bradley, plus a manufacturer, and made it all happen.
Once the idea was up and running it was easy to think of having a vote of Untold readers to invite everyone to have a say in which banner slogan we might use.
In fact we knew that one of the slogans (Welcome to Stadium Wenger) would be unlikely to be welcomed by the club, what with the Emirates Airline paying a fortune to name the stadium after them, and so it turned out.  But our second choice was accepted, and so the banner was made.
During the course of our voting and discussions on Untold, Blacksheep and I found to our surprise and amazement that a number of readers and commentators on Untold were anxious to make a financial contribution to the banner – and in fact we had to start telling readers not to give us money.  My fear was that since book keeping was never my strong point, I would lose track and never be able to thank everyone.
So we agreed on a process, and later, once the project had Arsenal's approval, over a period of a couple of weeks we collected donations via PayPal and bank transfers.
Below is a list of those who gave money to Untold during that period.  If I have made a mistake anywhere on the list please do write to me at Tony.Attwood@aisa.org and I will correct my error.
I am hopeful that at home games this season we will take a number of additional photographs of the banner, and I would say, if you are at the ground and get a picture of the banner from a different angle, please do send it to me attached to an email, and I will try and add it to this page.
There is no limit on the amount of time the banner stays up – others that have been put up have just stayed there year on year – but we have no guidance on this.  It should be there for at least a year.
Above all I would personally like to thank Blacksheep for his determination to see this terrific idea through.  It just shows what can be done if you feel it is worthwhile.
The Roll of Honour
Supporters of Untold who kindly contributed to the Untold Banner in July 2015.
Gideon Adedokun
Olanrewaju Adenekan
AL
Arsenal 13
AudioCap
Florian Barca
bjtgooner
Blacksheep
Bootoomee
Marcel Bogaerts
Jenny Bradley
Walter Broeckx
Oliver and George Brookes
Andrew Crawshaw
Brickfield Gunners
Ian Denton
Mandy Dodd
Mitchell Falkenstern
Darryl Frost
Drew Gray
Satu Maarit Hintsanen
Sam Hurst
Jambug
Jon Kissi
Ben Lam
Declan Lynch
Rob Lackey
Bob Mac
Menace
Chris Mines
Colin Munce
Damilare Oyewole
Pararealist
Daniel Prasnikar
Michael Philip Shelley
Jetinder Sidhu
Daniel Skaardal
Enhao Smit
Gavin Smith
Charlie Spencer
Curtis Spencer
Richard Stocks
Plus those who asked to remain anonymous
Many thanks to everyone.
Tony Attwood, Publisher, Untold Arsenal.
TonyAttwoodofLondon@gmail.com