By Tony Attwood
According to an article in the Independent there is growing pressure on the Department of Culture, Media and Sport for the government to do something that football itself seems incapable of doing: which is sorting out the situation concerning the issue of state ownership of clubs, no matter how such ownership is disguised.  Obviously, in this regard, two clubs in the Premier League are considered to be a threat to the normal financial balance: Manchester City and Newcastle United.
Interestingly, this concern is being expressed while the Premier League still doesn't have an independent regulator –  an issue we have constantly highlighting, not least following the sex crimes scandals of clubs seeming to be able to avoid responsibility for the way young players are treated, simply by claiming that their medical records are "missing".  (I would add for clarity I have no inside information or evidence on this latter case but banners like the one shown here, do highlight that the sheer oddity of there not being a regulation about clubs having to store duplicate medical records in separate locations – which we have mentioned – has come to the attention of others).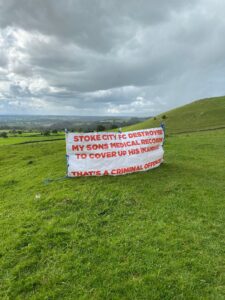 Thus the Independent Regulator question clearly does cover a range of issues from the scandal of medical records to competitive balance which of course is reduced every single time a club is taken over by a state or oligarch or prince or similar entity.
The central point here is that as the Independent says, "since state-owned clubs would easily pass all the solvency tests due to the fact their ownerships have virtually unlimited money and no financial risk, it would further skew the market. They would have complete freedom, while rival clubs had to be more conscious of the parameters when it comes to spending. A fear is that rivals just won't be able to keep up."
That of course is pretty obvious, and leads on to the Financial Fair Play rules which are at the heart of the 110 charges of unfair financial play levied at Manchester City.  Of course, we don't know the details at this stage of what the charges are, but it appears from general chit-chat that some of the money that Mancheseter City has received into its coffers comes not from independent sources of sponsorship but from organisations controlled by the owners.
In short, the allegation is that the owners are giving money to another company they own (say a tractor-making company) which then becomes (for the sake of argument) the official tractor sponsor of Manchester City, and gives the club lots of money for the privilege.   But I stress again, we have no evidence on this matter and of course make no allegation merely reporting what is being said elsewhere.
However there was an example of this sort of thing when Paris St-Germain failed to convince Uefa that the £167m a year contract it had with the Qatar Tourism Authority was, in fact, money from an independent source, and not from an organisation controlled by the club's owners.   
Unfortunately those of us interested in this sort of thing, the club was then offered a secret settlement deal by the investigation panel – which in terms of convincing us ordinary mortals that things were all above board and proper, wasn't very helpful.
The problems with Manchester City and Newcastle are the same as those with PSG – the clubs seem very likely to be in part at least, under the influence of the owners of a sovereign wealth fund, which has intermediaries such as the Qatar Tourism Authority (QTA) handling the passing of money onward.
This situation seemingly became pretty blatant (at least as far as I can see through reading the newspapers) when in October 2021, the Public Investment Fund of Saudi Arabia set up a consortium which appeared to be directly under the control of the sovereign wealth fund of Saudi Arabia, and which then bought Newcastle United. 
And indeed in this case there doesn't seem to be much argument about that, for as Wikipedia says "In October 2021, a consortium led by the Public Investment Fund, the sovereign wealth fund of Saudi Arabia, became the owners of Newcastle United."   If that was wrong someone would have changed it by now.
We know that in September last year Paris Saint-Germain were ordered to pay a €10 million fine for breaking Uefa financial rules, while seven other clubs were also punished for overspending but it doesn't seem to have made much difference to what PSG is able to do.
There were other cases at that time with smaller fines for AS Roma, Inter Milan, Juventus, AC Milan, Besiktas, Marseille and AS Monaco.  After those cases Uefa announced that FFP would be modified.
Barcelona, Borussia Dortmund, Chelsea, Sevilla and West Ham were also deemed to have broken the rules but were let off on technicalities or simply warned about their future conduct.   Porto were told they would get a one season ban from the Champions League if they didn't meet the next target.
So here we are, waiting to see what happens next except it is clear that for 18 members of the Premier League waiting and seeing was not enough.  We still have no independent regulator, and even when we get one we have no idea if the regulator will have a wide-ranging brief and serious powers (such as points deductions, demotion and expulsion) or merely an advisory capacity.    That the whole thing is taking so long is itself worrying, given that Uefa clearly knew it had a problem years ago.