By Tony Attwood
We've said it a few times.  We've compared Giroud to Henry (much to the annoyance of some) and compared his goalscoring achievements with those of Messi and Ronaldi on a minute by minute basis.   We've looked at the number of goals scored this season, and noted the funny little commentaries by people who call themselves Arsenal fans and say he is not good enough.
As the basic numbers show, he is the most prolific minute-per-goal player in the Premier League this season.
And to the people who don't like him he jus says,"Je ne pète pas plus haut que mon cul" or "I don't fart above my bum."  A quaint and interesting French expression, I am sure you will agree.
Mr Wenger has a habit of finding goalscorers in unexpected corners.  Henry himself was one such and as we know he took a couple of years to get fully in gear at Highbury.  Eduardo was shaping up to be one, but he was chopped to bits.  Giroud built up his goalscoring at the same speed as Henry but was then hindered by the leg break.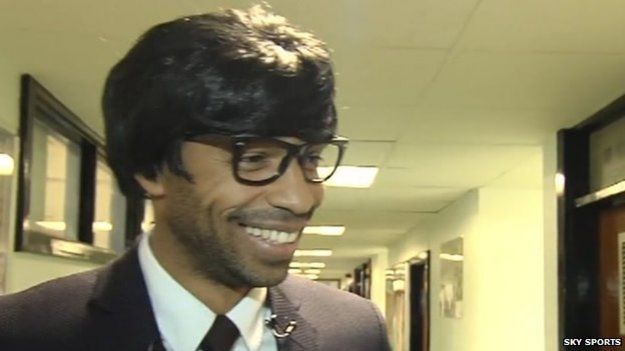 Henry (above – honest) got a goal ever 123 minutes in his third season at Arsenal.  (That's why Thierry is disguised as a teacher – pic from Sky Sports.)
But Giroud is running on a goal every 97 minutes, the best record of any player in the top flight.  I don't like to say "I told you so," but basically "I told you so".
In the last five league games he has gone even better with six goals   in his last five league games.  One goal every 75 minutes.
And in the midst of all this he had a poor game – at home against Monaco. But one bad game didn't affect him – he bounced straight back.  It's the old mental strength thing that managers love to see.
And although no one actually says, "Top four is a trophy" the value of a Top Four finish was once again emphasised this week as Uefa confirmed the expected big growth in prize money and solidarity payments as a result of broadcasting and sponsorship deals going up by around 35%.
All European clubs will share in the Uefa pot of €2.24bn while those in the Champions League (the Top 4 place that is not a Trophy) will get a share in another €1.2bn each season – an increase next season of around €300m to be shared between 32 teams.
In other news Chuba Akpom looks likely to be going on loan – after having sat on the beach this season and made a few trips onto the pitch.  Seven clubs are after him and the Championship looks to be the level.
He's 19 and signed a 4.5 year contract in February this year, and the progress he is making is astounding – he's already played and survived five games with the England under 20s.   Previous loans were to Coventry and Brentford, and with Coventry playing their home games in Northampton last season that gave Blacksheep and I a chance to see him in action.  Impressive it was too.
Indeed it was undoubtedly the progress of Chuba that led to the high scoring Benik Afobe (currently the top scoring league player) to be sold to Wolverhampton.