By Jacko Jones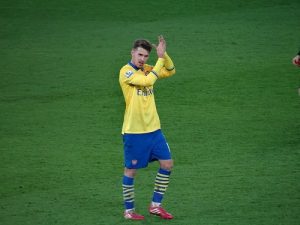 "Aaron Ramsey Thanks the Cardiff Fans" (CC BY-SA 2.0) by  joncandy 
At times, Aaron Ramsey doesn't receive the credit that he deserves. The former Cardiff City man lives in the shadow of team-mate and Germany international Mesut Ozil at club level and Gareth Bale is widely regarded as Wales' shining knight. Ultimately, Ramsey is often undervalued; and we are perhaps guilty of taking him for granted at times.
Because when it comes down to it, Ramsey is actually a very good footballer. Rambo isn't necessarily one of the best midfielders in the Premier League but his performances for Wales have given us Arsenal fans hope for the future. Just imagine if we can keep Francis Coquelin, Alex Oxlade-Chamberlain, Ramsey and Ozil fit this season? We will win the league by 10 points…and that's before we even begin to consider any new signings like Granit Xhaka.
That's probably a slight exaggeration but the premise remains: we will have one of the best midfields in the country when fully fit. A big ask but certainly possible. Just look at Leicester City's miraculous title-winning campaign. The likes of Riyad Mahrez, Jamie Vardy and N'Golo Kante more or less played every single minute of football. And we could be equally as fortuitous this season – we certainly deserve a bit of luck on the injury front after the last 12 months…
.

Ramsey could hold the key to our title aspirations. Unfortunately, he won't be deployed in his best position though; mainly because we already have Ozil to play off the front. Some will argue that there are more important players in this Arsenal squad but the Welshman is influential on both sides of the ball and he is crucial to our chances of victory – whether that's looking at the bigger picture in terms of the title race or a one-off encounter. He is absolutely vital to our dreams of winning the crown.
And right now, Arsenal are currently priced at 6/1 to win the title in Bet365's football betting markets. If Ramsey can emulate his Euro 2016 form for us next season, we will stand a great chance of running away with the Premier League crown. An in-form Ramsey will only help to attract attention away from Ozil, Alexis Sanchez and Olivier Giroud – and the Welshman's creativity and clever football brain will give Arsenal an edge in most matches.
Mesut Ozil is a phenomenal talent and we are very grateful for his vision, his hunger and most importantly, his assists. But Aaron Ramsey is maturing into a completely different beast. His desire and drive to be the very best, his commitment and dedication to the cause and his natural ability all suggest that he could blossom into our leading man next season.
.

And after he was slated throughout his early Arsenal career, it would be a fantastic story if he was able to turn his fortunes around. Through hard work and perseverance, Ramsey has managed to develop into an elite midfielder. And at 25-years-old, the sky is the limit – he could become a TOP talent in the not-so-distant future…