By Walter Broeckx
When our oldest reader and probably oldest Arsenal supporter in the Arsenal internet world kindly asks me a question I cannot but give him what he asks.
To say I had a tough 24 hours is a bit of an understatement. Being the president of an official supportersclub in a country is an honour but on match days it is not really a blessing. With the fact that I was the only board member on this trip I knew it would be down to me to solve any problem that we would face. That does bring a bit of stress when almost half of the members we had on board of the cars made their first ever Arsenal trip. And with me being the driver it put some extra pressure on me to make sure that I brought all my passengers back in one piece.
So a little bit of stress when I went to bed on Saturday evening around 10 pm. My alarm clock was set at 03.00 am. Now I must say I only sleep 6 hours on most nights so not that bad. 5 hours of sleep. On paper. Because the excitement, the stress, the scenarios of all what could go wrong (and there were a few things that could go wrong) not leaving my head… I think I have slept only  2 hours in total.
But the good thing was that I was completely awake when the alarm clock told me it was time to get out of bed. I had just fallen asleep… A quick shower, a first morning sandwich at home and one for on the road in Calais. Both had cheese in between. Gouda cheese, the old variety. A good deep cheese taste, a bit salty, the way I like my cheese between my sandwiches.
Picking up 4 other members on my why to Ghent where we came together and apart from one member we were all well on time. After waiting some 10 minutes our last member showed up. Only 10 minutes late but when he is around you feel the sun shining so who can blame him.  The trip from Ghent to Calais was done fast and we were so early that we even could take an earlier train. Not much activity on a Sunday morning in Calais.
So when we drove off at Folkestone we had an almost empty highway to London in front of us. Again the trip went as smooth as can be. Waiting time before the Blackwall tunnel? We had to make sure we didn't get a speeding ticket was more what could have happened. The only thing that broke us up a bit was me driving second and having to stop for a red light so we came with a slight interval at Hornsey road where we could park thanks to the Arsenal serviced for supporters clubs. Close to the stadium. It has a benefit being from a supporters club.
We had to wait almost 2 hours before the parking stewards showed up to say we could leave our car where it was parked. Going in the shop was the next step. But as I can celebrate my birthday next week and I had given some strong hints about what I would like to get I didn't buy anything as I am hoping my wife and children are taking notice when I tell them what I would like to have.
Catering I hear you shout, Nicky. Okay up to the Swimmer we went to meet our Untold regulars Blacksheep and Andrew. Blacksheep made sure we got to learn a few new faces an family members who attended this match. I couldn't imagine living with someone who supported the tiny totts but Blacksheep cousin had to do this. Love knows nu football clubs I assume. I rather have a non-supporting partner than someone who would support the tiny totts but I feel a lucky man.
As the owners of the Swimmer were so kind to open their kitchen earlier this Sunday to accommodate the Arsenal supporters who come to eat and drink before the match we could order from 12.30.  Ever since Andrew has introduced me to Pie eating a few seasons ago I prefer pie when I come to England. Why eat a burger in London when I can eat them everywhere in Belgium and we have a small food chain De Burgerij with excellent burgers close to home. (Tip for when you visit the Antwerp area – also vegetarian burgers!).
So I went for the home made pie with mashed potatoes. When I got my plaet it looked like this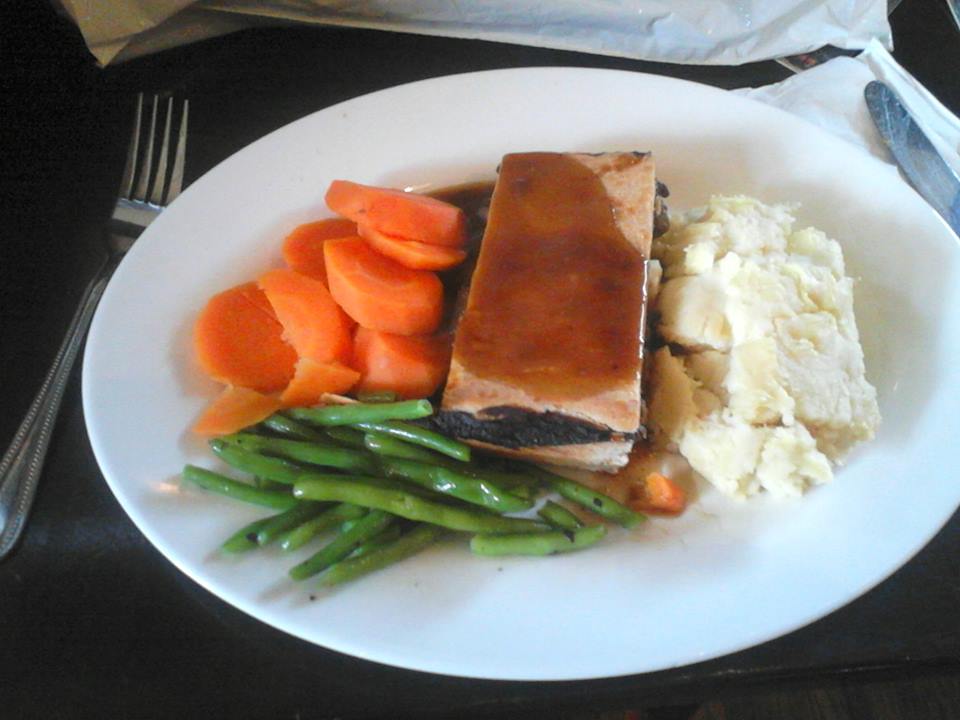 I must say the camerawork isn't great as in real live it looked a large portion. I sure had enough after having finished my meal.
The meat was lovely cooked, the mashed potatoes where well mashed and the food was all well spiced. Not too much, not too little, just as I like it at home. The price of 12.50 is not that low I think but when you are satisfied after dinner it is was worth its price.
Making sure I got all the tickets and cards and handing them to our members so they could all go in. As I was sitting in a different part of the stadium I waited for the moment I heard all our members were inside before I would enter myself. This in case some member would find trouble to get in so that I could still help them out.  Once that message arrived I felt the main job was done. Bring all our members to the match safe and get them in the ground.
After enjoying a good match of football almost ruined by some strange referee decisions we went back to the cars to drive home. It seemed that the whole world was driving on our roads. It took us 1.5 hour to get from Folkestone to the Emirates in the morning. After the match it took us 1.5 hour to drive some 5 or 6 miles. And when we arrived at the Blackwall tunnel we had a car that had stopped and a massive traffic jam was the result. But we managed to get past the car and once we were south of the Thames we had no more problems and could drive to Folkestone. Again we could take one train earlier and made it back to Ghent around 11.30. I had to drop off a few people on my way home so when I arrived at home we were already Monday morning in my part of the world. I was in bed around 2.00 am. And after not having slept apart from 2 hours in the 36 hours before…. I fell asleep in an instant.
Had sweet dreams of Arsenal and travelling to Arsenal but still feel  exhausted about missing some sleep now. But that is what we have to do in order to see our Arsenal play in the flesh. A price I want to pay each weekend if possible. Next trip is planned for January. Looking forward already.