One question that pops up with Chelsea matches is whether Arsenal did the right thing in buying in Cech.
.
Of course these things are always hard to measure, but Oulala.com have come up with a graphic that shows a comparison between Cech and Courtois, and it seems that (as you probably guessed) we got a fairly good deal out of the transfer.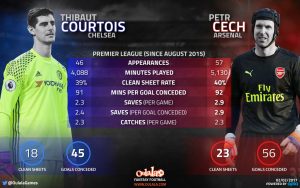 Cech seems to be the winner in each area of the game.  Not by much, but he does come out better.
In terms of the news it is hard to get the exact details of what is going on, but there are stories around that David Luiz is struggling with a knee injury picked up earlier in the season but Antonio Conte cannot risk taking him out of the team.   Presumably everyone knows this, but of course the gentlemen that these players are, the opposition are not targeting the Chelsea man.
The other change that might be made by them involves Pedro who started the game against Liverpool on their version of the beach, but could start this game instead of Willian.
Obviously for us Aaron Ramsey won't be playing and with Granit Xhaka still suspended, Santi Cazorla a long way from recovery, Elneny still with Egypt, but reportedly injured then it has to be Alex Oxlade-Chamberlain and Coquelin in the defensive midfield.
Danny Welbeck will return to the squad I am sure, and might even start, with the option of taking him off on the hour.  I expected to see more of Theo in the game against Watford and he too is quite likely to start.
Giroud didn't look the part for the first half of the Watford game – although by and large nor did most of our players but still I would expect him to drop to the beach, but we still have too many attackers, and despite being one of the better players against Watford I might fancy him to drop out of the starting XI.
But it is impossible to say exactly what will happen from this distance, and if you are putting any money on anything, I would start by betting that my starting XI below is wrong but probably the simplest thing to say is  that the starting lineup for the forwards and attacking midfield will include four out of Welbeck, Theo, Ozil, Alexis, Giroud, Iwobi.
So onto the match facts.
Chelsea have won their last eight home games, and we all know runs have to come to an end some time.
Arsenal used to have a record about not being behind at various stages of the match, but that was blown.  So now everyone is quoting the fact that Chelsea have been winning at both half time and full time in 6 of their last 8 home matches.   And it is time for that to be blown away as well.
In the last seven matches Chelsea have played at Stamford Bridge against Arsenal they have scored at least two goals.
Chelsea have not conceded in six of their last eight home games.
Chelsea have not conceded in five of their last seven matches against Arsenal.
Chelsea have won six of their last seven home games against Arsenal.
Which explains why all pundits have got Chelsea to win 2-0.  Just as the role of the miserable fan is to predict that the last disaster will continue forever, so the role of the pundit is to say that whatever happened last time will happen again next time.   It clearly doesn't always happen, because if it did, then nothing would ever change.
Of course we all know luck when we see it, and apart for the luck of no injuries, Chelsea this week had the luck of extending their lead at the top of the league while only drawing.
Thus it is time for the runs to end, and time for luck to change.  Here's the team to do it.
Cech
Bellerin Mustafi Koscielny Monreal
Coquelin  The Ox
Walcott Ozil Alexis
Welbeck
On the beach
Ospina, Gabriel, Gibbs, Iwobi, Giroud, Lucas, Maitland-Niles.
my nerves!
---
Now available: Woolwich Arsenal: the club that changed football (Kindle Edition).  Visit Amazon to obtain a copy of this unique volume.
For full details please see here.