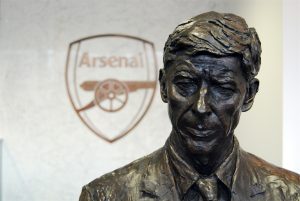 In today's world, and never more so than in today's footballing world it is hard to see beyond the immediate situation, the here and now. If things aren't going our way we demand change. If we don't like something, we get something else, something newer and shinier until we get bored of that and search for something different once again.
The ability to do this is still fairly new to us. We have grown up in a world where firstly change happened slowly, over years, even decades. Secondly, it was also a world where the voice of the common man was lost under the overwhelming noise of the media. Suddenly everyone has the ability to make themselves heard via the medium of sites like this, Twitter and a whole host of other social media platforms. As a people we are loathed not to exercise our sudden right to do it, just in case there comes a time when we will no longer be able.
It is good however to step back, take a break from the million-miles-an-hour and million-pound life that surrounds us all, take a breath, and reflect. That is never truer than with the Arsène Wenger situation.
The frustration and clamour for change has been steadily growing – though maybe not to the extent some will have you believe – with the lack of (or perceived lack of) success over recent seasons. People want something different, a change. They point to other clubs, clubs that are currently doing all the things and ticking all the boxes that they think Arsenal should.
Of course, there are two things wrong with this argument. Firstly, the clubs they point to tend to change on a season by season, or even month by month basis, as temporary and short-lived success is achieved and lost. The second reason is far more important, in my mind at least. We should not act like other clubs, because we are not like other clubs, and nor do we want to be. That is what makes us Arsenal.
In the two decades that have passed since Arsène took over, a hell of a lot has changed – at the club and in English football, and he can take almost as much credit for the latter as he can for the former. The way players train, what they eat, what they drink (or don't drink), the players they buy, the managers who coach those players – and how they play, has all changed radically in those 20 years, to such an extent that for all intents and purposes it is a different sport.
Each and every one of those changes were brought in by the Frenchman. Yes there was resistance at first, among his own team especially. But when they bought into these new-fangled concepts: the training schedules that concentrated on skill, not merely stamina, diets that would not only improve a player's fitness but lengthen their career, and the fact that maybe there were players beyond our shores that could do a job in our hallowed league – once they had bought into these and adopted them, the results were remarkable and may well never be repeated. Such was their success, that everyone eventually followed suit, jumped on the Arsène, and indeed the Arsenal bandwagon and the gap inevitably closed.
Yes it would be fantastic to still be in the Champions League, but only Leicester – currently 33/1 outsiders to win the famous trophy – are representing the Premier League. Success is something that is measured over a longer term than just a game, a season or even a few seasons.
Don't get me wrong, change can be good. No one has shown that more than Arsène Wenger, but change for change's sake is not good. Surely it is better to change to be different from everyone else, than simply to change to become like them?
Picture Credit: Wikimedia Commons