By Walter Broeckx
Being a football supporter of a club  is not an easy task.  Being a supporter of two clubs is even more difficult. I have supported Arsenal since 1979 the day I visited Highbury with a few friends from my school. We lost 0-1 to Wolverhampton of all teams. Luckily I was not a supporter who fell for the winning team on the day. We won the FA cup later that season but then I had to wait 10 years to know the feeling of Arsenal winning anything of importance. St. Totteringhamsday wasn't invented at the time.
But apart from Arsenal I also support my local club of course, although with my referee career I can only go on a few rare occasions.  And last Sunday my local team, Berchem Sport, found themselves in a position of being able to win the league title in their division.
We has started the season not knowing what to expect for following a complete reorganisation of Belgian football the whole system was changed. The big clubs wanted more money for themselves and wanted to form a small professional pool. The rest of the teams was pushed down. My team local being one of them.
With 5 matches to play we were 4 points behind the league leaders after having been top of the league for a short period. The title looked lost. We had a draw and so did the leaders.
The next match we both won. And then the leaders lost. And we won…with a penalty in the last minute! We found ourselves 1 point behind the leaders. But hope was still small as they were only facing easy matches after that.
On gameday 28 (our number) the leaders played against the team sitting bottom of the league. To our amazement the leaders lost 0-1. A win would take us to top of the league…. I had no match that day so I could go and support my local team. We won. 8-1 (eight – one). Berchem Sport was top of the league. With two matches to go.  Two points in front but if we were to draw one match and the other team would win….they would win the title as they had more matches won.
Our next match was to a team not far away.  Once more I had no match so I could go again…. The other team won their match and we… we won again. 1-5 away from home. We sure were on a run….
Last Sunday. The final match of the season. If we could win our match we would be champions and go to the highest amateur level in Belgium. That is the third tear in football in Belgium as the professional teams only play in the 1st and 2nd level.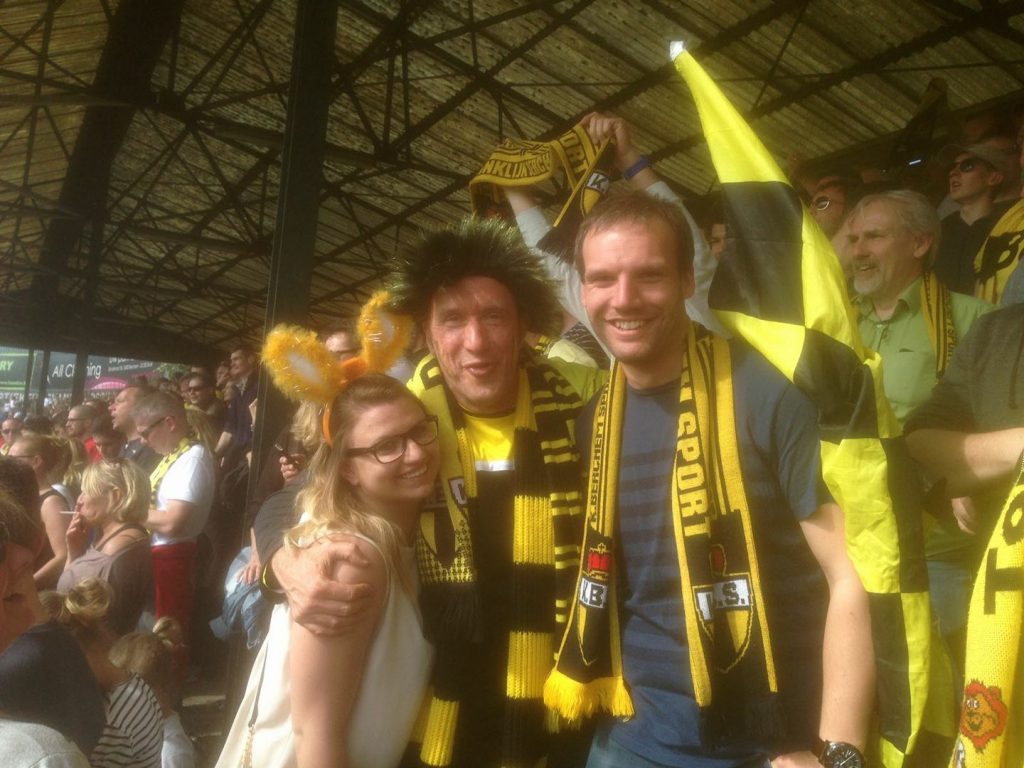 Some happy supporters and  a then 100% happy Gooner singing for his local club
A derby match against a team that had been promised a big extra cash bonus if they could manage to take points from us. As in that case the other team would win the league.
We took the lead after some 10 minutes. But then stress took over and we retreated (unusual this season) and we conceded a (soft) penalty. 1-1. But then our top scorer stepped up. A first goal close to the end of the first half and we were 2-1 in front.
45 minutes away from the title…. Still our opponents fought for their money and didn't give up. But our top scorer again did what he does so well and scored the 3-1 with a diving header. Half an hour to go… this couldn't go wrong. And it didn't. Again our top scorer made a very well timed run and slid the ball past the keeper to make it 4-1. A big celebration followed at the final whistle and the more than 5,000 supporters ( a record for the season) went in to a long, long night as we had a bank holiday in our country.
I left the party early. I had to go and see the NLD. Oh dear. Speaking about going from heaven to hell…..  My local heroes didn't let me down. My far away heroes did let me down.
But this is football. You win some and winning the title is big of course. And you lose some. And when you support two teams you can be a winner and a loser at the same time.
For my local club and I have supported them for some 50 years and this was one of the biggest days in their history. We are what is known as a "lift team" going up and down in the divisions so we know all about the bitter disappointment of being relegated. We have gone bankrupt almost twice in the last 25 years but survived….just…. and kept going.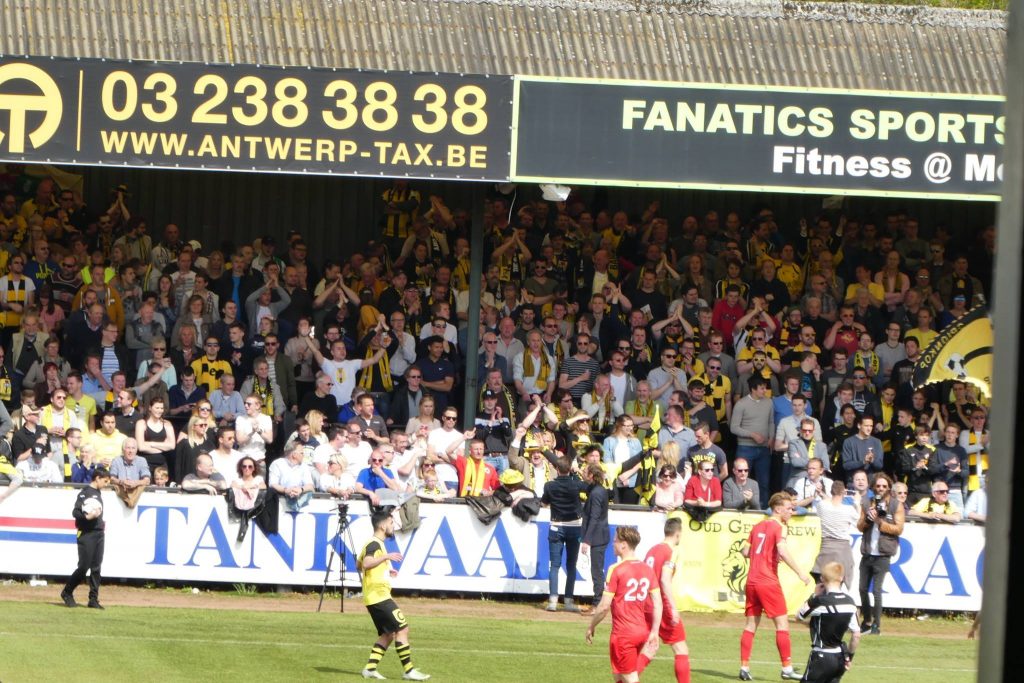 Yes it is a different level from that which Arsenal plays in but the passion amongst the supporters is as big as can be. Only not in millions of supporters but in terms of thousands of supporters.
Finishing below Tottenham for the first time in more than 20 years tastes a bit bitter of course. But believe me I have swallowed bitter medicine in my life as a football supporter. Not knowing your team will be there the next morning is something completely different.
So I manage to have a certain sense of perspective. Yes of course this is a bit of a disappointing season for Arsenal. But that is what football is about. Celebrating the highs and accepting the lows.
It is never good to act like a spoiled kid and want everything all the time and always want it now. I have learned to be patient. And to take it as it comes when things don't go our way. As I know and hope that the bad days (and believe me calling this a bad time looks ridiculous when you compare it with what others have to endure) will go away and good times will come back. And maybe sooner than you would expect.
There is always hope. Look at Leicester and Chelsea in the seasons before they won (and probably will win in the latter's case) the league.  As an optimist I don't see why we wouldn't be able to produce something like that next season.  Just see what comes and enjoy the wins, give the draws a place and swallow the defeats. Nobody knows the future but when you give up hope, you better give up completely and keep away from being a supporter. I have been called naïve for such an attitude. But as my local club proved once again…the sun will rise again each day again.   And like us supporters from our local club sing every match:
They said our days are numbered, we're not famous anymore
But Barrechoem rules the city like they always done before
Ooooohhh super Barrechoem one and only 28….
PS: Barrechoem is the way Berchem is pronounced in our parts of the world. And 28 is our number at the Belgian FA and the lower the number the older a club is. So we are old…. From 1906.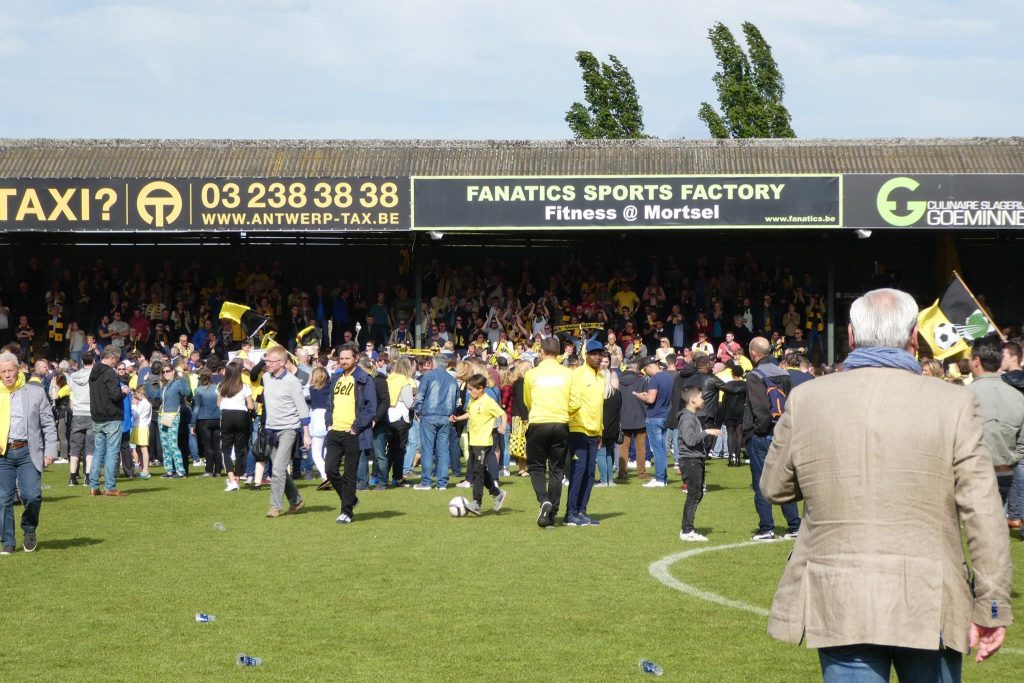 Wild celebrations on and off the field at the final whistle