by Tony Attwood
There is no doubt that the Conservative Party in the UK has taken us into a new world of homophobia, denial, anti-women's rights and links to past terrorism in its coalition plans with the Democratic Unionist Party.
This has left the transfer rumour inventors in a quandary, wondering how on earth they can reclaim the immoral high ground of simply making stuff up.  After all, if the Conservative Party could say in their manifesto that they would take access to the internet under government control, and then go and link up with the DUP, then what could the funster bloggettas do to beat that?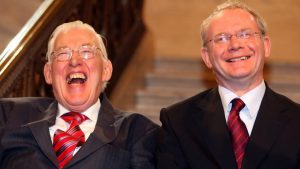 Of course thinking of N. Ireland I don't forget that the DUP leader the Rev Ian Paisley did reach an accord with Sinn Fein to bring an end to much of the violence in Northern Ireland, but the party that remains since Rev Paisley's death is one that stands for homophobia and the denial of women's rights without having done anything that matches to momentousness of what Rev Paisley and Gerry Adams did.
So the inventors of transfer rumours have a lot of hard work ahead to try and find a way to regain the headlines.  Here are their latest efforts.
Leaving Arsenal
Krystian Bielik – there is a battle between Norwich and Nottingham Forest to get him on loan apparently.   The Nottingham Post is worried that because of the slowness of Forest's management, Norwich might be winning the day.  I've heard that general sentiment before.
Meanwhile anger is being expressed at the thought that Wojciech Szczesny might not be coming back to Arsenal after all.   Pain in the Arsenal appears particularly pained.
Talk Sprout has joined the gang claiming that "Alexis Sanchez has agreed a deal to join Manchester City from Arsenal" although it rather spoils it by sticking the word "reports" after the headline.
Bleacher Report is also running the story and claiming that City will pay Arsenal the £50 million for Sanchez and the Mirror Arsenal star Alexis Sanchez 'finalises deal' to join Manchester City in a "blockbuster signing."
On the youth front Untold's own reporter tells head office that Chris Willock has not signed a new contract and his old one is about to run out.
Spanish newspapers have meanwhile cooked up cunning plan for cut-price Bellerin move to Barcelona says the Daily Cannon.  These plans seem to involve offering a lower price than Arsenal want, or getting Bellerin to ask nicely.  Amazing what these journalists can thing up.
Stepping up
The list of youngsters who might make it into the first team squad seems to have settled, by common accord they are Reiss Nelson and Ainsley Maitland-Niles
Arriving
Here's an interesting recent addition: Bayer Leverkusen playmaker Hakan Calhanoglu.  Chelsea and Lazio are also interested.
Arsenal are also in 'final stage' of transfer talks to sign Russia midfielder in shock deal says the Metro.  This is Aleksandr Golovin, but you knew that any way.  (Oh do try to keep up!).  Football London also has the story.
Video 
.
OK this is not a transfer story but we were told we were lacking in our coverage this morning by not putting it on line so here it is.
Sponsor
Arsenal deny trying to ditch Emirates as the main sponsor, in the light of middle east developments
Contracts list
And here is the official list of all the players who are under contract for the new sesaon.
Akpom Chuba
Armando De Abreu Gabriel
Asano Takuma
Bellerin Hector
Bennacer Ismael
Bielik Krystian
Bola Marc Joel
Bola Tolaji
Bramall Cohen
Campbell Joel
Cazorla Santiago
Cech Petr
Chambers Calum
Coquelin Francis
Crean Alexander Felix
Crowley Daniel
Dasilva Pelenda Joshua Tunga
Debuchy Mathieu
Dragomir Vlad-Mihai
Elneny Mohamed Naser Elsayed
Eyoma Aaron Jordan
Fortune Yassin Enzo
Gibbs Kieran James Ricardo
Gilmour Charlie Ian
Giroud Olivier
Hinds Kaylen Miles
Holding Robert Samuel
Huddart Ryan David
Iliev Deyan
Iwobi Alex
Jenkinson Carl Daniel
Johnson Chiori
Kamara Glen
Keto Hugo Oliver
Koscielny Laurent
Macey Matthew Ryan
Maitland-Niles Ainsley
Malen Donyell
Martinez Damian Emiliano
Mavididi Stephy Alvaro
McGuane Marcus
Mertesacker Per
Monreal Ignacio
Moore Tafari Lalibela
Mourgos Savvas
Mustafi Shkodran
Nelson Reiss
Nketiah Edward
Nwakali Kelechi
Osei-Tutu Jordi
Ospina David
Oxlade-Chamberlain Alexander Mark David
Ozil Mesut
Perez Lucas
Pleguezuelo Julio Jose
Ramsey Aaron James
Reine-Adelaide Jeff
Sanchez Alexis
Sheaf Ben
Szczesny Wojciech Tomasz
Toral Jon-Miquel
Virginia Joao
Walcott Theo James
Welbeck Daniel
Willock Christopher (Offer)
Wilshere Jack Andrew
Xhaka Granit
Zelalem Gedion
Manager
Atletico Madrid manager Diego Simeone has rubbished rumours linking him with a move to Arsenal, insisting he will stay at the club, despite the fact that following the verdict of guilty in the latest child trafficking case AM can't sign any players.
 And that's about it for now.  More anon.