By Walter Broeckx
Arsenal starting XI : Ospina, Bellerin, Mustafi, Koscielny, Monreal, Ramsey, Xhaka, Wilshere, Welbeck, Ozil, Lacazette
On the beach: Cech, Holding, Iwobi, Chambers, Maitland-Niles, Kolasinac, Nketiah
First let me start with a player that is not involved. Santi Cazorla was out on the Emirates pitch to have a run around with a fitness coach.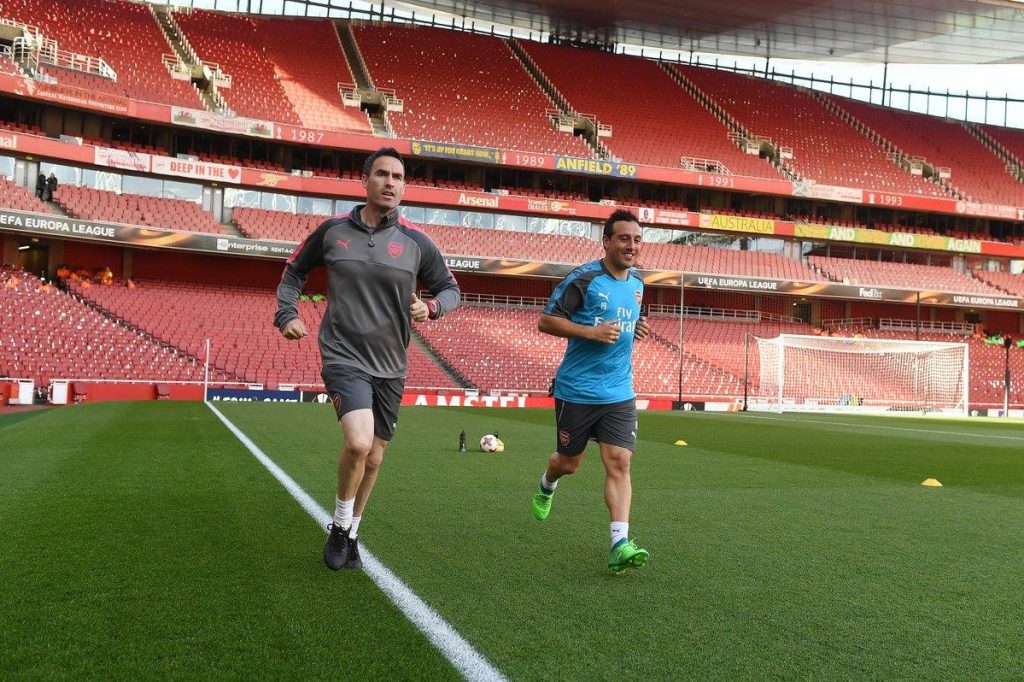 Oh how I love this small giant… and how we have missed him the last year and a half.
Anyway on to the match. In the first minute a yellow card for  Atletico player Vrsaljko who brought down Wilshere who was first on a loose ball. Welbeck on the left flank and he picks out Lacazette who tries a first time volley that shaves the post. Not a minute later a cross from Monreal and a header from Lacazette but a great save from Oblak. A shot from Welbeck but it was too soft to really trouble the keeper. Vrsajlko then plants his foot on Lacazette and the ref has no hesitation and gives him a second yellow card. The Atletico player planted his studs on the ankle of Lacazette so a correct second yellow card after 10 minutes. Then the Spanish manager Simeone shows himself to be a complete lunati (please never hire him Arsenal) after a small foul from Bellerin and the ref has no hesitation and sends him to the stands. What a complete nutter this Simeone. Ospina had nothing to do so far but still 0-0 after 15 minutes.
A cross from Monreal but Lacazette just couldn't rise high enough to make good contact. Welbeck with a backheel but the shot is blocked by a defender. And then a cross from Welbeck to Wilshere but his header is straight at the keeper. A 1-2 between Welbeck and Wilshere sees the first having a shot but Oblak again with a great save. The following corner is headed on but Koscielny can't wrap his foot around the ball.  Another corner for Arsenal that is headed on but again the folllow up doesn't hit the target. Another Arsenal attack ends with a cross that ends up in front of Monreal but his right footed shot goes wide. Still 0-0 after 30 minutes but how on earth are we not in front yet.
A first attack from Atletico and a low shot from Griezmann but Ospina with a good save. Then the ball goes flat when Atletico is defending so a new ball has to be taken from a ball boy. The Atletico players trying to make the most of every foul they suffer by going down and pretending to mutilated. Arsenal then falling to their usual playing the ball bad out of defence and Ospina has to make a great stop after their right back made a long stumbling run in to our penalty area. Xhaka with a shot from distance but well over the target. Atletico has found their defensive unity now and more difficult to break down. Atletico players trying to get their opponents yellow carded with every foul they get. Lacazette trying to find Ramsey but he over hits his pass so Oblak can pick up the ball. Arsenal just not getting through the packed Atletico defence a few times as there is always a foot or leg in the way. After losing the ball around the half way line Atletico has another counter but the shot goes over. Ramsey has a shot after a corner but it is blocked by the packed defence. Arsenal had the best chances early on but the Atletico keeper kept a clean sheet so far so we go in at half time with a 0-0 score.
The second half was off to a slow start from both teams. Lots of misplaced passes from both sides. The tempo has to go up from Arsenal to create openings in the Atletico defence.  Almost an opening but the ball takes a deflection and Ramsey has to cut back to his left foot and his shot is not good enough. Arsenal playing deep in the Atletico half but they defend with all their players and we know they can defend a bit. Monreal almost with a chance but he is outnumbered in the end. The ref now seeming to even things up a bit with ignoring a few fouls on Arsenal players but giving the slightest foul in favour of Atletico. Still 0-0 after 60 minu…. wait a minute.
A one two between Ramsey and Wilshere finds the latter one in a bit of space on the left flank. He loops a cross to the second post and Lacazette jumps the highest and directs his header over the line. GOAL! 1-0 to The Arsenal after 61 minutes. Well deserved. Very well deserved.  Good to see Wilshere with a vital contribution. Özil with a great move on the flank but the shot from his cross is blocked and then a foul is made on Oblak by Ramsey.
A cross from Lacazette fizzles in front of the Atletico goal but Welbeck can't get to the ball. Monreal heads a ball in front of goal but Atletico can clear. A corner is then headed just wide by Lacazette. Arsenal continue to press and get corner after corner but nothing on the end of it. Xhaka with a shot from distance but well over the goal. Football should be an art comes in the screen again. The Untold banner flies high. Still 1-0 after 75 minutes.
And then how cruel football can be. Welbeck goes down but the ref seemingly not wanting to give any fouls to Arsenal any more lets it go. Griezmann is just onside and Koscielny kicks the ball against Griezman his nose. Ospina then saves but the again falls to Griezmann and then Mustafi slips and Griezmann can score the equaliser. Completely against the run of play. But this is football at his worst. The first shot in the second half form Atletico and they score. 1-1 after 83 minutes.
A cross from Lacazette finds Ramsey but his header is saved by the keeper with a great stop.  Arsenal back trying to score that second goal again after the initial shock. Another shot from Ramsey is blocked for another corner. Another header from Ramsey but again Oblak with the stop. A final corner in the last minute but the ball came to Xhaka who shot wide over. 1-1 after 90 minutes after a cruel football lesson. If you don't take your chances you can always run in to that one fatal counter. It was 3 times lucky for Griezmann but they all count in the end.