by Andrew Crawshaw
I believe that Arsenal currently have eleven goalkeepers at the club who will be looking to play for the U18 team or higher.  Here is a quick breakdown of them in descending order of age :-
| | | | | |
| --- | --- | --- | --- | --- |
| | DOB | Team | HG | Contract Expiry |
| Petr Cech | 5/20/82 | First | N | 6/30/19 |
| David Ospina | 8/31/88 | First | N | 6/30/19 |
| Emiliano Martinez | 2/9/92 | First | Y | 6/30/21 |
| Bernd Leno | 3/4/92 | First | N | 6/30/23 |
| Matt Macey | 9/9/94 | First | Y | 6/30/18 |
| Deyan Iliev | 2/25/95 | First | Y | 30/06/2018 (CO) |
| Joao Virginia | 10/10/99 | U23/First | Y | 30/6/19 |
| Daniel Barden | 1/2/01 | U18/U23 | Y | 30/6/20 |
| Arthur Okonkwo | 9/9/01 | U18/U23 | Y | Scholar |
| Karl Jacob Hein | Age 17 | U18/U23 | Y | Scholar |
| Tom Smith | Age 16 | U18 | Y | Scholar |
With the arrival of Bernd Leno, the positions of Petr Cech, David Ospina, and Emiliano Martinez must all be under threat.  I cannot see more than one or two of them being retained at the club, this summer.
Petr Cech is probably safe but is likely to be a backup to Leno at best.  Despite holding the PL record for clean sheets at 201, his performances have declined in recent years.  The big dip in the graph is the year of his major head injury.  My opinion is that he has never really recovered to his pre-injury prowess and is now merely a good keeper rather than a great one.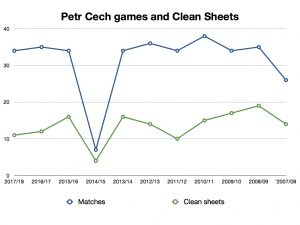 David Ospina strikes me as a competent No 2 but never likely to become an outstanding No 1 keeper.  He is significantly shorter than most No1 keepers in the world.  In my opinion he is most likely to be sold, although we shouldn't expect more than a couple of million pounds for him.    Here are his Premier League stats.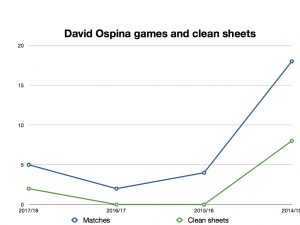 Emilliano Martinez signed a contract extension not too long ago and has always struck me as a very competent goalkeeper.  In the PL he played two matches in 2016/17 and four in 2014/15 and all were clean sheets.  I would be very happy for him to be retained for our first team instead of Petr Cech.  I do think it is quite likely that he will be sent out on loan again.  That decision will probably be made during pre-season.
Bernd Leno is our new goalkeeper and will probably expect to be our main keeper this next season.  From his Bundesliga figures, he consistently plays most games and keeps about one third of them as clean sheets.  Probably we shouldn't read too much into that as Bayer Leverkusen aren't a team challenging for the top of the league although regular participants in Europe.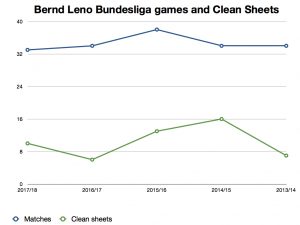 As far as I can tell from published information both Matt Macey and Deyan Iliev have contracts that expire at the end of this month, both were included in the list of retained players that was sent by the club to the Premier league with Iliev indicated as having had a new contract offer.  Both count as home grown and, if retained will have to be included in our 25 man list of senior players.  I would assume from this that Macey will be on his way this summer.
Deyan Iliev is therefore likely to be retained assuming he signs the contract on offer.  His immediate future will depend on how he features in pre-season.  It is possible that he will stay in the club and be the No1 for the U23 team (for which he is still age qualified), or possibly go out on loan either abroad or to a lower league team.  I must point out that goalkeeper loans probably lead to less playing minutes than those for outfield players so are not necessarily a good way of providing experience.
Joao Virginia is another player whose immediate future depends on how well he shows in pre-season.  With us having entered an U21 team in the Checkertrade trophy I think he will stay with the club till January at least and be our No1 keeper in that competition.  He should also vie with Deyan for the U23 starting slot.
Daniel Barden will probably begin the season as No 1 for the U18s but will certainly have designs on usurping one of the U23 slots.
Arthur Okonkwo has been offered an Academy place, but it wouldn't be a great surprise if he moves away, I believe he has offers from Celtic and RB Leipzig.  Aged 16 and already 6ft 5in tall he has the physical attributes to succeed and he has been capped by England at U17 level.  A name to note for the future wherever he goes.
Tom Smith is another 16 year old who has been offered an Academy place this year.  Of our three 16 year olds he is probably in last place at the moment and will have to put in a lot of effort to push above Arthur and Karl
Karl Jacob Hein is the third of our first year Academy goalkeepers.  He joined us earlier in the summer from Estonian side Nomme United.  An Estonian U17 international, he is on a one year academy deal with a three year professional contract likely.  He will be looking to supplant Daniel and Arthur to become the undisputed U18 No1.
Thus we have eleven talented goalkeepers aged between 16 and 36.  Realistically we have space for two or three first team keepers, two U23 keepers and two at U18 level probably with one spare somewhere in the system.
U18 team
I would expect Atrhur Okonkwo not to take up his Academy place, leaving three keepers at U18 level of whom one could step up to U21/U23 level if required.
U23 team
Joao Virginia and Deyan Iliev are likely to be the two main keepers starting at this level (assuming that Deyan signs the contract offer I believe is on the table).  With support from improving U18 keepers (or overage keepers keeping sharp) this would seem to be sufficient.
First team
There are 5 players for a maximum of three slots.  Bernd Leno is obviously in the team meaning that two of Cech, Ospina, Martinez and Macey will have to make way.  I believe that Matt Macey's contract expires at the end of the month and I can't see it being extended now so I would expect him to go.  I think that one of Cech or Ospina will go this summer and it will probably be Ospina who I think offers no more than Emi Martinez (who has the additional bonus of counting as homegrown).  My choice for our first team keepers next season is therefore Leno, Cech and Martinez.  Their individual ranking I will leave to our coaches during pre-season.