by Tony Attwood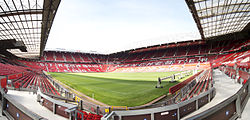 Arsenal, as you will know if you are old enough to remember or if you have read the club's history, were docked two points in 1990 for the behaviour of their players on the pitch during a bit of argy-bargy in a game at Old Trafford, the so-called Theatre of Dreams.
It was a punishment never set out before, and introduced under a catch all regulation that basically said that the Football League could hand out any punishment it felt like.  I am not sure it has ever been repeated since.
That game continued to its end.  Last night's match involving Manchester United was not played.  Will the club get any penalty for that?
It seems very unlikely.  For a start I haven't found any of the media suggesting that Manchester United should be punished at all for failing to provide a secure venue for a match, or for failing to keep the crowd under control.  Indeed the fact that such a large number of people were able to break into the ground does suggest that security in Manchester is pretty lax.
Mind you this is the club that had a bomb scare which resulted in a match being called off.   The boss of the firm that left the fake bomb at Old Trafford apologised for making a "mistake" after it was left there following a security test run.  The bomb scare led to the postponement of a match against Bournemouth.
But discussion on issues like these and resultant points deductions is there none.   The media and the clubs operate a cosy cartel in which boundaries of what can and cannot be discussed are clear and rarely overstepped.  Criticism of owners is kept to a minimum, fans should know their place, poor stadia facilities are very rarely mentioned (largely because journalists are cosseted in their private section of the ground with their own entrance and exit), and dubious and devious behaviour by referees is certainly never even to be considered.
Indeed so bad has the situation got that magazines and newspapers that normally pride themselves on being exact and correct in their commentaries have been posting fake stories that the reversal of home and away advantage has never happened.  And of course if it never happened then there's no story about refereeing incompetence that springs from these findings.
Then again, not too long ago (March in fact) the Daily Mirror reported that Arsenal were involved in match fixing, a complete fantasy and nonsense of course, but no apology was forthcoming from the Mirror even after we pointed out the errors in their piece. 
So the reaction of yesterday at Old Trafford is interesting, as it might (only "might" nothing more than that as yet) mean that there is a slight shift from media world into footballing reality.
The Daily Mail for example is running the headline that "'Sometimes you have to put a marker down for people to take notice': Roy Keane insists 'this is just the start' of Man United fans' protests against Glazer ownership after Old Trafford break-in."
They also note that "Commentator Jon Champion was abruptly CUT OFF on American TV as he spoke out against the Glazer family and criticised the 'franchise' system of sports ownership in the States during coverage of the postponement at Manchester United."
Even the Mail which normally blames fans for everything, says, "Man United and Liverpool wanted Project Big Picture – and now they've got one".  The argument is that this was "legitimate protest".
The Daily Express however doesn't even see the events of last night as the lead story.  Instead they run with "Arsenal 'could sack Mikel Arteta next season' as Gunners boss handed transfer ultimatum".  But being the Excess it isn't even their own research as they cite that most unreliable source, TalkSport, as saying that their "report claims that the 39-year-old has been given a ten-match ultimatum to show that his side can be competitive, which is set to come into effect at the start of next season."
The Daily Mirror takes a different line with "EXCLUSIVE FOOTAGE: Police officer appears to punch Man Utd fan on ground in eyewitness video amid clashes outside team hotel during Glazer protests."
The Metro leads with, "Manchester United's postponed match against Liverpool has created a scheduling nightmare for the Premier League with the Red Devils having no free midweeks between now and the end of the season."  No punishment for Man U then.   The whole football system seems to be falling apart, and the Metro is worried about fixture scheduling, and the Express are thinking about Arsenal sacking their manager!
What no one is asking is whether Manchester United will be sanctioned for failing to control its fans.  And by and large the event, which could have a huge impact on where the Premier League heads next under its billionaire owners,   
Ah well, the media are probably just hoping it will all soon pass.
Gaslighting: how refereeing in the Premier League is manipulated, and why the media never speak about it.
(Footnote: the first ever mention of gaslighting in connection with football appeared in the media – six weeks after the launch of the above series on Untold)