By Tony Attwood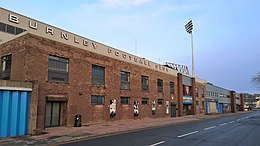 We are told that the FA are investigating a spot of argy bargy as it used to be called, at the end of the match at Turf Moor.
If you have been there you will know that apart from the addition of seats (which are by and large ignored) little has been done to improve the ground over the years since it was opened in 1883.
At the start, like quite a few grounds, it was just a pitch, and the stands on all four sides were not completed until 1947.  (Arsenal's stadium of Highbury was built with terracing on all sides in 1913, so Burnley was a little behind the times).
Indeed it was the last ground in the country to retain the old tradition of putting the changing rooms behind one of the goals.  That didn't end until 2014/15.  It was considered "quaint".
But as a result of a series decisions to allow Burnley to continue to play PL football with a large crowd in such a confined space with minimal safety provision, the ground is ideal for problems, making it easy for supporters to throw stuff at each other.  It has become something of a local sport I think, although I am not saying away supporters don't engage in this also.
Apparently what really kicked things off this time was the outrageous, unprecedented and completely unexpected action of Arsenal players coming over towards their supporters to thank them for attending and supporting, despite the constant battering of negativity delivered at the team and the club in general by the media.
That action seems to have been too much for some, and it would appear that the Burnlean support decided to throw things at the heads of the Arsenal fans.  Stewards seemed completely unprepared for such activity and were completely taken by surprise – at least in the sense that there were not enough of them present.
I don't have permission to show the pictures which have been published in the media but the ones I have seen show eight rows of Burnley fans massing against six stewards and about 10 or 15 Arsenal fans.  No one was reported hurt in any way and the incident was over in about five minutes or so, and that was that.
But it does show us that some of these ancient grounds really are not able to stop problems.  And even in modern ground like Arsenal's we have seen problems with Tottenham fans hurling objects at the ambulance and St John's crews and towards Theo Walcott when he was injured near to their enclosure at Arsenal Stadium, again with the stewards unable to control the situation.
It is interesting that this happens just at the time when, if you are a regular reader, you will know that I have been getting rather worked up about the way fans were allowed into Arsenal stadium for our last game, most notably with the queuing on steps (completely against government regulations and guidelines) and aggressive and clearly untrained stewards totally unable to deal with any aspect of the situation.
I think some discussions are going on at Arsenal, but we still haven't had an apology from the management to us paying customers (as I think they see us) nor any explanation as to what will be done with the gang (one can hardly call them a company or organisation) that was in charge of security and entry at the last Arsenal match.  Have they been reported to authorities yet for endangering life?
It just seems we can be put in any situation, no matter how bad, and made to put up with it, because we are, well, just football fans, and then when things boil over it is our fault.
When will football clubs and the companies they hire to handle security, realise that if you treat people like animals, it is not that unlikely that some will become a little aggrieved?
There are tens of thousands of books and learned papers by sociologists and psychologists on the effect of environment on people's behaviour yet football seems to want to continue in their theoretical vacuum which says that by arresting and fining and even banning people, everything will be solved.
They have been doing that for 100 years and the problem is still there, yet they go on and on churning out the same old remedies that have failed 1000 times before.