By Bulldog Drummond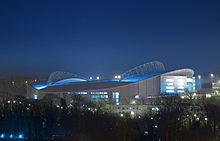 Slowly, very slowly, others are catching on to the fact that if one wants to know how teams really are progressing one doesn't just measure results from the start of the season to the end, but rather if you really want to know what is going on you should also take a look at measuring other time spans.
And the BBC have just done this saying Brighton's "tally of seven clean sheets in Premier League home matches this calendar year is exceeded only by Manchester City and Chelsea, who each have nine."
Of course they won't do anything like this about Arsenal, because talking up Arsenal statistics is simply what the media doesn't do, but if they took, for example, results from last Christmas until this morning the league table would read like this if we examine what happened to the clubs who were the top eight for matches on Christmas Day 2020.
| | | | | |
| --- | --- | --- | --- | --- |
| Post | Club | Last season post Xmas pts | This season pts | Total |
| 1 | Manchester City | 60 | 13 | 73 |
| 2 | Manchester United | 47 | 13 | 60 |
| 3 | Arsenal | 47 | 9 | 56 |
| 4 | West Ham United | 44 | 11 | 55 |
| 5 | Chelsea | 42 | 13 | 55 |
| 6 | Liverpool | 38 | 14 | 52 |
| 7 | Leicester City | 39 | 7 | 46 |
| 8 | Tottenham Hots | 37 | 9 | 46 |
Thus it is just as legitimate to say Arsenal's total number of points since last Christmas for the "big six" (plus if you want to include them, West Ham and Leicester, who have been making inroads of late), is the third best in the league.
There is one other point about Brighton and that is their propensity to give away penalties.   Since they last arose into the Premier League they have given away 24.   Tottenham of course are the biggest penalty givers with 26 – they make it a style of play, and Leicester, whose fouling and tackling we have made the subject of a special study here, come next with 25.
As for Arsenal the BBC do admit that we have won nine of our last 15 Premier League away games (drawing two of the others), and only Manchester City and Liverpool have done better.
And so finally onto the teams. Sport Mole offer
Ramsdale;
Tomiyasu, White, Gabriel, Tierney;
Lokonga, Partey;
Saka, Odegaard, Smith Rowe;
Aubameyang
Which by and large is pretty easy to predict so I am surprised other publications are dropping out of the team prediction lark.  The Standard and TalkSprout have nothing on the subject that I could find.  The Guardian however go with exactly the same as the Sporting Mole.
As indeed does the Short Fuse but they also give us a beach which has playing on it Bernd Leno, Nuno Tavares, Rob Holding, Cedric, Mohamed Elneny, Ainsley Maitland-Niles, Pepe, Gabriel Martinelli and so as not to get lonely, Alexandre Lacazette
What they also do, and which I thought was a good innovation, is give us a list of first team players who therefore having nothing at all to do with the game:
Arthur Okonkwo, Sead Kolasinac, Pablo Mari, Calum Chambers, Eddie Nketiah, & Folarin Balogun.
Pain in the Arsenal also have a preview without a team, but to finish on a more positive note, Radio Times  also has the standard line up, so we are all in agreement for once.  Mind you, it would be pretty radical to pick anything other than that team.
And that by itself says a huge amount about Arsenal today.  Yes we are lucky with injuries at the moment (or maybe Mr Arteta has found the secret second benefit of not tackling – we don't get injuries either), but even so, it is a little while since we were able to pick a team and be quite so sure that this would be the team for the match.
All we can do is trust they will do the job.
Here is some other chitchat to keep you occupied during the run up to the match…