by Andrew Crawshaw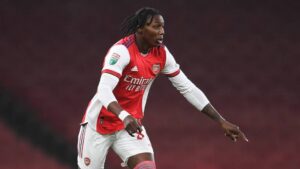 My daughter was at the Bolton v Lincoln City game recently and I managed to find a stream of it and watch the last 10 minutes of the first half and the whole of the second half.  Bolton emerged 3 – 1 winners with all goals scored in the second half.
Nothing terribly unusual so far but one player really caught my eye – Brooke Norton-Cuffy an 18 year old on loan from Arsenal with Lincoln City.  He is just 18 (born on 4 Jan 2004) and joined Lincoln in the January transfer window.  He is 1.81m tall (near enough 6ft) and physically robust and certainly didn't look out of place on the pitch.
He ran the line well, contributed well at both ends of the pitch and was never out-paced by the Bolton attack (Bolton are currently one of the form teams in the first division and are far away from the dour abdicate menaces that were under Sam Allardice).
He joined us from Chelsea in 2016 and has progressed through the age groups at Colney since.
He has been getting rave reviews from the Lincoln supporters and management team and is now being talked about more widely in the Arsenal twittersphere.  Judging by what I saw this praise is entirely justified.
Here is what the Lincoln Manager, Brian Appleton had to say about him in the build-up to the Bolton game:-
"We've got a right back that we've brought in from Arsenal who's not bad also. 
"I think there's going to be a lot of people who are going to be interested in Brooke between now and the end of the season.
"He's a player that personally – and I don't like singling out too many people, but I'll be amazed if he doesn't play in the Premier League".
Here is a report of his performance against Doncaster Rovers earlier this month by Rahul Lakhani:-
"Just 18 years of age, the London-born right-back joined Lincoln City in League One on loan in the January transfer window, but has already stood out as an incredible talent in his six appearances.
A physical yet quick full-back, Norton-Cuffy has taken League One by storm, remaining a rock at the back but terrorising the opposition with his rapid and skilful dribbling.
Lincoln City fans didn't know what they were in for when taking a loanee with zero senior minutes to his name, but it turned out they'd signed the Islington Alves.
In Lincoln's loss to Doncaster Rovers, Norton-Cuffy was a shining light in an otherwise poor performance, and if his teammates were on the same wavelength as him, the result could have been very different.
On a one-man mission to destroy Doncaster, the defender picked up the ball in his own half, and after turning four defenders inside out, squared the ball in the box only for his team-mate to blast it over."
Whilst I think that comparisons with Alves are going over the top at the moment I would certainly mark him out as one of the next Hale End products likely to make it into the first team squad assuming that he continues on his present trajectory and stays clear of injuries. 
It is certainly entirely feasible that he could become the understudy to Tomi, if not next season then certainly the season after. It might be best for his development for him to have a loan spell with a Championship team next season but if he continues as he has started at Lincoln then we certainly should see him feature for the first team in pre-season.
Brooke is an England U17 international, he signed professional terms when he was 17 so his present deal should last until 2024.  Given his current trajectory, I would expect him to get a new contract offer long before then.  He made his debut for our U23s aged 16 so has been marked as one for the future within the club for some time.
If you get a chance to catch any of Lincoln City's games I would seriously advise you to do so, his performance is likely to reward you.