Vinai Venkatesham's Confirmed Departure and Arsenal's Next Steps
by Tervor Hurry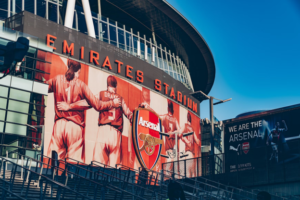 In the illustrious landscape of football, Arsenal FC has always been recognized not only for its on-field prowess but also for the influential leaders who have defined its legacy. Vinai Venkatesham, a vital pillar of this legacy, has now confirmed his departure from his role as CEO.
With this confirmation, it becomes paramount to reflect on the indelible mark Venkatesham has left on the club and to ponder the path ahead for Arsenal. As the Gunners approach this crossroad, discussions about potential successors are inevitable, highlighting the importance of choosing a leader who can build upon Venkatesham's foundation and guide the club into its next chapter.
Understanding Venkatesham's Role at Arsenal
To start, Vinai Venkatesham has been instrumental in the Arsenal FC restructuring phase after the Arsène Wenger era. Serving initially as the Managing Director, he has overseen Arsenal through some of its most turbulent times, even as the Arsenal betting odds fluctuated. He spearheaded initiatives to reshape the commercial strategy, playing a pivotal role in positioning Arsenal as one of the EPL title favorites.
Venkatesham was also a key figure during the crucial transition to Mikel Arteta's leadership. His departure will undoubtedly be felt given his deep understanding of the club's business and sporting aspects.
Reflecting on His Exit
Venkatesham announced his decision to part ways with the club next summer. This move wasn't foreseen, especially given how the club has witnessed a resurgence under a leadership triad of Venkatesham, Edu, and Arteta. The co-chair, Josh Kroenke, has voiced his gratitude for Venkatesham's contributions, assuring fans that while change is inevitable, the club's vision remains unaltered.
Looking Towards the Future: Potential Successors
As Arsenal embarks on a journey to identify a successor, two names that have gained traction are Marc Overmars and Edu Gaspar. Overmars, with his enriched history with Arsenal and his present role as the Director of Football at Ajax, stands as a strong contender.
Meanwhile, Edu, being deeply integrated into Arsenal's fabric, has the potential to step up, offering a seamless transition given his intimate understanding of the club. However, an emerging name, Felicity Barnard, with her robust sports business background, notably her stint with West Ham, could also be in the running to take the reins.
As fans and stakeholders brace for this transition, the hopes are high that Arsenal's new leader will uphold the club's legacy and steer it towards new horizons.
A Glimpse into Arsenal's Future
Under Arteta's guidance, Arsenal FC is undergoing an exhilarating metamorphosis, with an emphasis on youthful exuberance and strategic signings. The inclusion of talents like Bukayo Saka and Emile Smith Rowe, along with the recent acquisitions of Declan Rice, Julian Timber, and Kai Havertz, signifies an ambitious blueprint for the club's future.
These players, embodying both skill and potential, are set to redefine the club's prowess on the pitch. While any leadership shifts at the helm would further shape this narrative, the club's commitment remains unwavering, marrying its storied past with a vision of innovation. Through all this, Arsenal's dedicated fanbase stands as its backbone, ensuring a harmonious blend of legacy and evolution.
The Legacy of Leadership at Arsenal
It's essential to remember Arsenal's legacy when discussing leadership. From the transformative reign of Herbert Chapman in the 1930s to the modern-day invincibility under Arsène Wenger, Arsenal has always been blessed with visionaries. These leaders, both on and off the pitch, have etched an identity that resonates with class, resilience, and innovation.
The club's ability to handpick its top brass, ensuring they resonate with its core values, is unparalleled. So, while the rumor mill might buzz, there's an inherent trust in the decisions Arsenal makes. The club's leadership, past or future, is not just about managing a football club—it's about stewarding a legacy.
Conclusion
In reflecting upon the rich legacy of Arsenal FC, it's evident that leaders like Vinai Venkatesham have been the anchors during crucial transitions. The potential successors mentioned further signify the club's commitment to merging past achievements with future aspirations.
Regardless of the turns Arsenal's leadership might take, fans and followers can take solace in the club's consistent approach to preserving its legacy while remaining forward-thinking. As the curtains fall on these speculations, one sentiment remains – Arsenal's future is in safe hands, always prioritizing its storied past and the promising path ahead.