By Walter Broeckx with many thanks to Mike one of our readers
I might sound a bit pretentious to say that our articles are really worth reading. As a regular writer myself I think they do of course. But in my country praising yourself is not really something you do. So apart from my articles the articles on Untold Arsenal are top quality. That's more like it.
But if there is one thing that sometimes surpasses the articles it is that we have some great and intelligent comments most of the time.
And this week I found another comment that was so fantastic that I took the liberty to contact the writer (Mike) and asked him if I could use his comment. He tried to put a table on line in which a comparison was made over 10 seasons in the PL.
Comparing the spending of the teams in the PL between 2003-2013. Comparing how many points they won in total and then seeing how many points were made on average.
Then this table calculated the net £'s spent per point won. And finally it calculated how many points were gained per £m spent.  As our comment don't allow tables it all turned a bit unreadable so I asked Mike the table and wrote it down in an article and will comment on it below this amazing table.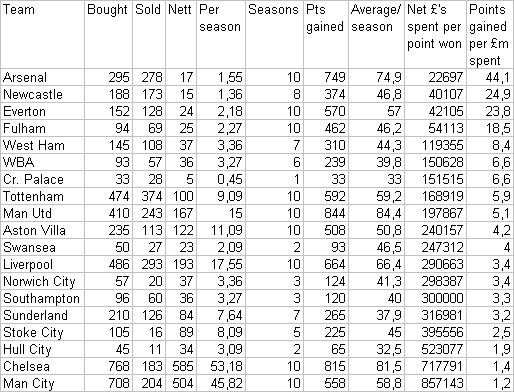 In the first column of numbers you can see at how much money each club has spent on purchases over this 10 year period. Chelsea and Man City are far ahead of the rest but that isn't really news I think. In third place we see that Liverpool has spent a few pounds. And then we see that our neighbours from down the road have spend the fourth highest amount of all the clubs. And all that for what was it…one year in the CL.
Man Utd is in 5th place and then we find Arsenal. So we did spend a few pounds in that period but not even close to the mega spenders that are Chelsea and City.
The most important things to look at is the nett spend over this 10 year period. And then we see that Chelsea and Man City bought their way to success. The third highest spender however was Liverpool. In 4th place we find Manchester United.
Arsenal are third from bottom. Only two teams spent less than us over that period. Newcastle and Crystal Palace.
If we take that net spend and then compare this to the points won in total and on average we get a very interesting last column.
In this column you can see how many points were gained per £million spent. And now it is getting extraordinary.
And now this shows what miracles Wenger has done compared to all the other teams. Because if you calculate it like that you can see that per £1m spend we managed to get 44 points. The second team in that column is Newcastle with 24 points. Not bad at all compared to the spending. And in third place we find a team that also seemed to have overachieved in the 10 years covered in this period: Everton.
If we compare the Arsenal numbers with the numbers of Manchester United it shows that Wenger has almost got 9 times as many points per £1m spent compared to Ferguson.  If you want to compare Wenger and Ferguson it is easy to look at the titles won. But this table shows first of all with how small was the sum Wenger had to work and also how he in fact outnumbered Ferguson completely. Would Ferguson have won with the budget Wenger had at his disposal? I'm rather sure he wouldn't have done it. I think he would have walked away from it.
But Wenger didn't walk away to other clubs when he had the chance. No he stayed to fight with both arms tied behind his back, and he stood up to the media. And most painfully he had to stand up against a part of the club fans who don't look further than their own little noses.
And if we compare it with the mega spending power of Chelsea and City the work of Wenger becomes even more impressive. Because if we calculate it like that the number of points he got from each spend £1m is 44 times higher than that of those super clubs.
I have said it many times before and have written it many times before. What Wenger has done was a miracle. Keeping a team in the Pl after building a new stadium itself is already a miracle. Keeping a team with no budget in the top 4 is also a miracle.
Doing both things at the same time is even more than a miracle.  My knowledge of the English language doesn't go that far to find a proper word to describe it.
What I do know is that every Arsenal supporter is forever in debt to Wenger for what he has achieved in those 10 years. And that makes all the abuse aimed at this man all the sadder. Yes he will have made mistakes in that period. Because after all he is human.
But what he did was building a club. A whole new club. In a period just 100 years after Arsenal were within half an hour of going bankrupt we then came back with Henry Norris saving us. I think it is fair to say that what Wenger has done surpasses even this. And it is something that in 20 years time will be looked upon as the most important period in our clubs history.
It took an amazing person to do what he has done. Taking a club to the next level with no money, with your arms behind the back is what no other manager has ever done as far as I know.  Without this man we might be playing Leeds right now…..
The books