By Walter Broeckx
We have been doing reviews for several years now on Untold Arsenal. So I have a lot of data from the seasons that are behind us and from the current season.
But I also have at my disposal some internal documents from the PGMO. One could say that a good wind blew the documents in my direction and I am happy to have them.
Because in one of those documents I know how the PGMO judges the refs. And in a way they are judged like we do the reviews on Untold. Now I know that they not just give the points on the calls. There are other things that are taken in to account.  Things we keep out of our reviews because they are not that important to define if a call was correct or not. But the things the PGMO also takes in to account are things like :
• The performance of the match officials, including:
−− Match Analysis
−− Key Match Incidents
−− General decision making
−− Man management
• The Fair Play of the teams and behaviour of the public
• The quality of the playing surface
• Pitch protection observance
• Attendance/non-attendance of the Drug Testing Team
• The accuracy of kick off times in both the 1st and 2nd half
• Any issues relating to crowd control
• Any breach of the PGMOL protocol
• Any other issues pertaining to the game which the delegate sees fit to report.
As you can imagine some of those are not really important to see if a ref done a good job.
The fishy thing could be "Any breach of the PGMOL protocol". Because nowhere in the documents I got is there really a real PGMOL protocol to be found. Maybe this is the part where refs are judged on how they please the head of the PGMO?
But back to our main talking point: the score a referee gets.
We give the ref a score in %. But the PGMO gives the ref a score on 30 points. This is divided in to Key Match Incidents 10 points, General Decision Making 10 points and Man management 10 points.  But of course we can go from a score on 30 to a score in %.
And that is what we did with the reviews we did so far this season. And that is what I am planning to do with the numbers we got from our reviews in the past years.
So how does the PGMO scores the performances of the referees in the PL?
A score of +83% is considered to be a TOP CLASS PERFORMANCE.
A score between 76 % and 83% is considered a GOOD PERFORMANCE
A score between 70% and 76% is considered STANDARD PERFORMANCE
A score between 60% and 70% is considered to have KEY ERRORS in the match
A score under 60% is considered a POOR PERFORMANCE.
Now if we take the scored from the matches we had so far and put them in the category the PGMO standard is saying we get a table that looks like this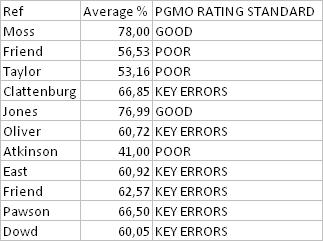 So out of 11 matches we had 2 referee performances who had a score that can be considered to be GOOD PERFORMANCE. That is 18% of the matches.
Out of the 11 matches we had 6 matches where the referees made KEY ERRORS. And of course the last thing we want is referees making key errors. That is 54% of the matches from Arsenal that had key errors in it.
Out of the 11 matches we had 3 referee performances that can be qualified as POOR PERFORMANCE. That is 27% of the matches.
Having KEY ERRORS in matches is not what we want and in fact unacceptable. And we also don't want POOR PERFORMANCES in matches. But in Arsenal matches we had 9 out of 11 matches where the refs messed up. That is in almost 82% of the matches that we have seen terrible refereeing.
I think this is terrible. A terrible state of refereeing in the PL.
I do want to say that this does not mean that all the terrible decisions went against Arsenal. But frankly that isn't that important in this. What is important is that too many poor performances are being given by referees. And no team should suffer from bad refereeing.  I would gladly give up any point Arsenal won from bad refereeing in exchange for getting any point we lost because of bad refereeing.
But the main point is that the referee performances are not up to the standard they should be.
I know from time to time Mike Riley leaves his ivory tower and throws laughable numbers around. Numbers that are completely the opposite of what we have found in the past. If you would want to believe the numbers from Riley (and better make sure you sit well down in your chair)  they came up with in one whole season only 43 key errors in ALL THE PL MATCHES.  I repeat 43 KEY ERRORS IN ONE WHOLE PL SEASON!
In Mike Riley's dreamland they only got it completely wrong 43 times in 380 matches in total. That is an average of around 1 key error every match day. I have it black on white in their report. I completely fell of my chair while reading that.  This number is so ridiculous that it is mind blowing.
I think not one football supporter will believe the numbers from Riley from the PGMO. And yet I see them black on white.  I think the average will be more around 1 key error per match and should be around 380 key errors over a season.
But 43 is what Mike Riley believes it is. I think in match 50 he himself made more than those 43 on his own. How can you take people serious who have stuck their head so deep in the sand.
And of course if you believe this, then you get what we get now: that nothing is being done about it.
Sweet dreams, Mr. Riley. Dream of your "perfect" referees. But the clock is ticking and one day the alarm will go off. Alarm bells that have been going off over here for years now. But you still are lying in your bed firmly asleep.
Wake up, Mr. Riley. Not before it is too late, because in fact it is already too late.