By Walter Broeckx
We all have probably seen the headlines in the media that provoked a firm reaction. Headlines saying: Wenger will offer Diaby a new contract. One of them said: Abou Diaby will be offered new Arsenal deal if he regains full fitness, confirms Arsène Wenger. With an accent of course but I put the accent in there as the media didn't.  Another one saying: Abou Diaby could get new Arsenal contract, says Arsène Wenger.
Will…could…. what did he say that brought a deal of the fans (the same part as usual) up in arms? Well to know that I translated that part of the show from French in to English where he discussed the Diaby situation.
The question that was posed to Wenger was: "how will Arsène Wenger handle the case of Abou  Diaby who is out of contract in June?
Wenger responded : "First of all it is not a mental question but a physical (injury) problem.
Wenger then continued: "He is a player for whom I have the most respect. You just have to imagine that for a player to come back each time and each time again you get another injury, you have to start again from zero, working hard every day for 6 to 8 hours to come back. He is a player that has been destroyed by the competition because of a terrible tackle. What people never mention is that to play football you need your ankle. You need a fit and mobile ankle and from the moment that mobility is held back by something you try to compensate this in every movement you make. And what has created the misfortune for Diaby was that tackle at Sunderland. 6 or 7 years ago (in fact it was 2006 so 8 years). A killer tackle that never has been punished and that tackle has changed the mobility in his ankle. And now they say he is a fragile player, he is not a fragile player. He is a player that has been destroyed by a bad tackle.  And I hope for him that he will come back and regain full fitness and if he comes back to full fitness of course I would want to hold on to him and offer him a new deal because after all I have always believed in him and wanted him to stay and gave him a new contract in the past.  And I have the utmost respect for his mental force that he has shown all these years.  It is unbelievable what he has done in those years. But unfortunately, the most important thing in our job is having a good health. "
This is almost literally what Wenger said or as close as a translation can come.  For those who think they can do a better job be my guest
First of all let us start with the point from where Diaby had to come back from. One pictures says more than a thousand words. Just look at his ankle and the angle with his leg in the picture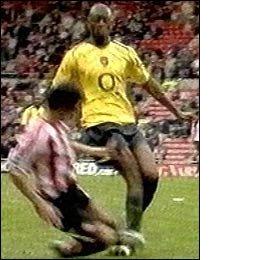 The thing facing the Sunderland player is the bottom of
Diaby his foot. Completely unnatural….
Ouch. Terrible. I remember in the first days that the surgeon even said that he didn't knew if Diaby would come back from this terrible injury. It was described as possible career ending tackle. How true this now seems to be.
Since that moment Diaby has come back, shown some amazing prospect of the player he could have become only to find himself injured again.
Get rid of him shout some. He only cost us money that we should spend on other players. I wonder it these are the same who otherwise don't worry about money at all and shout: spend, spend, spend as if there is no tomorrow. And there will be a tomorrow, hopefully.
Let us look at it from Wenger his point of view. He has brought him to Arsenal and some 100 days after his transfer his career was kicked to pieces. Wenger knew the immense talent was there. So he didn't want the talent to go. But as we have heard from several players who have left us Wenger is also a bit of a father figure for the younger players. When Diaby was kicked to shit he was 20 years young.
So maybe as a human being Wenger felt somehow guilty about it?  Of course he didn't commit the tackle but if it wasn't for Wenger Diaby wouldn't be out there on the field. Wenger brought him and played him and then it happened. It can be compared with telling a friend to wait a few minutes before to drive off with the car because you have to do something first and then when you start driving a terrible accident happens and he gets killed. Of course you didn't intend to kill him by letting him wait for you. But the chance that you think to yourself: it is my fault might pass your mind.
So does Wenger feel guilty for Diaby? If he does it only shows him to be a great man. And if you see the fire he has when he talks about Diaby he sees himself as a bit of a father figure for Diaby. And a father that feels guilty without reason in fact but still I think it is his human reaction.
I cannot like Wenger for having this reaction. I also don't think that Diaby will have the biggest contract of the team. And when he did his knee last year it was said that Diaby told Arsenal not to pay him till he was fully fit one year later and played at Norwich.
Now the main thing is that it is up to Diaby to get a new contract or not. I think it is clear that if he proves to be fit and to remain fit between now and the end of the season he could get a new contract.  If not…then I think it will be the end for Diaby not only at Arsenal but also as a footballer. I then hope that Arsenal will do the honourable thing and offer him some kind of job. A job as a scout or maybe even in the coaching staff. Or somewhere in the medical team where he can try to help younger and older players in their recovery and support them in their usual lonely battle to return to full fitness.
A lonely battle that this man had to fight oh so many times on his own. His football career may have been ended on that terrible day in May at Sunderland by that killer tackle from Dan Smith. I really do hope that he can somehow give something back to Arsenal. He gave his health for our club. I wouldn't want him to be put aside or thrown away like the garbage in the bin.  Yes he has cost us a lot of money but not because of Wenger making a mistake by bringing him, not because of Diaby not having the talent, not because of Diaby being too fragile. No because one stupid player felt the need to show what a hard man he was in the extra time of a match that was going to be won (by Arsenal) and lost (by Sunderland) anyway, in the middle of the field with nothing really going on any more.
So yes I will always have a warm place in my heart for Diaby. Whatever happens in the next months or years. He was one of the most unfortunate Gunners in recent history.   And as a friend of mine can testify in person he is a very nice person in his daily life when he had the chance to talk with him.
I talked about keeping our fingers crossed for the health of our players on international duty, maybe we could do the same for Diaby?
Untold books for Christmas