By Walter Broeckx
A few words have been spoken lately about the Borussia Dortmund supporters. Come to think of that… we have mentioned them over the last years on numerous occasions. And most of the time as far as I can remember we only had nice and good words to say. For those like me who have been in Dortmund in the last years it always was a nice experience.
I have known a win, a draw and a defeat in Dortmund. But what struck me always apart from the fact that the seats in the first 2-3 rows are with blocked vision was that the supporters really are supporters.
I remember the first year when we came there. The year we lost Cesc. And the Borussia Dortmund supporters didn't like the oilers money. And didn't like the way Cesc left. And each year we were in the same group of the CL I came back. And never did I feel any bad feelings towards Arsenal.
They disliked the oiler teams as much as they dislike Bayern Munich. They long for fair competition just as we do. And they like good football. And they are deeply and madly in love with their club.
Lately we also mentioned 'the banner'. A few people found the need to unfold a banner asking Wenger to leave. They even had the crazy idea to not join in the celebrations when we scored but to unfold their banner at that moment in time. Some 'supporters' who don't celebrate a goal from their team.
So Arsenal had their worst start in I don't know how many years. Not that the banner boys care about that really. I think they were the ones hoping for our team to lose heavily against Dortmund. I think they were the ones who suddenly called winning the FA cup no trophy. Let alone winning the CS. Surely since Arsenal won it, it has gone off the list of possible trophies. If we would have lost it…then it would have been a trophy and a missed chance for silverware.
So the boo-boys found it necessary to spoil our moment of joy with their banner. I think the players will appreciate that gesture immensely. At a moment of joy you don't show that. At the moment we score you celebrate. And that is all you do when we score: celebrate. And if you don't…then I don't think you can call yourself a supporter. So I really hope the banner-boys will follow up their advice and say goodbye to Arsenal as soon as possible and thank Wenger for the memories.
Back to Borussia Dortmund. The team that was playing in the CL as a future winner. Well at least till they came to North London and were well beaten by Arsenal. But in the Bundesliga it has all gone wrong for them this season. They had a lot of injuries. But as we have been told over and over again in the last 10 years: injuries are not an excuse for bad results. Arsenal having 10 players out is their own fault. Another team having lots of injuries is bad and an excuse. For Arsenal it isn't.
But because of all the injuries Borussia Dortmund now is in trouble and the players seemed able to lift themselves in the CL to a high level but paid the price in the Bundesliga. And after the last weekend they now find themselves with the red lantern in their hands. Having the red lantern in your hands is an expression used in German and in Dutch for the team standing last in the league table.
And what do the Dortmund supporters do? Do they bring banners to the ground where they say that it is time for Klopp to say goodbye? Do they show up at the Untold Dortmund blog (if that exists of course) call everyone who supports the manager fools, deluded, idiots, … (don't worry Tony I will not use the word- which I didn't know that was so offensive ) and say : where is his plan B?
On a side note. I notice suddenly a big drop in the amount of voices that wanted us to bring in Klopp and kick Wenger out. No, they are not fickle. Well that is at least what they say of themselves.
No Borussia Dortmund supporters say things like: you have brought us success and now in difficult times we will stick with you. As I have said many times before when your team is winning it is easy to be a supporter. But when things go bad and you have a bad patch, then the real supporters will show up and support the players and the club when they need it most.
But I must admit that supporters of Dortmund do bring banners with them to the ground about their current situation. And the banner is like this and I will translate it below the picture.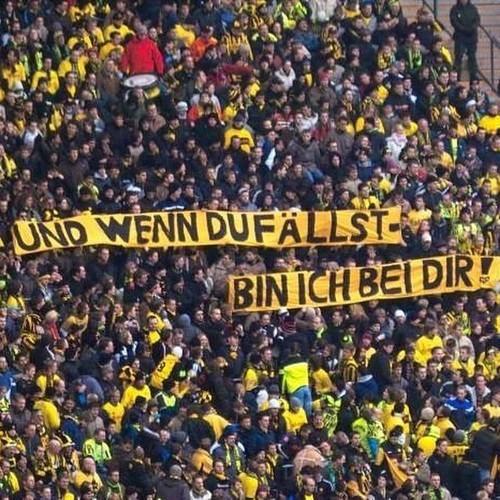 "AND WHEN YOU FALL, I WILL BE WITH YOU!"
And that is for me what real support is all about. Last in the league but they will stick with the team and with their manager who has done so much good for the club.
And the sad thing about our own banner boys is that they haven't got a clue what being really bad is all about. Not one living Arsenal supporter has seen the club play below the top division! But Dortmund has had that experience in the seventies. And even in 2008 they only finished in 13th place. They had 6 seasons with mid table finishes in a row in that decade.
And look at us spoiled Arsenal supporters. We have been in the top 4 for ….as long as we can remember. And yet we moan and bitch whenever we drop points. We ask for the sacking of the manager who has kept us there with no money at a time when we had to fight against teams with infinite money coming in.
Why don't some do what they say and leave our club as long as Wenger is the manager. No more need to bitch or moan. You could feel happy again and once Wenger is gone and that time will come one day, you can come back happy that he is gone and you can support the club once again. Just say goodbye for a while. There will be plenty of people around to take up the space you left behind. People who will celebrate when we score and will not hold up banners at a time like that.
The Christmas books
Some other sites from the Untold team (there is a full list on the home page)