Arsenal v Newcastle – 16 December 2014 – The Match Officials
by Andrew Crawshaw
Referee – Lee Mason
Assistants – S Burt & A Halliday
Fourth Official – R East
The Referee appointments for Arsenal games don't get any better, but for followers of Untold that will hardly come as a surprise.
Mr Mason's 11th game of the season and his first for Arsenal, second for Newcastle.  Mr Mason is Lancastrian and chairman of the Bolton Referees Association.  He has been a Premier League referee since 2006.
2013-14 Season
Arsenal – WBA, the told you so game 6 October 2013 – West Brom 1 Arsenal 1
" Wilshere  was like an outlaw on the field and I mean this as a person who was not allowed to go in to any challenge or being called back for a foul but on the other hand could be pushed, pulled, kicked without that the ref would give a foul to Arsenal.  But this same Wilshere scored a vital goal for us. His shot took a slight deflection on Olsson and ended up in the back of the net."
Cardiff 0 – Aaronsenal 3  30 November 2013 – Cardiff 0 Arsenal 3.  An Inspired Aaron helped us to a fully justified three points, Cardiff played football and not rugby and thus the main threat from Mr Mason was nullified.
Southampton 2 – Arsenal 2 – Mason as predicted yet again  28 January – Southampton 2 Arsenal 2
"Now of course when you play bad it doesn't mean that the ref should assist the other team. I have seen the "foul" from Mertesacker a dozen times now and I really cannot see what was the foul. He cleanly played the ball and then the Southampton player went down. This was never a foul. To ad insult to the injury Southampton scored from the free kick that was given.
Then we have to give credit to Mason.  He made a right decision. He gave a red card against Flamini for a two footed tackle. He got the ball but it doesn't matter. It is a reckless and dangerous tackle and a red card should be given."
Norwich – Arsenal, what a pair of goals!  11 May 2014 Norwich 0 Arsenal 2.  Another Ramsey special and a first for the Corporal (I do wish we hadn't loaned him out to West Ham this year – he does seem to be improving steadily and not being given too much grief from referees over imaginary fouls).  Norwich for once playing football and not injuring our players.
None of these games had either Mr Burt or Mr Halliday, Mr East was fourth Official for the Swansea game
2012-13 Season
Match Review: Lee Mason – Stoke City Vs Arsenal (0 – 0) [26/08/2012]  55% overall, bias against 26/74 and five wrong Important Decisions (Second Yellow, Red Cards, Penalties or Goals).  In Minute 7 Wilkinson threw himself in front of a ball that was going into the goal, his arm was outstretched and prevented the goal.  Should have been red card and penalty.  In Min 38 Arsenal should have had a second penalty, in Minute 57 Gibbs shoved pennant in the penalty area – should have been a Stoke penalty and in Minute 63 Stoke should have been further reduced following a nasty studs up challenge.  Awful refereeing and it cost us two points.
80% overall, bias against 0/100, no wrong Important Decisions.  An excellent first half, one wrong call in Minute 2 Gibbs wasn't offside.  The second half wasn't quite as good with a number of wrongly called or non called fouls and another wrong offside against Gibbs.  Better this time but all eleven wrong call against Arsenal.
Ref review 2012/13: Lee Mason. The ref with penalty area fever and Arsenal phobia
Across all of his 15 reviewed games (out of 24 in total) Here is a summary of his numbers
| | | | |
| --- | --- | --- | --- |
| Decision | Total Correct | Total Incorrect | % wrong |
| Yellow Card | 39 | 40 | 50.6% |
| Red Card | 1 | 8 | 88.9% |
| Goals | 33 | 5 | 13.2% |
| Penalties | 3 | 7 | 70% |
One correct red card out of 9, 3 correct penalties out of 10, 5 wrong goals out of 38 and yellow cards a 50/50 lottery.  Unacceptable!
2011-12 Season
REFEREE REVIEW 2012: Lee Mason. Oh dear. Oh dear. Oh dear.
There were 6 reviewed games out of 24, here are his Important Decisions
| | | | |
| --- | --- | --- | --- |
| Decision | Total Correct | Total Incorrect | % wrong |
| Yellow Card | 12 | 15 | 55.6% |
| Red Card | 0 | 4 | 100% |
| Goals | 11 | 3 | 21.4% |
| Penalties | 6 | 4 | 40% |
He was unacceptable in 2011-12
Who was his least favoured teams – why Arsenal of course along with QPR and West Brom. and his favourites Everton and Stoke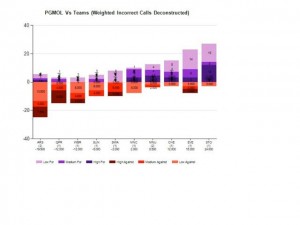 In Summary
Mr Mason is in the same mould as Dean, Atkinson (when Chelsea are about), Probert and Taylor. They are an Unholy Quartet who should be forced to referee games in Siberia, Antarctica or anywhere that Arsenal aren't playing.  To put any of them in charge of Arsenal is an affront to all who value fairness.
Mr Mason has little idea what constitutes a red card, none over a penalty and yellow cards are a 50/50 lottery. Must be due a promotion to FIFA Accreditation with one more dodgy performance screwing Arsenal.
Arsenal will be systematically robbed on Saturday
When Arsenal have momentum look out for phantom fouls, not given advantages and all of the other tricks to enable Newcastle to regroup.
Newcastle will be allowed free licence to commit fouls in our penalty area, look out for pushes, hands being used to help their attackers to jump higher to name but two. Should any Arsenal player attempt anything similar, the whistle will sound and probably cards will be shown.
Woe betide any Arsenal player who runs alongside someone from Newcastle, you will be booked.
This is one game when I really hope I'm wrong, but I fear that this appointment is intentional to try and destroy Arsenal's chances of gaining places in the league table.
COYG