By Blacksheep
An Untold Banner
On Sunday Tony and I were chewing over the bones of the game against Chelski and I put an idea to him. How about we (i.e the Untold family) fund a banner that can be displayed at the Emirates?
You probably know the sort of thing I mean if you been to the Grove or have only seen it on a dodgy stream.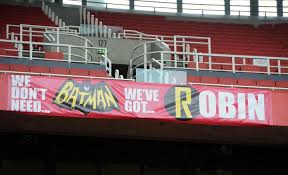 or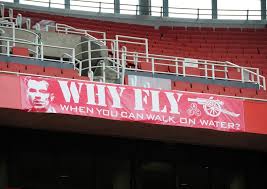 These celebrate victories (we won the league, at WHL) or former players (like Rocky or Dennis) but I think its about time we had one that saluted the greatest manager in Arsenal's history.
I contacted the team at Red Action (who do so much to organize the huge banners on match day and are tasked with improving the atmosphere) and they provided the following information:
If we want to do this we need to design a banner that is exactly 1m high and is about 5m wide (this can vary but there isn't unlimited space). It has to be made from fireproof vinyl (and I have a specific manufacturer to contact).
Before we get it made we have to contact the Supporter Liason team at Arsenal to get approval. Once they ok it we can get it made, deliver it to the club and they will install it.
Costs will vary but I reckon we might need £150-£250 and this might be a project that Untolders would like to chip in to (as much or as little as you like).
Then we have the design – now I was thinking we should use the quote that appears at the masthead of this blog:
"I believe the target of anything in life should be to do it so well that it becomes an art" with a silhouette of Arsene Wenger. In red on a white background perhaps?
What do you think? Got a better idea then do share. Want to get involved or pledge money? Let me know @blacksheep63 on twitter
Let's do this!
Blacksheep