Police investigating the activities of Tottenham Hotspur supporters guilty of homophobic and racist chanting at Portsmouth have finally, after months of pressure from this and other blog sites, released pictures of 16 suspects today.
That the event took place on 28 September and that only 16 of the hundreds – perhaps thousands – who joined in the chanting have been identified shows how pathetic the attempt to deal with this has been.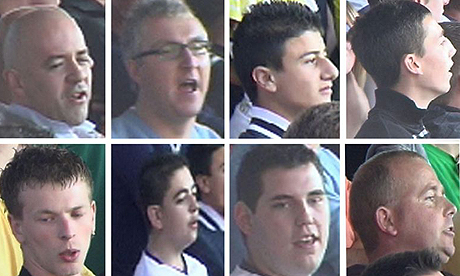 Superintendent Neil Sherrington said: "As part of our investigation into indecent chanting at Fratton Park, we have identified 16 people we would like to speak to.
"Our inquiry is aimed at identifying and putting before the court those individuals who engaged in unacceptable behaviour at this public event.
"Their abuse caused distress to some supporters and was targeted at an individual.
"We want to send a clear message that abuse of this kind will not be tolerated and that we are taking robust action.
"I'd urge anyone who recognises these people to contact us as soon as possible."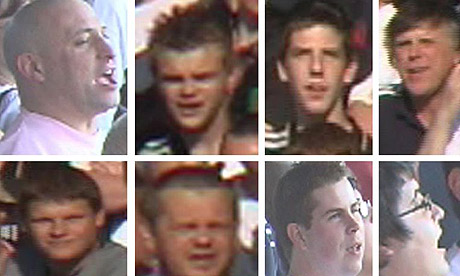 The offence of indecent or racist chanting at a designated football match under the Football Offences Act 1991 can be punished by a fine of up to £1,000 and can also lead to ban on attending matches.
Anyone with information should contact Operation Decorum on 0845 0454545 or Crimestoppers on 0800 555 111
Anyone who can identify any of the hundreds of thousands of other Tottenham Hotspur supporters who joined in the chanting should also contact those numbers.
The pictures comes from the Hampshire police.