Can Arsenal Win the League this Season?
What is the Long Term Trend?
By Pete
I have noticed that, over recent history, Arsenal seem to be more successful in seasons leading up to major international championships than in seasons following them.  For example we can see that we won the League in 1998, 2002 and 2004 – but never in an odd-numbered year.
This goes back to around the time when Arsene Wenger became manager – and when the influx of foreign players really started to gather steam – with therefore more players participating in these events.  As the club has been stable, in terms of management and philosophy (if not in terms of short-term financial resources) I think this analysis is a valid exercise to undertake.
I have also observed that Arsenal have been making steady progress over the last few seasons in terms of their League points per season – a metric I regard as a good long term indicator of our progress or otherwise.
The below chart summarises Arsenal's points since Wenger's first full season (1997/8).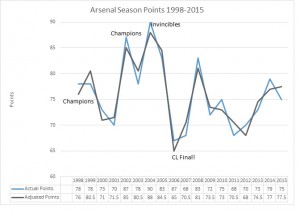 That is 18 seasons.  Our average points outcome (the Blue Line) is 75.94 – or just one point (over 18 seasons!) short of two per game.  Our average in seasons following non WC/EC summers is 78.  Our average following World Cups is 73.4, our average following Euros is 74.5.  This is quite statistically significant and reflects the impact of exhaustion, injuries and post championship "hang overs" on our players.
While other clubs would also be impacted by this, anecdotally I do feel we have had more players participating AND more of those participating until the later stages.
We can smooth the numbers by adjusting for major championships (so increasing the points post championships and decreasing pre) and these are plotted by the darker (originally green, but I fear it loses its colour on some systems) line.
The Green Line is smoother (standard deviation of 6.12) than the Blue Line (standard deviation of 6.47).  This is also significant and reflective of the impact of major championships.
[As a matter of interest, our average points in the first seven seasons was 79.1, our average in the subsequent eleven is 73.9.  So the impact of building the stadium has been around 5 points per season over the last 11 seasons.]
But the point of this article is to project forwards.  As can be seen, our adjusted points per season has increased for the past four seasons.  We have been making progress!  This trend seems to be petering out to an extent but would seem to imply a forecast adjusted points total of 78 points next season (or 80 actual).
80 probably won't win the League title.  So what else could we do to garner the extra half dozen or so points that are likely to be necessary?
Possibilities include:
Buy another world class player or two (probably looking at transfer fees in the region of £70-£80 million for the pair).
Improve our injury unavailability to the median for the PL. This would also have the effect of two more top class (first team) players being available for any given game.
Hope for more even-handed refereeing performances. This would be worth a fair number of points as well.
Hope that statistical variation favours us this season.
I think 1 is unlikely, am modestly confident around 2 while I continue to hope for 3, against all the evidence…
But just one of these 3 things I believe would supply the extra 6 or 7 points we need.  Two of them would probably get us to above 90 and all three would see us breaking records.  Even if we get none of them a fortunate season (getting a few lucky breaks – perhaps Wickham hitting the post on Sunday…?) could easily see us into the mid-80s.
Then the other variable is how our competitors do.  My sense is that the long term trend whereby the champions got ever more points and pulled ever further clear of the median club, is starting to go into reverse as the sheer size of the TV pot is allowing the mid-table clubs to improve their teams relatively faster than for the top teams.  In other words an extra £50mm will improve Stoke more than Manchester City due to the increasing rarity (and hence expense) of the very top players.
We shall see.
I am sure you all have your own views, but wanted to try to anchor the debate on solid foundations…
From the Pre-season files