By Tony Attwood
The BBC picked up the story early on with "Bayern Munich to set up refugees training camp" for refugees coming into Germany while donating 1m euros for refugee projects.   They plan to provide food, German lessons and football equipment for children.
Karl-Heinz Rummenigge is quoted as saying "Bayern sees it as its social responsibility to help the refugees," which is to my mind a stupendous statement and one for the world of football to look at and take note of.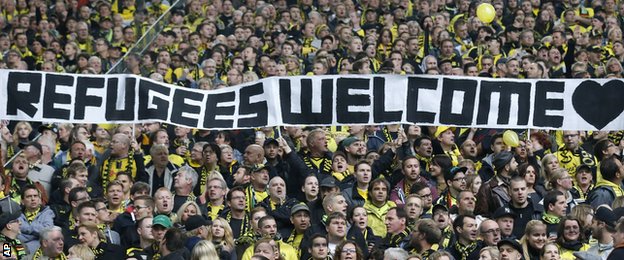 On 12 September Bayern's team will enter the arena, "holding the hand of a German child and a refugee's child".
Borussia Dortmund recently invited 220 refugees to watch their Europa League game last Thursday. Mainz gave out 200 free tickets to their home match against Hannover before the international break and banners carrying positive messages in support of refugees have become common in the Bundesliga.
It didn't have much if any impact on the notoriously predominantly insular British papers although the Mail did pick up on the fact that Celtic said their share of the proceeds from the Jock Stein 30th anniversary events will be devoted to assisting those people affected by the current refugee crisis.
Full credit to them as The Telegraph did also give some coverage to the developments in Germany  and soon after a candidate in the Labour Party leadership election Yvette Cooper and fellow MP Chris Bryant wrote to each Premier League to urge them to allow supporters to unfurl #refugeeswelcome banners at games.
First to move in response to this – and the most fulsome credit to them also from me – was Aston Villa and they have said that they are preparing "English Football League Day of Solidarity" banners.  There was of course an immediate concern that the banner could be classified as political – which Fifa and Uefa ban, but this has now been set aside.   Villa supporters are planning to unveil the message supporting refugees during their televised match at Leicester City on Sunday week
The Independent has now taken up the campaign, and the vast majority of the right wing British press still refuse to touch it.