By Tony Attwood
The Untold Banner is now on display at the Clock End.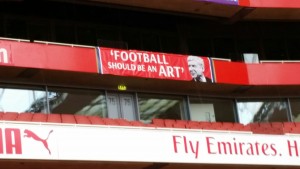 I must immediately thank Mark Brindle of Arsenal who encouraged and supported our efforts to bring this to fruition, and of course Blacksheep, who travels with me to Arsenal games, and whose idea this was.
One day, in a desperate move to get me to shut up with whatever it was that was making me talk 20 to the dozen as we drove to a match, Blacksheep came up with this idea of an Untold Banner.  I told him the club would never go for it, but he persevered, and now thanks to his perseverance and drive, it is there, at the stadium, expressing our support for the manager and his vision.
And of course I must thank each and every person who so kindly contributed to the fund that paid for the creation of the banner plus most particularly at this juncture Jennie Bradley who did the design work for us, who I have (in a very remiss manner) failed to thank until now.  Jennie, this is the sort of thing I do – I chatter about rubbish, and then forget the really important stuff.  We really owe you for this.
The Untold Banner is a brilliant idea, and I am absolutely delighted that we've done this all together.   For everyone who can't get to the stadium, we will try and get more pictures of the banner in situ, at the next home game.
I think I might add today to the Anniversary Files.
There is an article about the making of the banner and the list of people involved in the whole project on a page of its own, and we maintain a permanent link to this page.
It just shows what can be done when you put your mind to it.
Thanks everyone.
The Untold Banner, and the permanent list of people involved.