By Tony Attwood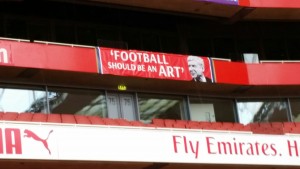 On a day when yet more illegal activity swirls around Barcelona (even more than I managed to cover last night in what I thought would be a full review of their activity – as Gord pointed out in comments on yesterday's article), and on a day when we play a club whose owner and president stands accused of  being involved in and directing a criminal organization, aiding and abetting blackmailing, aiding and abetting explosion and fraud and is currently banned from any football activity, only able to walk the streets because he could pay €200.000 bail and has to report to a police station every 15 days, we are going see the Untold Banner at the Stadium.
(Sorry that's a long sentence, what I meant was, we are playing a club riddled in accusations of fraud, on the day when we will see our banner on display for the first time).
And I think this is important, not just because Blacksheep had the idea, liaised with the club and saw the whole thing through, but because the slogan put on the banner stands out against all corruption, and stands in favour of playing the beautiful game – something long since forgotten by many managers and much of the media.
But before we get to today's game, perhaps I may take in the latest on Barcelona's long list of corruption charges and illegal dealings.  For we now know that Javier Mascherano has been charged with two counts of defrauding the Spanish tax authorities of a total of more than 1.5 million euros.  The allegation is that he sought to conceal earnings from his image rights by using companies set up in the United States and Portugal. defrauding the authorities of 587,822.01 euros in 2011 and 968,907.76 in 2012.
Mascherano like others before him in this long and seemingly endless series of cases this month paid the money owed plus almost 200,000 euros interest.  Lionel Messi has been there, Neymar is very much there at the moment and the President and Ex-President are awaiting to see what the judiciary does to them.
So as corruption spills out across football in Spain and Greece, our banner will stand there representing (in my view, and as always in my ramblings, it is just my view), a really positive statement about football.
As you will probably know, the statement comes from a phrase of Mr Wenger's that we have quoted for years on the home page: "I believe the target of anything in life should be to do it so well that it becomes an art."   It's the philosophy I've always had and as many have pointed out with my spelling and grammar on this site generally failed to live up to – but there's no problem with keeping on trying to reach the ideal, in my opinion.
Incidentally, looking sideways for a moment, it is also interesting to reflect on this morning's headline in the press
In the words of Mandy Rice-Davies, who died last year and who is still described wonderfully in the media as a British model and showgirl,  "Well he would say that, wouldn't he?"
Ms Rice-Davies was speaking at the time when we began to realise the British government was riddled with dirty old men and their "showgirl" chums.  Only later did we find out that what they were up to was probably much, much more appalling.  But that's a different matter.
Actually, speaking of headlines, I must throw in this one
Leicester City are invincible no longer
That is on the Independent's web site today as one of the things we learned over the weekend.   I am not sure that "learned" is the right word here.  "Bleedingly obvious" might seem more to the point.  But that's journalism for you.
So back to Greece.
Picking up details of corruption can sometimes lead to people writing back in saying "you shouldn't believe what you read in the press" and "he has been proven innocent" or whatever – and of course I am not an expert on Greek football.  So if you would like to disagree please do, but some sources for your information (preferably written in English) would be good.
The scandal started in April this year when the prosecutor in the case Aristidis Korreas' revealed his findings which basically said that telephone tapping operated by the National Intelligence Service of Greece since 2011 had been used by the owner of Olympiakos F.C  along with other members of the Greek Football Federation who had become effectively a criminal organization within football.
Their aim was obvious – to gain total control of Greek football via blackmail and fraud.   To do this they were able to use the rules of Fifa and Uefa which demand that football be a self-governing unit within the national states.  This is how the utterly inept and possibly corrupt Football Association in England is allowed to continue unmolested and untouched by our feeble backwater government, which is even now trying to get money out of the Premier League, because of the FA's gross inability even to pay its own bills and its own abject failure to support grassroots football.
In June 2015 the suspects in Greece were questioned and in July a list of players, officials and owners who would be tried was presented.
Match fixing of specific matches has been alleged for some years and the 4 February 2015 match between Olympiakos against Atromitos was particularly questioned following Panathinaikos F.C. football director Takis Fyssas' testimony that Atromitos coach at that time, Ricardo Sá Pinto, had informed him that the club had been told to drop certain players for a specific match.
However the trial has not yet happened and so Uefa has agreed that Olympiakos will keep their place spot in the Champions League for the time being.  This was confirmed by the Court of Arbitration for Sport.   However there have been allegations since then that the General Secretary of Uefa's involvement in giving the spot to Olympiakos was itself improper and needed investigation because of family connections.  Uefa, it is said, has not responded.
So quite a moment for our banner to be unveiled with all this background.   A statement about the beauty of football and the ideal it should retain, on display as we play a team mired in corruption.   Which come to think of it, was the same with the team we played in the last match in the Champions League.
I'll come on to the match itself in the lunchtime post.  I won't be able to cover the under 19s game, as I will be on my way to the game, but maybe someone can drop in the score to the discussion.
The full story of the Untold Banner, and the list of everyone who contributed to make the banner possible is given on the Untold Banner page.
——————
Two of today's anniversaries
29 September 2004:

Rosenborg 1 Arsenal 1 (Ljungberg).  Arsenal had already beaten PSV Eindhoven and looked set fair for the next stage. They made it but not quite how with the victory that they might have hoped for.

29 September 2007:

  Top of the table Arsenal made it a perfect September beating WHU 1-0.  Arsenal had beaten

Fulham, Manchester City, Portsmouth and Derby at home, and Tottenham away and drawn away with Blackburn.