by Tony Attwood
I know many fans have a whole plethora of pictures of Arsenal in their homes.  I've got a lot of books, which of course I use as reference material for the Arsenal History Society articles I write, but there is only one Arsenal picture.
It is the cover of a Highbury programme, dated 21 December 2002, enlarged to double size, showing Robert Pirès after he scored, raising one finger to the sky.  (Wiki has the game listed as 22 December, a Sunday, so perhaps it was moved after the programme was printed, I can't remember that detail).  Arsenal beat Middlesbrough 2-0 and the scorers were Campbell in injury time at the end of the first half, and Pirès in time added on at the end of the second half.  It was the second in a 12 match unbeaten run, and Arsenal were top of the league.
This memory is particularly important to me because my friend Roger, (with whom I travelled to Arsenal games home and away for many years,) and I had been discussing Robert Pirès on the journey from Market Harborough to London, and had talked about Pirès' imperious qualities and began to call him The Emperor.   And when we got our programmes at the game, there he was the following week in full Imperial style.
To mark the event I later bought an Arsenal t-shirt, all red with an image of Robert's face and the number seven on it.  I still have it, and indeed wore it on my holiday in Greece last month.   Such things seem an important link to the past.
After Roger was taken from us at a ludicrously early age I dug out the picture, got it framed and enlarged, and it has hung in my kitchen ever since, the only Arsenal picture in the house.  More meaningful than a thousand pictures from the Doubles or the Unbeaten Season could ever be, one part of the memory of a dear, dear friend.
My other tribute to my pal came with the book "Making the Arsenal" which is dedicated to him.  It sits on the shelf beside me as I write my little Untold Arsenal pieces.  Towards the end of his life, when he wasn't at all well, Roger (knowing how much I thought of Robert Pirès contribution to the team queued for 90 minutes at the old Arsenal shop by Finsbury Park station where Robert Pirès was doing a book signing and got Robert to sign a copy of his autobiography "Footballeur".  I had no idea he was doing that, and I would most certainly have told him not to do it.  But he did and that book too sits on the shelf.  Inside Robert wrote "To Tony" and then put is signature and wrote below that "Pires.R."
I mention all this today because Robert Pires has been doing some of the PR stuff that ex-players do, in this case with Europcar, the Official Car and Van Rental partner of Arsenal FC.  To preview its new 'Selection' car hire service they got Robert to make a selection of his own –  his 'Ultimate Arsenal XI'.
During his six years with Arsenal, Robert made 284 appearances in midfield and scored 84 goals. He won three FA Cups and two Premier League titles with Arsenal from 2000-2006. Robert earned his place in the immortal history of Arsenal by being a member of the 'Invincibles'.
But to me he was more than that, because he played so perfectly with Thierry Henry I think he made Henry even more of a player than he naturally was.  How many times did we see Henry drag two or even three defenders out towards the left corner flag while Pirès ran unmarked into the centre.  Henry managed to break free, passed and there was Robert Pirès unmarked ready to score.
The Premier League title was secured at White Hart Lane of course with Robert scoring Arsenal's second goal in the 2-2 draw with Tottenham. So Robert was asked to select his Ultimate Arsenal XI during Europcar's 'Selection' range preview and ahead of this Sunday's North London derby.
Here it is
Seaman
Lauren, Adams, Koscielny, Cole
Cazorla, Coquelin, Vieira, Sanchez
Bergkamp, Henry
Bench: Lehmann, Keown, Gilberto, Wiltord, Ozil, Giroud, Pires
I once met Robert in Highbury stadium, although perhaps "met" is putting it a bit strongly.  Roger had given up his season ticket because of his illness and was just going to occasional games, buying tickets individually for each match.   At one game we got to his allocated seat in the west stand only to find a season ticket holder had it.  I left Roger there and walked around the inside of the ground to the box office to get the ticket sorted out.
Walking through the inner part of the East Stand with the game just kicking off, I found myself face to face with Robert Pirès and Patrick Vieira in deep conversation heading the other way to take their seats.  I think Robert was injured and Patrick was serving one of his suspensions.
Now those walkways within Highbury were fairly narrow anyhow, and with two footballers coming towards you, there isn't much room.  I flattened myself against the wall to let them pass.  "Hello Robert," I managed to squeak, completely overcome by the occasion, and he turned and nodded, before passing on his way.  So you see, me and Robert…
I'll tell you something else about Robert that isn't normally talked about in England.  After "Footballeur" he wrote a second book.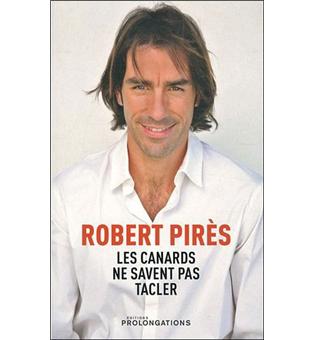 I only found out about it because I read a review of it in L'Equipe in 2011 when the volume came out.  It has never been published in English.  But in case you fancy it, here's a taste:
En équipe de France, une légende circulait : "Un tacle de Pirès, c'est comme un but de Thuram. Sous-entendu : il faut se lever tôt pour en voir un."
In the French game, there's a story that does the rounds: 'A tackle from Pirès is like a goal from Thuram.  You need to get up early to see one.
So, as you can see, me and Robert Pirès, we're pretty close.
Two more anniversaries
7 November 1964: Geoff Strong sold to Liverpool for just £40,000
7 November 1970: Blackpool 0 Arsenal 1. This was League match 16 of the first Double season and Arsenal's fourth consecutive win, but it still left Arsenal second, one point behind Leeds.  Radford scored in a game that was part of a sequence of four consecutive scoring matches for the centre forward.
Also from earlier…