Aston Villa v Arsenal 13 December 2015 – the Match Officials
by Andrew Crawshaw
Before I start on discussing referees or the upcoming game I want to pay my own brief tribute to an Arsenal legend who died last Saturday on his way to watch the Sunderland game.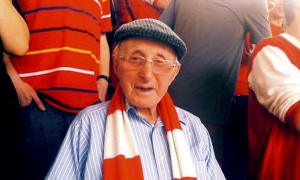 Ernie Crouch was 90, supported Arsenal for 80 years home and away and both the Men's and Women's teams.  I only met him once, a few weeks ago on the supporter's coach to the Ladies Continental Cup Final.  Without doubt many will also know Ernie and will agree that we have lost a true legend amongst supporters.  Ernie was a victim of the gales last Saturday and was blown off the pavement against a bus and died at the scene of the accident.
Ernie, our thoughts are with your family at this time and may you rest in peace (or at least apply a little intervention from on high when we most need it!).
Now on to the Table of Shame updated following the Tottenham review
| | | |
| --- | --- | --- |
| Wrong Important Decisions | Favouring Arsenal | Favouring Opponents |
| 2nd Yellow Cards | 0 | 17 |
| Red Cards | 1 | 7 |
| Penalties | 1 | 14 |
| Goals | 0 | 4 |
| Total | 2 | 42 |
| Possible Cost in Points | 0 | 11 |
Ref Review : Arsenal – Tottenham – Martin Atkinson was in charge and oh boy didn't he make a complete pigs ear of the game? 41% overall weighted score and 8 wrong Important Decisions, mostly featuring Jan Vertonghen who should have been called for three penalties and sent off three times (twice for second yellow card offences and once for violent conduct after Giroud lost his temper), Giroud should also have been sent off and so should Dier.  Tottenham defenders allowed to get away with every kind of foul in their penalty area with a blind referee looking on.  The bias in the wrong decisions was 82% in favour of Tottenham.
A disgraceful example of refereeing from someone supposed to be one of our best.
On to Sunday and the Officials are:-
Referee – Kevin Friend
Assistants – D Bryan and D Cann
Fourth Assistant – J Moss
Mr Friend hasn't been too busy yet this year, this will be only his 8th game of the season.  It will be his second Arsenal game, we last had him 7 weeks ago when we visited Swansea and won 3 – 0.  Here is the link to Walter and Usama's review of that game.
His overall score was 74%, so adequate.  Overall bias was 60% in favour of Swansea so again acceptable (just) and he made just one wrong Important Decision when he failed to call a penalty against Mertesacker for a clear hand ball.  The wrong decision didn't really affect the overall result as we won by three goals to nil but it was nevertheless a noteworthy occasion.
In my preview of the game Swansea v Arsenal 31 October 2015 – The Match Officials I was concerned about Mr Friend, who I used to regard as giving the best refereeing in Arsenal games.  But his standards had slipped alarmingly during 2014/15 with four games all scoring below acceptable level.
I hope the Swansea game represents a return to his better days.  If that is the case then thank you for turning away (at least partially) from the dark side.  On the other hand, it could be that he has been a second opportunity to show that the Swansea game was the aberration, we will have to see.  The Swansea preview has a comprehensive breakdown of past games, please refer to it for the full picture.
I have no 'flags' against either of the Assistant referees for this game and Mr Moss is normally OK.
In conclusion
Mr Friend is normally a 'home' referee.
Prior to last Season he was, by some distance the best scoring referee in Arsenal games. Last season he wasn't and seemed to have been converted to the PGMO 'Norm'.
In his previous Arsenal game this year there were encouraging signs of him reverting back to 2012/13 form.
He is not known for awarding penalties to Arsenal, so don't go betting on us getting one.
Overall bias is likely to favour Aston Villa and they are likely to benefit from 'phantom' fouls enabling a long ball into our penalty area for us to have to defend.
Villa players are also likely to be given more leeway in challenges than Arsenal.
Arsenal on this day…
12 December 1886: The report of the score of Arsenal's first match against Eastern Wanderers appeared in The Referee magazine – the first contemporary confirmation that the game actually took place that was discovered by the Arsenal History Society. Prior to this there were only commentaries made by contemporaries many years later.
12 December 1946: Ronnie Rooke signed for Arsenal aged 35 from Fulham.  Before signing for Arsenal he never played in the top division of English football and remains the oldest player to make his Arsenal first team debut.  David Nelson and Cyril Grant went to Fulham as part of the deal.