By Walter Broeckx
When Arsenal win a top match like they did against Manchester City the feelings of happiness are a bit higher than when you win against let us say Sunderland. In a way this is not based on facts as a win against Sunderland gives the same number of points as a win against Manchester City. But still it feels more satisfying.
The players that will grab the headlines are the goal scorers of course and well that guy who was said to be nicking a living at Arsenal by someone who had a "talking pear" in front of his mouth and wanted to sound interesting. [Is that a Flemish phrase Walter?  I rather like it.  Tony]
Or was it a reporter who wrote it down in one of his match reports? Anyway the jury can be making up their mind if possible because when you look at the stats of Özil they are completely world class. In his last 16 matches he had 15 assists and 2 goals I have read somewhere.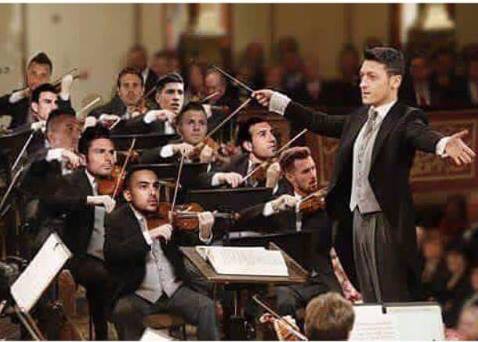 The Arsenal orchestra under the guidance of conductor Mesut Özil
But apart from this picture I will now look in to some other players. Players that go under the radar a bit but who are oh so important.
One of those heroes is also one of his best friends: Mathieu Flamini. Probably the richest player in the world if not now then possibly in the future with his investments off the field and brother of Özil outside the field.
As Charles Aznavour once sang: "you are the one for me, for me, formidable…" I now would sing: "you are the one for me, for me, Flamidable…" No need to search for this word as it doesn't exist as far as I know. Not in English and not in French. But the way Flamini has played in the weeks since Coquelin got injured is amazing to see.
This is a player we should have got rid off during the summer the moaners told us time and time again. Wenger kept him. Knowing that a player like him cannot be found that readily. Flamini is an older player who knows he will not be playing 38 matches in the PL anymore. He can live with being on the bench and will not sulk or moan about it in the media and cry about it. Flamini knows he is a backup for Coquelin and as he has been around a bit, he can live with that. He is 31 and will be 32 when we reach the end of this season.
But he is one of those players that you know that when you need them, they will come on the field and do their job in the best way they can. Yes he isn't as energetic as Coquelin who is 7 years younger so this is natural. But as he had a career at top clubs in France, Italy and at Arsenal he knows what is expected of him.
For me yesterday he was once again producing the goods against Man City. You can use him against the small teams but not in the top matches they said. Well at Olympiakos he did an amazing job and now again against City he was outstanding.  So he might be not that bad as he was painted by some? And what he might miss in pace at his age, he compensates this with his experience. Which defensive midfielder would swap roles with Flamini and come to Arsenal in the knowledge that he will sit on the bench till the number one gets injured…if he gets injured? Flamini is fine with that and that is something a team needs. Players who will accept that role and perform when they are called upon. Luckily Wenger kept him.
My second under the radar player of the match was our captain on the field. Our Big F****** German. He is now in his fifth season at Arsenal. From day one I was as happy as can be with seeing this Gooner out there on the field. All the shit that has been thrown at him about him being too slow, cannot turn… I have always fought against it. Of course I know he is not as fast as Bellerin. But not every defender needs to be a rocket. Adams wasn't really the fastest around but look at his career. Using your brains can be as important as running fast.
Yesterday Per had a few standout moments. I remember two times when a City player tried to dance his way past a few Arsenal players till they came in front of Per. Both Silva and De Bruyne lost the ball when our BFG stuck out his long leg to take it away from them. Vital interceptions! Much needed interceptions.
And what about his work when De Bruyne escaped on our left flank because of the only moment when Monreal and Walcott had a mix up when both advanced and thought the other would drop back to defend. Per used his head and didn't try to come too close to De Bruyne because that would leave Silva completely unmarked in front of goal. So he closed down De Bruyne a bit but still kept himself in between De Bruyne and Silva so a possible pass would have to be inch perfect or he could have cut it out. De Bruyne then could only take a shot from a much more difficult angle cause of the position of Per and dragged his shot wide.
But for the rest of the match City had more than a few crosses going at the heart of our defence. But it looked as if Per attracted each ball and cleared it. With his head, feet or whatever body part that is allowed to touch the ball. He looked to be in the right place each time.
Two older soldiers who worked their socks off and played a huge part in our win against City. But also two players that have been ridiculed by the pundits and even worse by our own fans. So I feel very happy and proud to see them perform like they did against the team that spend all that money and was the number one challenger for the title after the first pundits favourite stumbled to the ground in the last months.
Well done you boys and keep it up for the next weeks and months because we still need your older legs and experience.
The publisher apologises for the late posting of this morning's piece as he didn't wake up until 8.30.  It was just such a wonderful, emotional, night.