By Tony Attwood
I was on the beach in Norfolk near Hunstanton today watching a sperm whale that was stuck on the sands – caught there by the outgoing tide.  This pic is from the BBC – I was going to put mine up but this one is better.  I hope the BBC don't mind.  Just this once.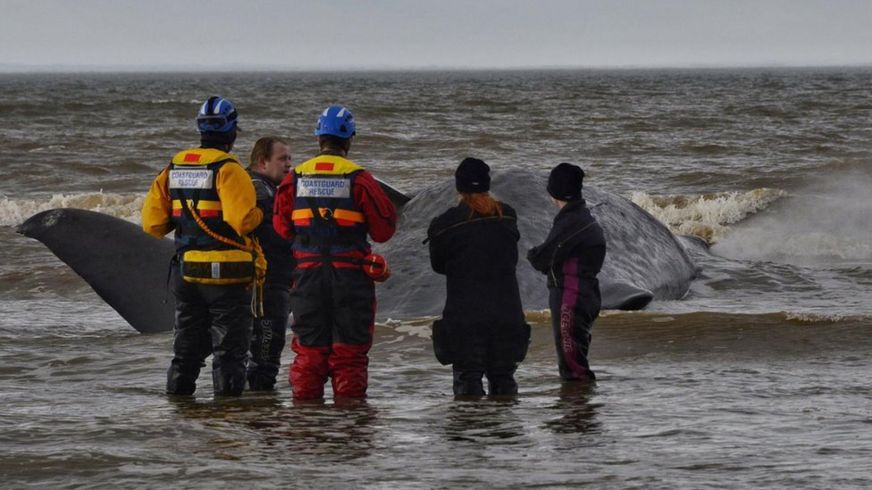 It was a sad and moving sight, but as we trudged away from the location, leaving the coast guard and others to see if they could do anything with the incoming tide, my mind as always trotted around over a whole range of issues, including of course what's been going on, on Untold.
Each year we get comments from people telling us that this is going to be the year in which Arsenal drop out of the top four, in which we are overtaken by Tottenham, in which we drop down the league – in short in which we do a Chelsea, or a Man U, or indeed over a longer period of time, a Liverpool.   The image came to me – these people see the club like the sperm whale, trapped, unable to cope with the changing world, repeating the same mantra.  Beached in fact.
Maybe I shouldn't publish any of their commentaries, since they break the basic rules of Untold – they repeat what has been said before, they are full of personal opinion but without any evidence to back up the claims, and occasionally there is some personal abuse (although I do tend to block those when I have time).
But yes I publish a couple each year – and this year as well.  The commentators seek the normal changes, where they mention what they want: a new manager, and new players, more money spent.  A bit like Man U I guess.   And they generally don't go back over the issues raised in earlier articles which show that most changes of manager and most new transfers don't work.   (Those aren't Arsenal figures of course, they are the figures we gathered from other clubs in the Premier League.)
Of course the time will come when Arsenal will slip out of the top four.  Indeed perhaps one season we'll do a Man U and appoint a new manager, and then another, and slip out of the Champions League.  Perhaps we'll do a Chelsea and scoot right down.   Or perhaps we'll do a Man City, a Tottenham, a Man U, a Chelsea, and go and play for a year or two in the next league down.   They've done it, why not us?
And maybe Tottenham will finish above us as they did in 1995, 1993, 1990, 1987, (Graham seasons), and 1985, 1983… there was a bit of a gap before that because Tottenham went down in 1977, but you get my point.  Before Mr Wenger it used to happen quite a bit.
And of course I absolutely hope it won't happen while I am watching – but I've studied enough science to know the rules – anything that can happen will happen, given long enough.  We have no absolute right to be above Tottenham or win the league, any more than Chelsea has to win stuff.
But I rather doubt we will fail at the moment.   And besides, moving away from the league, we're a couple of wins away from equalling our all time best FA Cup run, and three wins from becoming our best run ever, in a competition we first entered in 1889 – 127 years ago.  I don't think that is too bad.
I notice in passing that there is now a re-writing of history in which not only are FA Cup wins not to be particularly celebrated but also the notion that the cost of the Ems Stadium being something that needs to be taken into account when evaluating Arsenal's history is now denied.  I supposed those who follow that view are to be called Stadium Cost Deniers.   Ah well.
However there is a bigger point behind all this.
I am a believer in the validity of the EU and the need for the UK to stay in the EU.  But I don't bother to write to the Daily Mail, the Daily Express, the Sun, the Times, the Star or the Telegraph to explain why.  I know they are all very, very strongly anti-EU and want Britain to leave when it comes to the referendum.  (In passing it is worth noting they are not actually considering what this will mean for the Premier League and its multiple European players, but let's leave that for another day).
They have their strong views, and a letter from me arguing the opposite isn't going to be published.  I don't like that, but there it is.
But there seems to be some sort of belief among some anti-Wengerians, aaa supporters, Wenger-out-now etc supporters of Arsenal that we should publish their points of view on Untold.
I am by nature fairly egalitarian, and I do try to do this – just as I published the article recently about Tottenham being a fairly decent team.   But there is a limit.   Of course if someone came with some facts and analyses – the equivalent to the Untold analyses on such things as what happens when players change clubs, on referee decisions, the great Arsenal injury myth – then I'd consider it, as I consider all articles I am sent.   I don't publish them all, but I do publish some things I don't agree with.   But do remember, Walter and I run the show for people who are pro-Wenger to have a chance to talk with each other.  Just like the blogs that are anti-Wenger are there for the purpose of debating their point of view.
We aren't as nasty as some of them – we don't take peoples contributions and modify them to make them look stupid, and we have clearly set out rules – but we don't ever hide the fact that Untold was set up to allow people who had a certain viewpoint to express that.
So when we get a predictions that Arsenal will fade away and Tottenham will do well, I may or may not run it – but your chances of having it published are enhanced if there is more than just opinion that x is useless that Wenger should go and that the cost of the stadium was no excuse.   These are matters of opinion.
And when it comes to opinion Untold was set up to express Untold opinions – opinions that are rarely heard elsewhere – but most of the time with the back up of some facts and serious analysis.   Now over the years I've extended to that say that if an article turns up which takes data and analyses in the way that we do and have done over transfers, injuries, managers, referees and finance, then I might consider it.
However lots of people still expect Untold to publish their opinion no matter what, and I don't get that.  A guy writes in, says that he is a better supporter than I'll ever be, and then expects me to publish it when he clearly hasn't read the rules about publishing on this site, is, to my mind, being a bit silly.
Anyway, we've had the annual burst of "This will be the year that Arsenal drop out of the top four," and maybe it will, but it's been said, and I've had enough of that.  I hope the whale survived, but I fear the worse; whales usually don't.  I hope Arsenal recover from their recent poor run, and I suspect they will.  They usually do.
More anniversaries
4 February 1975: Arsenal 0 England "B" 2.  The match was organised after England's game in Cyprus was cancelled for political reasons.  Kidd and Mancini scored for England
4 February 1993 Martin Keown re-joined Arsenal for £2.2 million – over £2m more than they sold him for, but this time stayed for over 10 years – and enjoyed huge success in the Arsène Wenger era.  He could not play in the cup run however being cup tied for the season.