By Andrew Crawshaw
Travel was by Eurostar which was trouble free.  I had booked about three weeks in advance via the Eurostar website and got my tickets for £29.00 each way. Walter was impressed as he said he could never get them for anything like that.  The only delay I had was on my local train from South London to London Bridge but, in fairness, I did know that the night before one of the station canopies had failed in the strong winds so I was expecting some kind of delay.
Security at St Pancras was far easier than either Heathrow or Stanstead with, for example, no nonsense about bottles of water being confiscated.
The Eurostar train again was what I expected, now getting somewhat tired but perfectly adequate for a two hour journey.  The only on-board catering I can comment on was a cup of coffee – nothing wrong with it, quite drinkable, fairly expensive at £2.60.  Brief stops at Ebbsfleet and Lille and in a few minutes over 2 hours I arrived in Brussels, a city I had never visited before.
The weather was as the forecast indicated, wet, breezy and somewhat cold.  Fairly typical of this winter in fact.  Tinted train windows didn't help with the overall feeling of greyness as we passed through first England then France and Belgium countryside.
I had arrived just after 14.00 local time and was somewhat peckish but virtually every cafe and bar I walked past was closed, eventually I found an open Patisserie and ate a rather nice pastry.
I had booked a fairly inexpensive hotel abut a mile from the Eurostar terminal and set off for a walk using the Apple Maps application on my phone. (Memo to self – this was not a good idea Google Maps are still better and far more reliable).  I reached where it said I needed to get to but no hotel.  Checking the maps again I was now 2 miles away from where I needed to be.  Discretion got the better of me and I hailed a taxi which dropped me outside the door.
I had just about got myself straight when my phone rang, it was Walter and where was I?  He was downstairs so I grabbed my Arsenal top and went down to meet him.  He had all the tickets for the Belgian contingent including me and needed to be at the stadium early enough to hand them over and he had taken the afternoon off work to drive to Brussels to meet me and enjoy the game.
Walter, who lives in Antwerp explained that he was not particularly familiar with Brussels and tried to avoid it as much as possible.  As we went through the centre of Brussels he was looking for a parking place so that we could get something to eat before the game.  Parking in Brussels is even more difficult than London.  After ten or fifteen minutes we gave up and set the sat-nav for the stadium reasoning that we should be able to get something there.
We arrived, parked the car (pre-booked) and found a cafe, two coffees but no food on offer.  Surprisingly, despite the signs on the door half of the clientele were smoking, Walter did confirm that the law in Belgium as in England is no-smoking in bars and restaurants etc.  We didn't stay long after finishing our coffees, at least we had warmed up a bit.  We walked round he stadium to where Walter had arranged to meet the other party members.  As they hadn't all arrived at 15 minutes before kick-off I then set off with those that were present to get into the ground.
That proved to be somewhat of a palaver, we were in the segregated away supporters part of the ground, that meant that we needed to go back round the stadium, though the car park,past security guards in a slightly open section of metal fencing, then frisked before being allowed into the ground.  It would have been far more friendly for a youth game to let us in to the main part of the stadium with the local supporters, none of us were going to cause any trouble.  It is the first and hopefully the last time I have ever been in a part of a stadium with netting separating us from the rest of the crowd.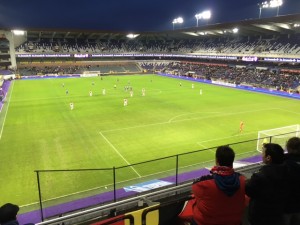 Walter eventually re-joined us with about 20 minutes on the clock having missed the first Anderlecht goal and the incident where their keeper could easily have got a red card but escaped with a yellow.  Four people who had booked tickets hadn't turned up, I suppose that is a problem when tickets are €5 rather than £50.
The game passed with us comfortable in the middle third of the pitch but poor in defence and toothless in attack and the two goal margin of our defeat could easily have been greater, Keto having to make three or four good saves whilst at the other end we hardly troubled the Anderlecht goal.  They were bigger, better organised and much better at defence.  I became frustrated several times with Anderlecht players on the edge of our 18 yard box failing to be effectively blocked or tackled by three, four or even five of our players.  We always looked in trouble when Anderlecht attacked, at the other end Anderlecht were well organised and confident of being able to thwart our attackers.  their big Centre Back captain in particular was very impressive' as pointed out by Walter in his review, and I hope that our coaches will be looking at him as a possible recruit.  Much better than any of our defenders at this age.  It's all very well for Thiery to coach the forwards, the whole team really needs to be taught how to defend and I'm not sure that they have the right person to do that.
Back to the catering part.
At half time we went out to the single outlet for refreshments for our segment, no queues as there were only thirty or so of us there, but no hot drinks either.  Nothing, chilled soft drinks or alchohol free beer was all that was on offer and it was bloody cold already.  Needless to say no frites, burgers, hot dogs either – not good enough and leaving a bad impression of our hosts.
After the game we had a further walk around the immediate vicinity of the stadium, but apart from a burger stall and a couple of kebab shops there really wasn't anything that looked at all hopeful.   Back to the car for Walter to drop me back at the hotel, luckily on the way back we spotted a lit sign for an Italian Restaurant – Le Jardin D'Italie ( www.lejardinditalie.be ) and we could park the car!  The food was well cooked and presented, and more importantly tasted good.  The service was reasonably quick as well and Walter and I could have a good natter.  I now owe Walter a good meal.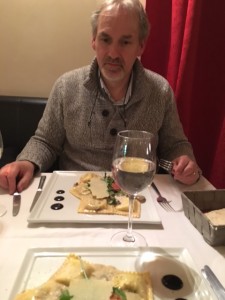 My hotel, the George V, is best described as Adequate – just.  The bed was comfortable and quiet, I'm not sure if anyone else was staying there at all (I certainly didn't see any other guests).  Wi-fi was included and kind-of worked.  Breakfast was standard Continental with a cooked egg, adequate but not inspiring.  I won't be going back again.
It was reasonably near the city centre which I had plenty of time to explore on the Wednesday morning before my return train about 15:00,lunch a baguette from a small cafe.  Tea and coffees from local shops.  I didn't see a single Costa, Starbucks or any of the normal UK chains.  A couple of McDonalds.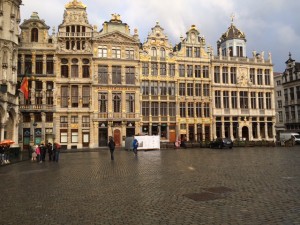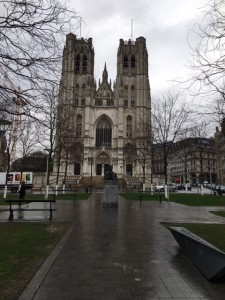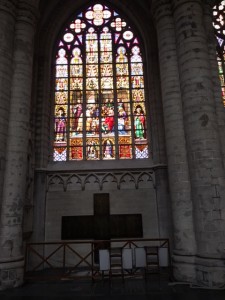 I walked about 5 miles so arrived at the Eurostar terminal well exercised.  I don't think I'll be going back any time soon, I saw what I wanted to.  Some historic squares, a nice Cathedral with excellent stained glass windows, some historic others newer.
The return train was again simple and easy.
Overall a good trip, excellent company,  with a less than stellar game of football in the middle of it.
————-
More anniversaries
11 February 2012.  Thierry Henry scored his final goal in his final match for Arsenal in the 91st minute, against Sunderland for Arsenal to win 2-1.  Ramsey scored the other in a run of seven consecutive wins.
11 February 2013: Andre Santos loaned to Gremio in Brazil.  He had come from Fenerbahçe but only played 55 league games for Arsenal scoring 10 goals.
The Untold Books
The latest Untold book is Arsenal: The Long Sleep 1953-1970 with a Foreword by Bob Wilson, available both as a paperback and as a Kindle book from Amazon.   Details of this and our previously published titles can be found at Arsenal Books on this site.