By Tony Attwood
Whatever the scenario there is always someone worse off than you.  (Ok, not always, like, not when you are having your head eaten by a wolf, but most of the time).
Not that I think we are that badly off.  I know there are a lot of people around who are tearing up their season tickets, because they write in and tell us, (actually isn't it amazing how the season ticket waiting list is holding up with some many hundreds of thousands of season ticket holders throwing their cards in the bin?) but I still feel ok.
Last time I saw him Blacksheep was ok too.  And Andrew.  And Walter.
As for Sir Hardly Anyone and Dr Billy "the dog" McGraw it is harder to know, but what I can be sure about is that we are happier than supporters of Marseille who have started playing the Benny Hill theme song "Yakety Sax" (composed by the wonderfully named James Q. "Spider" Rich and Homer "Boots" Randolph III) before, during and after matches.
And while the banner war goes on between the two or three guys with their Wenger out banner at away games on the one hand, and the "Football should be an art"  banner created and paid for by supporters of Untold Arsenal but unreported in the media (what a surprise),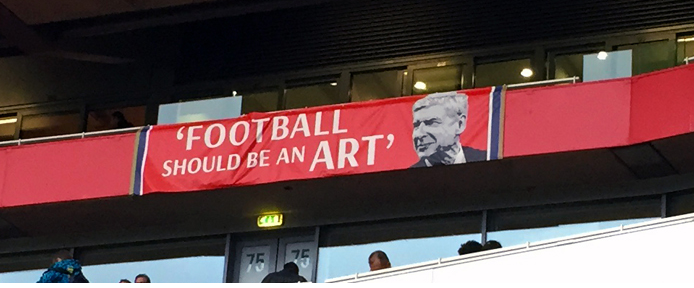 on the other, the Marseille fans have put up banners of goats.  (In French a player who plays badly is called une chèvre).
Meanwhile Real Mad fans are rather fed up with their league position, and the fact that the headline in the Daily Telegraph, "Millions spent on players and marketing but no discernible style and very few trophies: Just what is the point of Real Madrid?" is rather pale compared with what some Spanish papers have been saying.
Oh and they have been charged with child trafficking too.
But then in Madrid they are taking comfort from the fact that Barcelona have been lambasted by the press following their European Cup exit.
Elsewhere if Chelsea fans do take notice of things at all, they must be aware of the argument between the club and Dr Eva Carneiro is about to get very, very public.  Quite what the point is of Chelsea failing to settle the case I can't say, but from my personal point of view, I am rather pleased that they have not settled, because the next round of meetings is going to be in open court.
And it is going to drag up everything – including the disgraceful way the FA handled the case of Dr Carneiro.  And indeed Dr Carneiro is demanding a full and complete public apology from that old renegade Jose Mourinho along with the compensation she wants for constructive dismissal.
Oh yes and there is more – there is a separate legal case running in which Dr Carneiro is alleging victimisation and discrimination against Mourninho.  Normally I just look forward to my birthday in June.  This year I think the employment tribunal starting on 6 June is going to give me even more pleasure.
But while we are thinking of miserability, spare a thought for the fans of Leeds Utd.  If you ever took a peek at the mega-series of articles I wrote on the Arsenal History Society site which tells the story of Arsenal in the 70s (there's a full index to the series on the home page – just scroll down a bit) you'll remember the importance of Leeds in the sequence of events.
Now they are rather more humbled.  So humbled that Leeds are running a protest march against Massimo Cellino on Saturday – and this won't be 50 guys standing on a mini-roundabout outside the Emirates shouting stuff that is hard to make out.  This is going to be through the city centre and could be quite big.
The fans have even placed an advertisement in the Yorkshire Evening Post – and Leeds, just like Chelsea – are now in an era of embarrassing themselves in the court.   They've just lost a case of unfair dismissal and sexual discrimination against their former academy welfare officer.  The owner is currently appealing against a second Football League disqualification.  This time for tax evasion.  Oh yes, and just for good measure, the owner's son has been charged by the FA for calling a supporter a "spastic".
Back to the court cases – court cases have a habit of bringing up stuff that some people don't want revealed.  As when Lucy Ward revealed that Leeds Utd have no security systems in place.  And the fact that Leeds Utd seem to believe that the Employment Act (and quite possibly the Equality Act) apply to all the UK, except Leeds.
You can read all the gory details in the press if you want but here's one that struck me.  Cellino – the owner – decided to get rid of many of the cleaners at the club.   Subsequently a number of players and staff got a virus of some description and ultimately the whole training area had to be shut down for deep-cleaning.  
Meanwhile the position of Adam Underwood now looks untenable as chief administrative officer, after he was described in court as "vague" and "evasive", a man who "lacked command."   A man described as  "scurrying away in fear" when asked to do something.   Would you fancy going back to work after all that has been said about you in open court?
Now the law lays down all sorts of regulations about employment including things like having a contract of employment (but apparently Leeds Utd consider those to be irrelevant).