By Walter Broeckx
What we mustn't forget is that when Tony started his blog in 2008 he did so in reaction to the Wenger out brigade who hardly four years after the invincible season was already demanding the head of Wenger on a silver plate.
So it is safe to say that the Wenger-out brigade at that moment in time was already rather busy. It was in those days that a comment of mine made on Le Grove was changed by the editors of that blog in order to made me look stupid. And when I pointed out that they had changed my comment I was thrown out.
In those days one could already read all the possible (and well out-of-line) abuse about Wenger on not just that blog but also on a few others that I will not even name.
For years their undermining job has been done and organised. Day in day out you could find the most ridiculous things said about Wenger and Arsenal and repeated by the people in the comment section who proclaimed to be Arsenal supporters but looked more like spuds supporters in disguise.
In fact I remember sensible Tottenham supporters more than once saying that they would take Wenger every day of the week and more if they would get the chance. It was as if some Tottenham supporters had more brain cells than the WOB.
Now I have said it before: just saying that you want a new manager in itself is not wrong. I can live with that. People can always say this and give some well thought reason for it and by well-thought I don't mean just repeating what the WOB lynch mob on social media and in their blogs is throwing around as FACT!
Because most of the time it is just generalisation that is repeated and repeated without any real substance apart from the fact that it was once said by someone and then repeated, repeated and repeated again until the brain dead swallowed it.
All the abuse thrown at Wenger has hurt me maybe more than it has hurt him. I still think that Wenger is the best manager we have ever had and I really believe that without the stadium move and the arrival of outside money in the PL he and we would have won much, much more. And that is without even mentioning the influence of the referees over the years since 2007-2008.
After his last press conference about the issues surrounding social media the press (and social media) published headlines such as, "Wenger blames the fans."  But there was however a more interesting part to read.  
First of all Wenger was right in saying that the atmosphere was difficult at times. I think those holding up banners know all about that as they have tried to do their best to undermine any support for the team and players.
But what caught my eye most in the press conference was this and I quote from arsenal.com:
I wish when I go that the club goes higher up and wins the Champions League and the championship every year. I will be the biggest supporter in the stand because I will feel that I have contributed to that a little bit with the basis that we have built.
You have to remember that when we built the stadium, we had five to seven difficult financial years, where we had to pay back. Out of five years, we had to be in the Champions League for three years and have an average attendance of 54,000 people. We didn't know if we would be able to do that but of course we had to sell our best players every year and survive.
We survived at the top level and did not do three years out of five. We did five years out of five. I think the club is now out of that period and is in a much stronger position. Today we are in a position where we can compete again financially with our main opponents. But during that time, it was very difficult.
This is said by our manager. A man that some fans (don't call them supporters!) are abusing day in day out. They (those 'fans') openly say that they want us to lose matches so that the board will have to sack Wenger. They ('fans') want their (sic??) club to lose matches.  Say that out again and let it sink in for a while. They want us to lose because they cannot stand and will never stand the fact that Wenger could win something. And he has won something in the last 2 seasons. Yes, not this season but I don't consider it our god given right to win something each season.
But I have seen (and deleted) dozens if not hundreds of comments along those lines on Untold.  And of course they turn up on other social media: 'fans' wanting us to lose matches. Strange support I must say.
But just look at what Wenger is saying. He is saying that when he is gone one day, he will be our fiercest supporter and want us to win everything and each and every year. He knows that if this happens  it would make his legacy a bit less in the long run, but he doesn't care about that. No, he wants this club that he has been starting to love as a foreigner to be successful with or without him in charge.  And as I am a Johny Foreigner myself I can understand how one can fall in love with The Arsenal all too well.
This is what I call support. This is what I call a supporter. Believe me I hope and pray for the same that this manager who will come after Wenger one day will win all and everything. Just as I hope and pray that Wenger will do next season.
But isn't it amazing and also rather sad that this man who gets all this abuse is putting the club he loves so much before his own personal success?   The ones that don't want our club to win things (because of Wenger) can learn a lesson from this man. He wants us to win not for him but for the club itself.
Compare this with the way some part of the 'fans' wants us to lose as much as possible in order to get this supporter removed…. As the guy in the stadium said with his self made poster: Proud of Arsène, Ashamed of "fans". This man deserves a statue.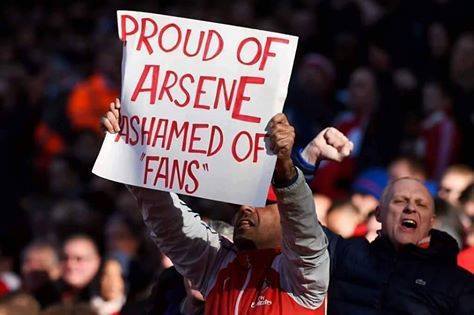 Untold Arsenal has published five books on Arsenal – all are available as paperback and three are now available on Kindle.  The books are
The Arsenal Yankee by Danny Karbassiyoon with a foreword by Arsene Wenger.
Arsenal: the long sleep 1953 – 1970; a view from the terrace.  By John Sowman with an introduction by Bob Wilson.
Woolwich Arsenal: The club that changed football.  By Tony Attwood, Andy Kelly and Mark Andrews.
Making the Arsenal: a novel by Tony Attwood.
The Crowd at Woolwich Arsenal by Mark Andrews.
You can find details of all five on our new Arsenal Books page