By Walter Broeckx, Untold writer, TV show celebrety, TV series actor, president of Arsenal Belgium
In an article to pass the time of the boring interlul between two seasons Blacksheep told about his own job and how it related to Arsenal.
So I thought it might be a nice thing to tell how I spend my Monday evening by becoming a world famous (in Flanders)  actor in TV series and it is in fact very much related to Arsenal.
As you might have heard before I am the president of the official supporters club in Belgium, which is named… Arsenal Belgium. I know not really an original name…. but most supporters club from other countries are named to the country they come from.
So some 14 days ago I got a mail from a production company that has made a rather popular TV series in Belgium about two brothers who dream of becoming professional football players and for one of them the dream becomes real. A fictive story but one of our top clubs in Belgium RC Genk is named in it and helps the production house by allowing them to film in their stadium. The 26.000 Crystal Arena, sorry just renamed yesterday in Luminus Arena was the place where the action happened.
So they asked us in a mail if we could give them a helping hand. And kind person I usually am I phoned them and asked them what the helping hand should do. I got a friendly person on the line and they explained that the top actor/footballer from the first series had been transferred to Arsenal (talking about a real real real scoop there for you all- he was the top striker in the first series… so forget Vardy…).
And so they needed Arsenal supporters to play…. Arsenal supporters. They have their own figurants of course but they wanted to make it as realistic as possible. And to do this they asked if we could come over with as many members from our supporters club and join their local figurants and teach them how to support the Arsenal in a proper way.
A quick question round further revealed that we had at least 15 members who found this a great moment to get our club in the picture and to have a look behind the scenes to find out how they work when they make a movie or TV series.
We all had to bring as many shirts with us as possible to dress up the other figurants for the Arsenal scene.
Well I must say I have learned a few things about being an actor and figurant. First thing I learned is : patience. The second thing I learned is…. more patience. At some points it looked as if the only thing we had to do was just sit in the stadium and wait. But of course at a moment like that all kinds of people are preparing the scene. A scene that will only take about 20-25 seconds I think in the TV series but it took more than 1.5 hours to film it.
First we were put in place. The Arsenal Belgium members were spread out in the stand. And then they filled up the open spaces with other figurants. Some in own Arsenal shirts (yeah!!!) and others just wearing something red. So we had a real red section in the end.
People were moved around. You go sit there and you take his place. Meanwhile a big camera with a long arm that can move over the head of crowds was put in front of us. It moved forward and backward over our heads to see if the angle was correct to film us.
And after waiting half an hour before everyone was in their place we started rehearsing. The main actor sneaked in behind our backs as the player we bought was having a hard time and didn't play and didn't even make the bench or beach anymore and was biting his lips in the stands while a new sensation Helder De Sousa, a 17 year old from our own youth academy, scored goal after goal and kept our new purchase on the bench. I said it was fiction but wouldn't mind such fiction to be honest.
So what we had to do was to imagine Arsenal scoring the winning goal, scored by De Sousa of course to make matter worse for our new player, and then celebrate that goal in the way we …celebrate goals at the Emirates.
Instructions were given after each rehearsal:  more hugging of each other, no looking at the camera, more noise, give us an Arsenal yell to lift the atmosphere even more. The ooh to be Gooner was the easiest to teach to the rest so we took that one as an extra.   I lost count in the end  but we celebrated some 8 or 9 Arsenal goals both in the rehearsal and in the official takes.
We jumped around in a wild way and to my big surprise after 3 times it felt as if we really scored those goals! That was rather strange but I imagined the Leicester winning goal from Danny and just let myself go. As did the others. A few of our members were right in line with the camera that zoomed in to the real actor and his WAG in the stands. I think I was pretty close to the camera also so might come nice in the picture.
So the good news is Arsenal bought a striker we don't really need as one of our academy players will take his place and we celebrated lots of goals.  Some things might be fiction next season, some not.
It was all fun but I must say celebrating goal after goal and shouting from the top of our voice, jumping around like mad men for half a minute each time is very tiring and as the temperature was above 25°C at 9.00 pm we all sweated like pigs in a hot truck.
So figurants have my respect as they gave their all. And for us Arsenal Belgium members the work stopped after the Arsenal scene "played in the Emirates" but the rest of the people continued to take scene after scene till 5.00 am the next morning!
But it was a fun thing to do, Arsenal Belgium got in the picture in the Flemish media once again and we celebrated an Arsenal win.
So all we have to do now is wait till the new TV series Spitsbroers II starts somewhere in January. I will be watching and so will our members. I'm afraid you however will never get to see it so to give you a small idea I included a picture of the AB members who participated in this shooting.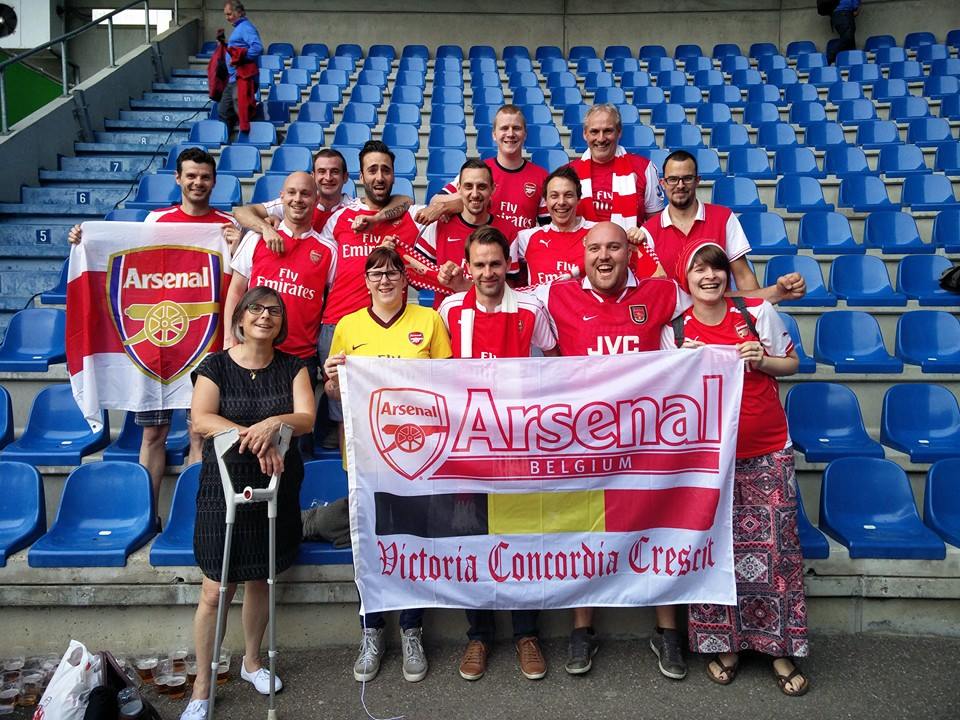 * spitsbroer is putting together two Dutch words: spits= striker and broer=brother. Striker brothers would be the Englis translation.