A very personal odyssey, by Tony Attwood
It started with three of us from AISA having a meeting at the Emirates with the club's chief exec discussing how the area around the stadium could be made more Arsenal-like.  Never having been a retiring sort of fellow I immediately pitched in telling Mr Gazidis in no uncertain terms that he needed to put up statues, starting with one of Herbert Chapman facing the new stadium, looking at the result of the journey he started.
A more detailed report was requested, which I duly completed, and lo and behold, we got statues.
I must admit I thought that this was a one off, but then I got the chance to work with Andy Kelly and Mark Andrews to re-write the club's entire early history with the book "Woolwich Arsenal, the club that changed history."   This time Arsenal's local MP, Jeremy Corbyn, invited us to hold the launch of the book inside the House of Commons.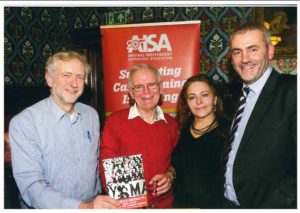 (That's the leader of the Labour Party on the left.  I'm grinning like a stupid Cheshire cat next to him.  Next to me is the great granddaughter of Jack Humble, one of Arsenal's founders).
After that I really thought I'd done my bit, and it couldn't get any better, until in July 2014 Puma came out with their video celebrating their kit and they included in it a long held shot of the front cover of my Arsenal novel, "Making the Arsenal".
That I thought really had to be it.  Time to come down off the ceiling.
Then, along came Blacksheep – my pal with whom I go to the games – and he suggested that we might put up an Untold banner in the stadium.  This time I had to be persuaded – I really didn't think the club would go for it.  But through his tenacity the project came off, and the slogan that has been on the Untold site almost from the start – that Wenger quote about football being an art – has been on display at  the clock end of the stadium for over a year.
At this point, I really thought it must be all over, but no, for now it seems that TV companies have finally realised that the banner is up there, for they are starting to show it.
Obviously I don't see it because I'm lucky enough to have a season ticket, and I go to almost every home game, but Usama, who does so much with the referee analyses team, working for Untold with Walter and Andrew has been pointing some of them out to me.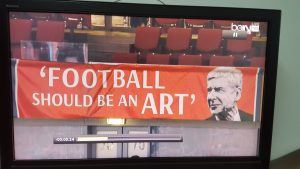 This one came from Beinsports and was shown at half time on their Arabic coverage of the game.
Usama tells me that just before the start of second in one match they kept the focus on the UA Banner for at least 10-15 seconds.
.
At that point I really, really did think that the media and the club would have had enough of these ideas that come out of Untold but then Usama popped up again to point out that NBCSN has conducted a half hour special on Arsene Wenger's 20 years.
.
.
Its a great watch. And at minute 6:59 and onwards the interviewer mentions Wenger's quotes about art and football which is followed by the….. Untold Arsenal Banner.
It really is a good 20 minute interview – and you get to see the banner again.
The Untold Banner was erected at the Emirates Stadium after Blacksheep took the idea forwards, liaised with the club and with RedAction, found a designer in Jennie Bradley, plus a manufacturer, and with the help of Mark Brindell at Arsenal made it all happen.
The actual slogan was one of three that was put to Untold readers and we then had a vote.
In fact we knew that one of the slogans (Welcome to Stadium Wenger) would be unlikely to be welcomed by the club, what with the Emirates Airline paying a fortune to name the stadium after them, and so it turned out.  But our second choice was accepted, and so the banner was made.
During the course of our voting and discussions on Untold, Blacksheep and I found to our surprise and amazement that a number of readers and commentators on Untold were anxious to make a financial contribution to the banner – and in fact we had to start telling readers not to give us money.  My fear was that since book keeping was never my strong point, I would lose track and never be able to thank everyone.
So we agreed on a process, and later, once the project had Arsenal's approval, over a period of a couple of weeks we collected donations via PayPal and bank transfers.
That is my little odyssey with Arsenal (if I can have a little odyssey, which actually now I come to think of it, I can't.)   It just shows what can be done if you feel it is worthwhile – and you never know, something else might pop up.
The banner is celebrated permanently on this site via its own page, listing the names of those who so kindly contributed.
Meanwhile in relation to the book, if you would like a copy of either book I have a few copies left or you can buy them on Amazon.  Making the Arsenal is £12.99 and "Woolwich Arsenal: the club that changed football" is £14.95.   If you want them direct with no delivery charge, just make a Paypal payment to TonyAttwoodofLondon@gmail.com and email Tony@schools.co.uk to tell me you've done so, and give me your delivery address and I'll send the book/s out.  I'll sign them too if you want.  Or not if you don't.
This is all far, far, more than I could ever imagine might happen when we started out.  So maybe there is more to come.  If so, I'll let you know.