By Walter Broeckx
In a recently published article Tony spoke about how the aaa remembered the past with rose tinted glasses. They tell us that we always have out rose tinted glasses on. Well to be honest I rather prefer to look at the present and the future with rose tinted glasses. Because that way you will enjoy live more. Enjoy today is more my everyday feeling.
Now thanks to the fact that Wenger has been our manager for more than 20 years we can look back at the past. And that past that was so much better than the present proclaim the aaa.
So let us take a look at that past. And try to see if it really was so much better. And to do this I found this interesting table on the internet.
It has three different era's covered. The final league positions in each of the Wenger years. The last 20 years. And then they have done the same for the 20 seasons before Wenger. A period some want to come back. As they say we want our Arsenal back. We will see if that period was oh so much better as they claim.
And then we also have another 20 seasons before those 40 seasons. Again we will see if that period was so much better so that people are right in their claim that they "want their Arsenal back".
The table has to be read from left to right in final league positions. And then the red boxes show the final league finish with the year in it.  So here we go.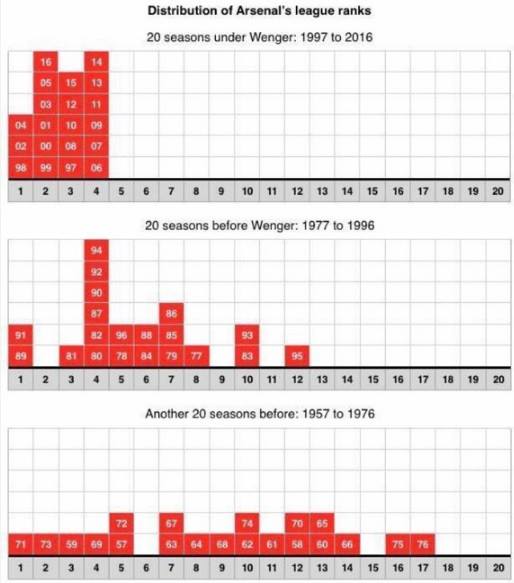 And the first thing that we see is that in the Wenger era…. All the league finishes have been in the region between 1-4. Something we know of course over here at Untold but that is deemed not good enough by the aaa.
No, they want their Arsenal back. Maybe the Arsenal in the 20 seasons before Wenger? Ah we won two league titles. And we finished third once. I will not even mention the 4th place trophy as this is seen as below what we deserve by the aaa. And even finishing third is written off by them with disdain.
So in the 20 seasons before Wenger… we only had two league finishes that would please the aaa. As winning the league is the only place Arsenal and their supporters deserve. So 18 finishes out of the 20 would have been greeted with utter disgust from the aaa. So it can't be that period they are longing for when they shout: "We want our Arsenal back!"
But maybe… they are older… and they remember even better times. So we could look at the 20 seasons before those 20 seasons before Wenger.
And what do you see? 1 league title in those 20 seasons. Since finishing second is seen as utter failure since last season we can only come to the conclusion that out of those 20 seasons only 1 can be seen as great. The other 19 seasons can only be seen as utter failure by the aaa. We even see league finishes as low as 17th place. That was in 1976. And the year before that we finished in 16th place. Is that what the aaa is referring to when they shout: "We want our Arsenal back!" ?
So which Arsenal do they want back?
Now we read a lot from the aaa fans that they have been supporting the Arsenal for xx years. Mostly something around 30-40 years.  Of course we at Untold have the luck to have a supporter who has lived in the 1930ties. So if he would shout: "I want my Arsenal back!" he could refer to the first golden era in our history.  But not many of the aaa were alive in those days so it can't be that Arsenal they long for.  I never heard our senior resident shout that he wants his Arsenal back from the thirties. Maybe he does. He would be entitled to do this. One of the very few to want his Arsenal back.
So this table very much confirms what Tony wrote in his article. People just remember that one or two golden moments and forget the rest. A rest that was mostly bleak judged by the current aaa standards from today.
I think the truth is that thanks to or because of (depending on how you look at it) Wenger, we have been so spoilt with high league finishes that we take them for granted. I can imagine that in the seventies and sixties finishing second would have been looked upon as a great season. Now people are angry because we finished second and call it failure. And brush away league finishes in third or fourth place and call it miserable.
I think we have been spoilt by Wenger. In a way never seen before at Arsenal. And if you add to that the fact we built ourselves a brand new stadium that will be our home for the next century in those last 20 years…. That makes it even more amazing.
No money for the biggest part of those 20 years and still all the time in the top four. No other club has done this. Not even mighty Manchester United could do this. Or the oil and gas teams could with all their money.
And yet…still people moan about Wenger. And wait for the first point that will be dropped to call for his head again. While shouting: We want our Arsenal back!  Before calling Wenger's head they first should say to us which Arsenal they want back.
Recent stories from Untold Arsenal
Revealed: the psychological condition behind the anti-arsenal-arsenal
Referee Appointments and Results Matchweek 06 – with video evidence
How WHU changed from being the darlings of the media to being the most toxic of brands in the space of two months.
Style and Steel: the rise of the polyvalent player
Ref Review Burnley – Arsenal: at least he got that one right
It's not Arsenal who failed in the summer transfer market. We discover who really cocked it up.
The Untold Banner on TV, continuing the tradition of the club and our blog