by Andrew Crawshaw
Firstly some news
Mike Dean has demoted himself this week after being heavily criticised in the press following so-called errors in his decision making over the last few weeks, most notably his sending off of Feghouli which was overturned on appeal and failing to send off Barclay for a foul on Henderson in the Mersyside derby.  He will be in charge of the Barnsley v Leeds game in the Championship.
The Premier League welcomes back Sian Massey-Ellis this week to her role as Assistant Referee.  She is with Craig Pawson and Sean Long at West Brom for their game against Sunderland.
As long term readers will be aware she is an Assistant Referee for whom I have the highest regard and have always looked forward to her officiating in Arsenal games as I am then confident that her side of the pitch will be patrolled as it should.  I have also just become aware that she received an MBE for services to football in the New Year Honours.  Her boss Mike Riley said 
"Sian is one of the most talented assistant referees in English football and thoroughly deserves this award.  I speak on behalf of everyone at PGMOL in congratulating her"
For once this is something on which I can agree with Mr Riley.  Well done Sian and I hope to see you at the Emirates in the near future.
Now on to Sunday and our Officials are:-
Referee – Jonathan Moss  45 years old from West Yorkshire
Assistant Referee 1 – Marc Perry from the West Midlands
Assistant Referee 2 – Andy Halliday from North Yorkshire
Fourth Official – Anthony Taylor – 37 years old from Cheshire and FIFA accredited
This will be the second time this year we will have had Mr Moss in charge of one of our games.  His previous game was:-
Arsenal (3) v Swansea (2) 15 October
73.5% Overall weighting but a dreadful bias against the two teams of 94/6 and one wrong Important Decision when in Min 42 Amat should have been dismissed when as last man he poked Walcott in the eye (two separate red card offences in one – serious foul play and a last man foul).  The decision didn't affect the outcome of the game which Arsenal won.
I have two flags against Marc Perry from that match both in the second half when in Min 73 Walcott and then in Min 82 Sanchez were flagged offside – neither were.
Looking back over the last two seasons…
2015/16 Season
Arsenal v Stoke 12 September (2 – 0)
71% overall weighted score, bias against the two teams 100/0 and two wrong Important Decisions both arising from an incident in Min 90+2 when Pieters should have conceded a penalty and been sent off for denying Giroud a goalscoring opportunity.
Norwich v Arsenal 29 November (1 – 1)
Not so good this time 57% overall, bias against the two teams 8/92 and three wrong Important Decisions.
Min 40 Bennett should have had a red card for a deliberate push on an airborne Sanchez which caused him to land in a dangerous sunken camera pit,
Min 57 O'Neill was given a yellow card but it should have been his second.  He should have been sent off again for a further foul on Giroud in Min 90+1.
Southampton v Arsenal 26 December (4 – 0)
49% overall weighted score, bias against the two teams 22/78 and 5 wrong Important Decisions.
Min 19 Southampton's first goal should have been ruled out for offside,
Min 45 Southampton's second goal should have been ruled out for a foul by Long on Kos,
Min 69 Southampton's third goal shouldn't have happened as it was scored directly from a wrongly awarded corner (should have been a goal kick).
Min 73 Wanyama should have a straight red card for a foul on Ramsey.  He should also have been sent off in min 75 for persistent fouling.
Arsenal v West Brom 21 April (2 – 0)
65% overall, bias against the two teams 82/18 and one wrong Important Decision when in Min 84 Yacob should have had a second yellow card.
2014/15 Season
Arsenal v Crystal Palace 16 August (2 – 1)
A good performance 81% overall weighted score, bias against the two teams 100/0.  Three wrong Important Decisions;
Min 8 Ramsey was pushed over in the penalty area nothing awarded,
Min 64 Mr Moss had a final word with Chamakh over persistent fouling (he should have had his first yellow card in the 8th minute and was at it all game) when he really should have issued a second yellow card and
Min 72 Arsenal should have had a second penalty with Hangerland pulling Giroud down by the neck.
Arsenal v Stoke 11 January (3 – 0)
72% overall score and bias figures 90/10 and two wrong Important Decisions.
Min 10 Arnautovic should have had a red card for pushing Debuchy into the advertising hoardings which caused a three month injury (and probably effectively ended his Arsenal career) and
Min 42 Crouch should have had a second yellow card for a studs up challenge on Mertesacker.
Summary
Mr Moss is really not a terribly good referee either in Arsenal games or elsewhere.  In his last 7 Arsenal games over the last three seasons he has made 17 wrong Important Decisions – two and a half per game.  In his eleven games this year in the PL he has made 22 wrong Important Decisions two a game.  These figures simply aren't good enough.
In Arsenal games his bias figures are as bad as it gets; two games with every wrong call against Arsenal and a 'best' bias of 78/22 against Arsenal.
Despite these numbers we do generally manage to cope with him in charge and are far more likely to win than lose.
Mr Moss is partivularly bad in dismissing players for disciplinary offences, he seems almost scared in Arsenal matches to show cards for even terrible fouls on our players and in other matches this season 13 of his 22 wrong calls are for cards.
He isn't great on penalties either with three in Arsenal games over the past two years and 6 wrong out of 13 in other matches this year (this is an accuracy rate of 54% which is lower than the league average of 65%).
I do hope that he doesn't suffer a repeat of his goal blindness he had in the game against Southampton last year when three of their four goals shouldn't have counted.  Worryingly we have him down for 3 wrong goals in his league games this year as well.
COYG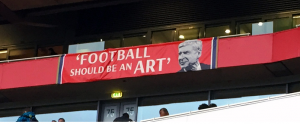 Arsenal v Burnley
And elsewhere
From the History Society