"Maybe there will be one or two younger players, but no more…. I have not yet completely decided who will play and who will not play. It's a first-team squad who will be involved."
As for Southampton Mr Wenger said, "They are on a high.   They produced a fantastic performance, so overall that makes the game even more interesting and more difficult as well.   They are not short of confidence at the moment and will certainly have a big support, but it's an FA Cup game and we want to qualify."
Comparing Arsenal away and Southampton at home
Arsenal get more cards away (20 yellows) than Southampton at home (12), although Southampton have also had 2 reds at home (Arsenal none away).
The pass success rate is similar (79% Southampton at home, 83% Arsenal away) and indeed this similarity runs throughout the teams when we compare the two sets of stats for Southampton at home and Arsenal away.  For example Arsenal away get 5.0 shots on target per game on average.  For Southampton at home the number is 4.9.
But there is one key difference: Southampton at home attack on the wings – only 25% of their attacks go down the middle.  With Arsenal there is a much greater balance between attacks on the left, right and down the middle – roughly one third in each case.
As for the historic facts, we've only lost one of the last 18 FA Cup games, and won 12, drawn four and lost two of the last 18 league games.   In particular the recovery from the successive defeats in the league has been positive (four wins and drawn one of our last five league games).
Southampton have won nine lost seven and drawn two of their last 18 FA Cup games.   They have won one and lost five of their last six league games.  In the cup last season they went out in the 3rd round and in the fourth round in 2014/15.
But Southampton have scored at least two goals in their last three home games against Arsenal and they are undefeated in their last five home matches against us in all competitions.
It is not going to be easy.
Next: the rest of the stats and the teams.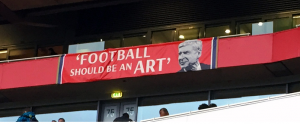 If you appreciate what we do and would like to help Untold Arsenal, please
Follow us on Twitter @UntoldArsenal
Follow us on Facebook (UntoldArsenalToday)
Southampton v Arsenal