by Tony Attwood
At the first away match of the season a group of aaa's attending the game organised a chant of "Wenger out" followed by the usual one about the need to spend some money.
Of course chants are very short and don't leave much room for reasoned debate on issues such as who might replace Mr Wenger at that moment.  Of course most managers were not actually available at that moment for a transfer to Arsenal but in the fantasy world in which those conduct their arguments through simple chanting, one perhaps might imagine that every manager would jump at the chance of taking over Arsenal with their rampant aaa support.
So we might have thought of Pep Guardiola, Jose Mourinho, Claudio Ranieri (who had just led his team to the championship with Arsenal in second), Mauricio Pochettino, Luis Enrique, Jürgen Klopp…
And who knows how well Arsenal might have been doing under any of these guys.   But it was interesting to drive off to the dance last night, following the football, and listen (just for a while, it was very repetitive) to 606 on BBC Radio 5 and hear one person after another say how awful Klopp is as a manager.  Not just a guy having a run of bad form, trying to adjust a team that was not primarily of his making, but a totally and utterly useless manager who is an absolute embarrassment to the club.  Exactly as the aaa say of Mr Wenger.
Watching the game yesterday I was reminded of the times during the era of the club paying for the Emirates Stadium when occasionally a group of youngsters would emerge who looked the real deal, only for most of them to slip away over time and not make it.   One thinks particularly of Arsenal 6 Sheffield United 0 in 2008, which had the line up of
Fabianski,
Hoyte, Djourou, Song (Lansbury 70), Gibbs,
Randall, Ramsey, Merida (Coquelin 71), Wilshere,
Bendtner (Simpson 71), Vela.
Of those Fabianski would have been welcomed had he re-signed after winning a Cup winners' medal, Song had his moments but was (to my mind) becoming less reliable and when, while at Barcelona, he announced he wanted to come back to Arsenal, there didn't seem to be any interest.  He is now, aged 29 playing (occasionally) with Rubin Kazan.
Gibbs, Ramsey, Coquelin and Wilshere are still with us, but for the rest… well perhaps best to say that for a variety of reasons it didn't work out.  I thought Randall might have made it, but it seems his temperament was against him.  Aged 27 he is now at Newport County.
But the team last night, with only one player left in the starting line up from the previous match against Burnley, flowed with a purpose and sense that of course they would win, from the off.
It is interesting to compare the two teams… against Burnley we had:
Cech,
Gabriel Koscielny Mustafi Monreal
Ramsey Xhaka
Iwobi Ozil Alexis
Giroud
and last night
Ospina
Bellerin   Mustafi  Holding  Gibbs (C)
Maitland-Niles   Oxlade-Chamberlain
Walcott  Reine-Adelaide  Lucas
Welbeck
Just one player in both games.   It is interesting because it was only a week or so ago that "Arsenal are a team plagued with injuries every season. Nobody knows why it happens, is it a bad training programme, or is it simply bad luck? Whatever the reason, Wenger needs to recruit quickly this January transfer window, due to a very thin squad at present."
What strikes me is that now, with this "very thin squad" after the emergence of Coquelin, Bellerin and Iwobi in recent years, we have most certainly one (Maitland-Niles) if not two "(Reine-Adelaide) players ready for the breakthrough this year.  My point being it isn't that we have just purchased Lucas, Mustafi and Xhaka of late – but that year after year we are bringing through players who cost nothing or next to nothing, and who then emerge into the first team.
And then there is the issue of the Ox playing in a new position.  Assured or what?  A new defensive midfield, ready to roll.
Fortunately for all of us, the story published by The Independent about Arsenal having more injuries than any other club, was a piece of fake news that ultimately was extremely funny, just as the Guardian's piece about Arsenal having only two players who scored in double figures now can bring a wry smile.  The reality is that while the media have been trying to put the team down and the aaa has been doing what the aaa does, Arsenal has built a double squad, and is continuing to bring through youngsters at a pace that can't be matched anywhere else.
Amusingly the aaa has now turned its attention to a gentle push by Arsene Wenger on a 4th official a while back, howling with calls for justice because the incident didn't bring about a massive ban from the ground for years to come.  I must admit I had forgotten the incident completely (it was the one where the manager seemed to be asking that the fourth official keep a reasonable distance back when talking to him, and the video of the event lasts under two seconds) but it certainly has got the aaa up in arms.
Seemingly if they can't get the manager out with chanting, and their views that he has no idea how to build a team don't come to pass, they'll turn to (of all people) the FA and try and get him banned through them.   Sadly (for them) none the people who wrote in about it and supplied the video were able to do so without being abusive or calling Untold various names so their pieces didn't get published, but yes, I have now seen the 1.5 second video.
What the search for the "other push" by Mr Wenger shows, as the attacks on him at the start of the season showed, as the achievements of other managers this season show, is that these people live in a world of short termism  (if you don't win the last game you are out) and long termism (in terms of remembering perceived past faults, (while ignoring any context – as with an analysis of other manager's altercations with fourth officials.)
So it will always be, I guess.   But there is something else that for me comes out of this.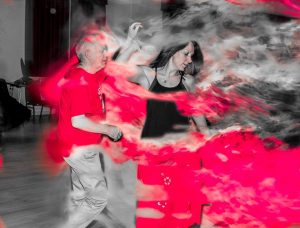 I really enjoyed the game yesterday.   From what I have read and heard I don't think any of the aaa did.  And the remorseless attacks on the Liverpool! manager by Liverpool! supporters gave me the odd chuckle on the drive to Pirate Jive.   I had a great evening (with Arsenal) and night (Pirate Jive), the endorphins flowed, and I was still smiling when I finally made it home in the late early hours.   Which I think was more than could be said for the Liverpool! supporters and the aaa.   Maybe they should take up dancing.  It takes a while to learn, but is worth it.  Even for old men.
If you appreciate what we do and would like to help Untold Arsenal, please
Follow us on Twitter @UntoldArsenal
Follow us on Facebook (UntoldArsenalToday)
Southampton v Arsenal