By Walter Broeckx
Lots of debate last night about Koscielny being given a red card. It was correct the pundits and media screamed. As they always do when an Arsenal player sees a red card.
In the aftermath of the discussion people on Untold gave their undoubtedly expert opinion on why it was a red card. Their undoubtedly expert opinion mostly based on what the pundits said of course.
What most people missed, and I must admit even I missed it watching on my stream last night, was this moment in the match that can be seen on the picture we will present you.
Only one man said something after the match that made me wonder. But as that man is Wenger nobody really took notion of it. After all…what is the opinion of Wenger worth. He always blames the refs, doesn't he?
But maybe he had a point? Let us have a look.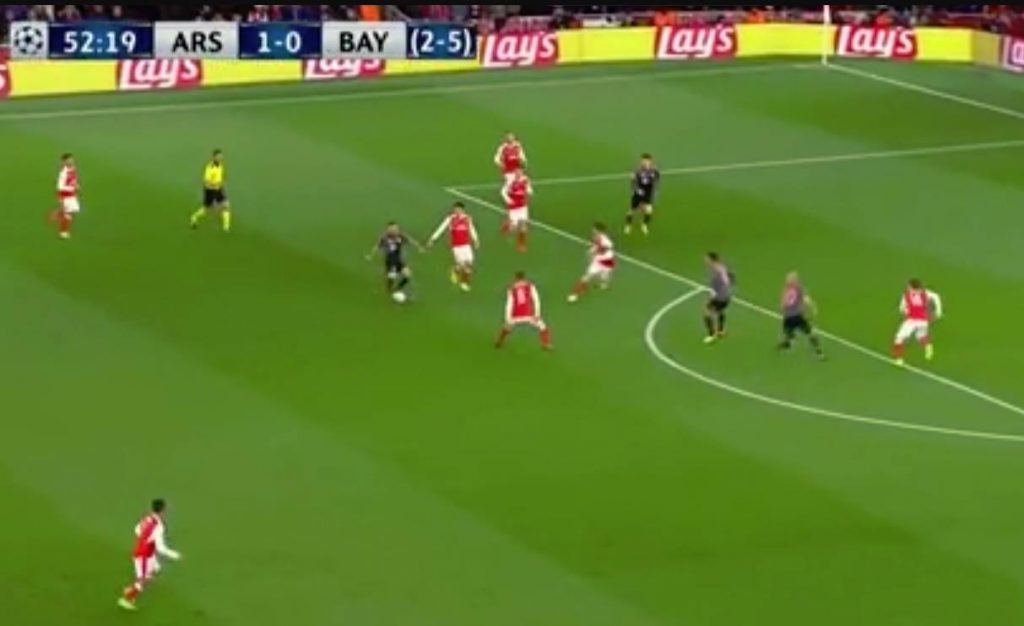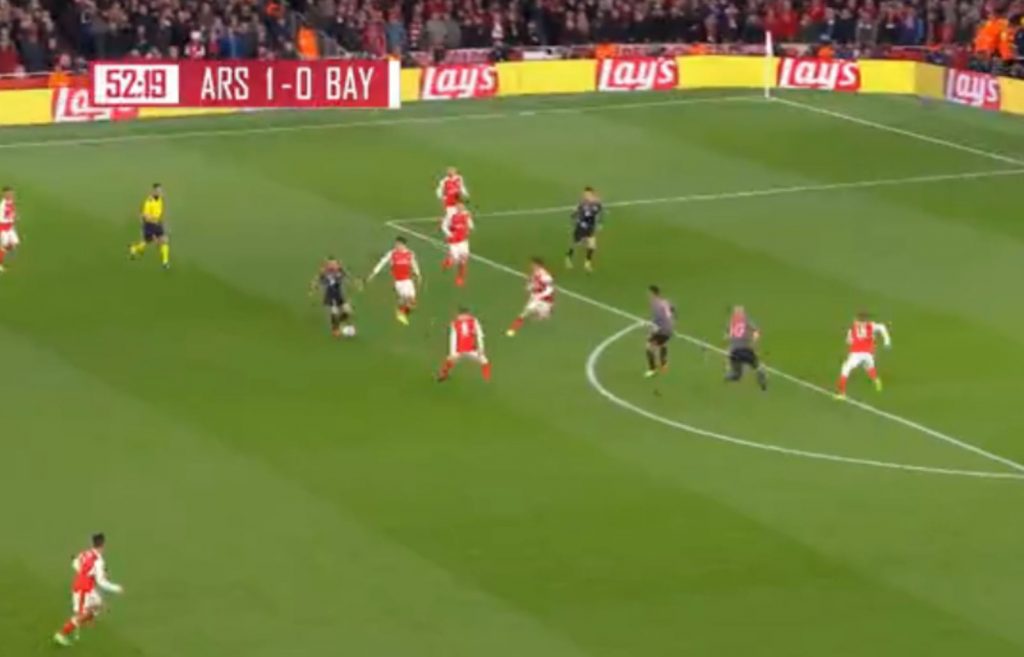 I have even included two pictures as the first one is a bit sharper and shows the moment the ball is actually played. The second you see a bit of space between the ball and the foot.
So when you see the images you see that the deepest Arsenal defender was Monreal on the right hand side of the picture who was just entering the penalty area (one foot on the line in fact). On the left hand side of the picture you see Lewandowski who was at least one meter inside the penalty area and running more or less backwards to his own goal in fact. But no matter what direction he ran… he was offside when the ball was played.
Now all the pundits, experts, referees on Untold didn't see it or mentioned the offside in the build up to the crucial moment in the match. That leaves me the question: why? Why did only Wenger see it and mention it?
Not because there is some kind of agenda against Wenger? That surely can't be the case I think? Or is there?
Looking at the picture it is a fact that the assistant(s) and referee made a mistake. A mistake that completely changed the match and gave Bayern a free ticket to win this match.
But what is more worrying is that I have to go on searching for such a thing myself without any of the "serious" media reporting about it. And then I wonder why? Again.
Not one of the experts is saying: now wait a minute wasn't this offside? No. Nothing at all. Well not that I could find anyway. And the strange fact is that the best angle that is available was not shown. There is a camera around the line of the penalty area. And that angle should provide complete clarity on this. But the angle is nowhere to be found. And I have been searching for it for a while now but have given up.
Maybe the camera broke down at that moment? Maybe they ran out of tape and they had to change the new tape?
And this is where my favourite ref, the video ref, would and should have made a world of difference.
Because that referee could have checked the position of Lewandowski immediately on the correct (now missing) camera angle.
If that angle is available I am willing to change my opinion based on the images. But as for now working with what we have got the only conclusion for me is that Lewandowski was offside and the assistant who made all kinds of strange offside calls during the match made a mistake.
By the time Lewandowski went down the match should have been dead. And no penalty should have been given. And no red card should have been given.
The match would have been totally different, as it was totally different before and after the sending off.
Now I am not saying we would have qualified. But we would have had a fair match and a fair chance of having a win over Bayern. That was all I wanted to have. But the refs, as I said in my match report, messed up big time.
And in fact, all the media messed up big time. Because up to now not one of the media outlets I can see has answered the question about Lewandowski being offside or not. Maybe by the time this gets published they do and I end up with egg on my face. But then the egg is there because for some strange reason the existing camera angle is not shown. No image is frozen, no line is being drawn on TV screens. And then to think it was the most important moment in the match…  So again we ask, "why?"
It looks like this is the agenda: no mention of it even being slightly possible it was offside. And that's it. Apart from Untold of course.
In Munich we defended badly after Kos was injured and taken off. And we gave away some soft goals and a lucky deflected shot. Now we still tried to go for it but the Bayern machine is lethal in such situations. But with Kos on the field we were leading 2-1 on aggregate. For the umpteenth time an incorrect red card against an Arsenal player has changed the outcome and balance of a match. Lehman in 2006, Van Persie at Barcelona…. hell it seems we lose a lot of players in CL matches. Compare to the wild challenge from Vidal that wasn't even punished with a yellow card.
But it will all even out some people say. But I don't know if this  evening out will happen in our lifetime…
Today's stories: What really happened against Bayern