by Andrew Crawshaw
Following a convoluted series of events I was able to invite Walter to come over from Belgium to join me at the Cup final.  Regular readers will know that Walter in the house is always a good luck charm (particularly when accompanied by a larger group of Belgian Gooners).  I sent the invite to him about 23:00 one evening and by midnight he told me that he had ferries and hotel booked, I think he was keen to come!
Many texts later he told me that he and Carine had arrived at their hotel, a ten minute walk to the stadium, I was just finishing an early lunch at home in South London and said I would join them for a cup of tea at about 15:00.  My journey to Wembley was uneventful, London Overground to Canada Water and then Jubilee Line to Wembley Central followed by a 10 minute walk to their hotel about an hour and 20 minutes in total.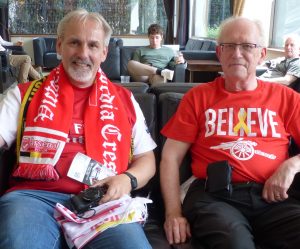 Here we are in the hotel lounge, me in my Cup shirt which hasn't been beaten since I bought it in 2014 and Walter with his Belgian Gooner's scarf and his yellow lucky local team scarf.
You may have read Walter's story of his fascination with the English FA Cup Final but in a nutshell he has been watching them since his family first got a TV some 50 years ago (more or less).  He has been wanting to go to one ever since then.  As an Arsenal fan since later childhood, to come to one with Arsenal playing ensured that he was one very happy bunny.  He and Carine are also two of the nicest people I know and they are really great company.
We left early for the stadium, Carine heading to the shops and walked past the Hilton Hotel where there was a crowd waiting for the Arsenal Players to get onto the team bus for the 5 minute journey to the stadium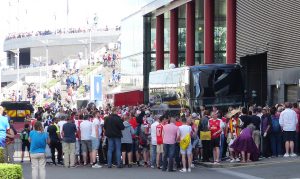 Into the stadium very early and a trek up to our seats, row 38 nearly at the top of the stadium a vertiginous view.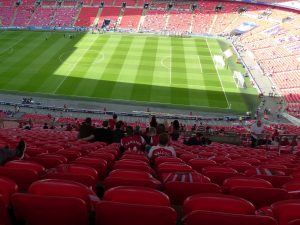 We then had the usual sort of pre game happenings, Military band actually playing relatively 'funky' music rather than the standard marching style and then the players came out for their warm ups.  Cech was the first Arsenal player to appear and from his warm up there was no sign of the training ground injury he was reported to have suffered.  Walter and I both agreed that Ospina in goal wasn't a detriment to our chances and, in the event of a penalty shootout would probably be a distinct advantage.
One thing I noticed about our team kickabout was that it was being done with an intensity that I have never seen from our team, they were certainly 'up for this game'.
Chelsea had the first touch of the ball when they kicked off and in all honesty that was about the only comfortable moment on the ball they had for the first half hour or so as Arsenal simply blew them away.  The Arsenal support was absolutely fantastic, I wish we had this group of supporters in the Emirates every week, it would make such a difference – a positive spiral of play, noise and belief rather than the negative vibes which have been so prevalent at times this year.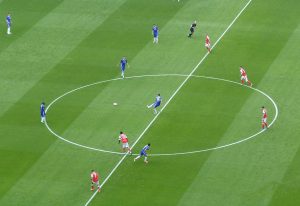 Wellbeck, Alexis and Özil were rampant and everyone else offered great support, we were composed, decisive in our passing and looked like the really good team which in our hearts we know we are but so rarely have shown this season.  Our opening goal had a touch of controversy about it – did Alexis handle the ball (in real time I thought it came off his chest but his arms were raised) and then Ramsey was clearly offside but didn't touch the ball and Alexis (definitely onside) had an easy finish,  but the linesman had his flag raised.  At this point Mr Taylor went over to the linesman and conferred.  He then did something that caused both Walter and I some astonishment – he allowed the goal to stand!  The Arsenal end went wild with delight and the Chelsea end wild with indignation.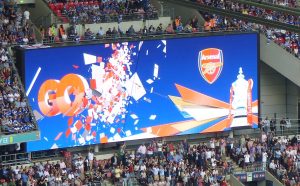 Our domination continued for the first half and the only surprising thing was that it ended without any more Arsenal goals, with more clinical finishing and a bit of luck we could easily have been 3 goals up in the first half hour and the match out of Chelsea's grasp.  It hadn't been entirely one way though, a Costa dive earned Holding a yellow card and there were a couple of Chelsea players lucky to escape yellows as well but overall a very competent Arsenal performance.  A scare for Ospina after he was accidentally caught in the head by Costa but he was able to continue.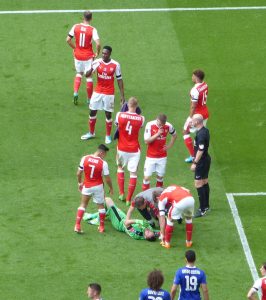 Arsenal kicked off the second half and Chelsea had clearly been given a talking to at halftime by Mr Conte as they looked far sharper forcing Arsenal to defend deeper and try to strike on the counter.  One such saw a very crude challenge by Moses earn him a yellow card. Mr Taylor had no choice at all it really was that blatant.
Then came the second decisive call for Mr Taylor, Moses burst into our penalty area with the Ox close behind him and tumbled to the ground.  We all expected his hand to point to the penalty spot but again no he didn't he gave a free kick to Arsenal and pulled out his yellow card again followed by a red.  Moses had been sent off for a dive.  Thank you Mr Taylor, I really didn't think that you would make that kind of decision (even though it was right).
Maybe we relaxed a bit as we were now playing against 10 men or maybe Chelsea dug that bit deeper but Costa (who else) eventually got a chance when he escaped from the pockets of both Per and Holding and struck a shot that neither could effectively block low to Ospina's left and into the corner of the net.  Again the crowd then played their part with a guttural cry to our players to COME ON ARSENAL.  Giroud came on for Wellbeck and 40 seconds later chased a ball on the left side of the 18 yard area, hooked his foot round it and centred the best cross of the afternoon for Aaron Ramsey who was the only player who fancied getting into the penalty area and he stooped and CONQUERED!  One for you to savour in Switzerland, Christophe.
We then played sensibly to see the game out, nothing unnecessary, we created more chances, Özil with a beautiful piece of control but shot straight against the post, bounced back against Courtois and out for a corner and a late late breakaway by Elneny who lacked the confidence to finish but it didn't matter as the whistle blew and Arsenal became the greatest club in FA Cup history and Arsène the greatest ever manager in Cup history.  Truly we felt that we were part of the Greatest Team the World has Ever Seen.
The Chelsea fans melted away from the ground before the medal ceremony but the Arsenal fans were rocking the joint for a good half an hour after the team climbed the stairs for their medals and the trophy.  A great day to be a fan and a fantastic occasion to witness.