By Tony Attwood
I know I know.  I have bored you stupid with talk about evidence.  The huge amount of evidence we have gathered year after year to show that the level of errors made by PL referees is so ludicrously high that at times the PGMO might as well employ a computer to give out decisions at random – knowing that this way at least 50% of them were likely to be correct.
Of course those who dislike evidence turn this notion of collecting data and looking at it to draw conclusions a "conspiracy theory" apparently without knowing what one of those is, or just how much data we've collected over the years.
But we go on and on and on and on and …. well, you know, eternally talking about evidence.
So when the Daily Telegraph, which represents the "no evidence but with long words" approach to football reporting says "Regular watchers of Sky Sports' Soccer Saturday programme will be well-versed in [Paul] Merson's particular brand of forthright opinion seemingly based on absolutely no evidence or research," it is worth taking note.  Have they suddenly left opinion based journalism and moved over to our way of thinking?  Have we won the debate????
Merson had been regularly laughed at for his wild rant against the appointment of Marco Silva as manager of Hull, and now at Watford.  It was similar to Tony Adams approach to the appointment of a Mr Wenger some years ago when he said, "He's French, what does he know about English football?"
Of course Merson and Adams are not alone with their xenophobia.  Phil Thompson said of Silva,  "It's astonishing that they have plumped for someone like this, when there are a lot of people out there who know the Premier League. He's not got a clue. It's a slap in the face for British coaches."
Merson is well known as a man who rates his ability to read the minds of others very clearly, telling us what they are thinking, and how false their thinking in.  True, he also has occasionally laughed at his own ineptitude as a manager, but the worship of opinion against evidence remains the dominant theme on Sky, and in most papers.
In the UK, although racism and discrimination against someone because of their nationality are both illegal, the expression of the notion that foreigners are stupid and cannot understand the English or British way is not deemed illegal (and our authorities are proving very slow to act against landlords and business people who are openly discriminate against "Europeans") and so the xenophobia continues and grows, endlessly supported by Sky (amusingly owned by a foreigner).
Of course many before me have pointed out that no Englishman has ever won the Premier League – an interesting statistic in itself.  But the Telegraph's turn towards evidence, even if it is just in one article, is welcome.  As is the comment, "Merson and others' ongoing prejudice towards foreign players and managers matters at a time when xenophobia in this country is on the rise. Giving pundits a platform to spout this sort of drivel without being challenged reinforces the idea that it is fine to overlook facts and reality as long as you shout loudly enough."
But this was not the only statistical and evidence based piece this past week, for the Guardian too took up the theme saying, "Football fans attach emotional significance to how many people turn up to watch their team play. We feel pride when our club packs out our home stands or takes a boisterous army on the road and we delight in mocking our rivals when clusters of empty seats punctuate their sections."
The article then talks about the way American attendance figures and how they are manipulated noting that Major League Soccer promotes itself as "the world's sixth most popular league based on a deeply flawed comparison to global averages."
Now I am not sure that attendance figures are actually that important when compared with the growth in the UK of the habit of refusing jobs to "Europeans" but the Guardian, which is generally quite a liberal paper, certainly put a lot of effort into gathering data from the US to show that this "crime" of manipulating crowd figures is rampant in that country.
And this is where things get very worrying.
The decline from the high and mighty quoting of the manipulation of the figures starts with the statement, "Most fans in the US seem unfazed about clubs lying to them about attendance, figures," without giving any evidence for that assertion.   But it rolls off the page, and somehow I guess many readers just accept that wild generalisation about American sports fans  as a fact, since the previous statement seemed to be fact based.
From here they go on to assert that "'Everybody else does it,' is a typical excuse for a practice that may benefit a club if those fake numbers succeed in attracting income to invest in better players, better facilities and, presumably, higher bonuses and salaries for the executives peddling such falsities. Perhaps American fans have merely become desensitised to blatant distortions. After all, the White House press secretary blethered on about a record audience for the inauguration of Donald Trump."
But accompanying all this is a picture of the crowd at the Emirates.  I am reproducing it below in the hope that the copyright owner doesn't sue me, on the grounds that this is the evidence I need to illustrate the perfidious approach of the Guardian's article.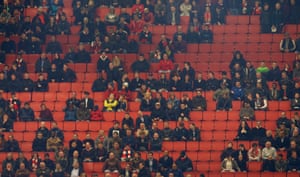 Yes that is the caption below: "Another full house at the Emirates".  The suggestion is clear: Arsenal lies to its fans and the media but the ever alert media knows a crook when it sees one.
Now just look at the crowd.  I can see people reading (probably the programme), people turning to talk to each other, people looking off to one side, some standing some sitting.  Of course I talk to those next to me during games – but I do it while still looking at the pitch.  No, this looks a lot more like pre-match or half time to me.
Fake illustration to make a fake point with a fake headline?  I rather think so.  And not for the first time – you'll maybe remember the picture the Telegraph ran taken from a match in the Emirates Cup in which Arsenal were not even playing, to illustrate the decline in attendances at the Ems.
The point is that there is a very minor issue over crowd numbers: do you quote the number of tickets sold  or the number of people who actually turn up?  Arsenal decided to stop the whole thing and quote neither some time ago.  The newspapers do quote crowd figures – but they don't tell us the source.  Which places the problem back with… the newspapers – one of which is complaining about fake news.
And then it gets murkier because the newspaper starts quoting police figures for crowd size.   "Greater Manchester Police records revealed the average crowd at Old Trafford during the 2012-13 season was almost 10,000 lower than Manchester United's figure; Celtic's publicised attendance of 49,428 for a league game against Ross County in December 2012 was more than 20,000 higher than the figure reported to Strathclyde Police for crowd management purposes; and Rangers' meeting with Queen's Park in October 2012 showed a discrepancy of almost 15,000."
And that raises the question: how do the police know?   I only have one contact in the constabulary and she told me that the numbers given by the police were "estimates".  Maybe she's wrong.  Maybe there is a head counting organisation within the Met.  Maybe they have clever software.
But maybe beyond everything the media should not start pretending an interest in accuracy, while at the same time using wholly inaccurate data, evidence and supporting pictures.
When it comes to football and the media, you can be sure of one thing.  You are being conned.