By Walter Broeckx
Another season, another PGMO hate party it seems. What we have been showing through detailed analyses all these years is just continuing to happen. And the worst part is that the media is just joining in with the referees and making nothing of it. They love it.
At Stoke we should have had four penalties. And we got a goal disallowed for Lacazette being 1 cm offside.
Yesterday Richeatlison dived to win a penalty and well lets have a look at the position of Deeney on the initial shot where he bumped in to Cech who tried to make a save, and so he was clearly very involved in the play after that. And let us consider the media silence on the possible offside of Deeney. Because we all remember how the media managed to show how many centimetres Lacazette was offside against Stoke.
As the media didn't focus on it (why one could ask) I use this picture to show you the difference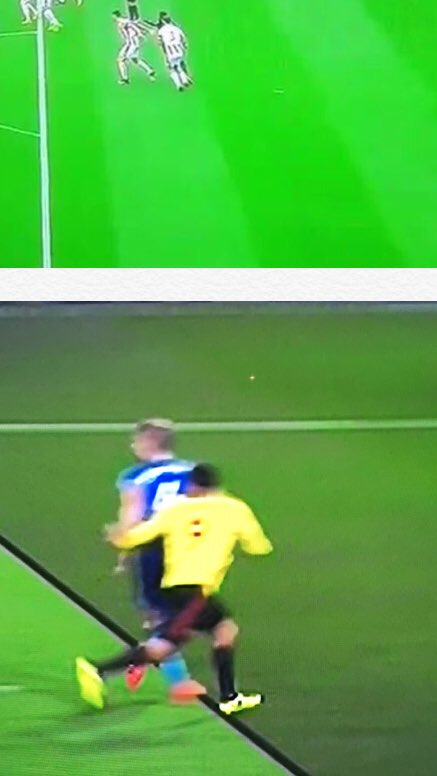 The top picture was a clear offside for the media. The lower picture was not even questioned. 
As we have said before we are not just dealing with incompetent/cheating refs. We are also dealing with a media that seems to do all they can to not say it like it is.
The Watford penalty was a blatantly wrong decision from the ref. Bellerin just ran next to the diving striker. To give a penalty there should be a foul.  And I challenge everyone to show me a foul from Bellerin. There simply isn't a foul. So why did the ref gave a penalty? Running next to a player is no foul. Unless you are an Arsenal player.
I think Swarbrick should come out (or the PGMO should come out) and admit the decision was wrong. And the media should have the balls to call it all out.
And most of all….. why is the PL the only big league to not have VAR working in its games? Is it because they want to allow the cheating as long as possible?
Of course VAR won't be a solution to all the errors on the pitch. But anyone (and certainly a ref) looking at that penalty decision should come to the conclusion it was not a foul and thus shouldn't have been a penalty.
But the PGMO is oh so slow in bringing the VAR to football.   Maybe because with a VAR system working we would have six points more in the league. Just look at the league table again with that in mind.
And that VAR can make a difference can be maybe best seen in the Juventus league.  Also known as the Serie A.
After Calciopoli it looked for a while that a whole range of teams could win it again. But once Juventus came back they started winning it again. Six times in a row. And more than once they got out of jail when things didn't look great with some inventive refereeing. Maybe too many referees grew up loving Juventus and couldn't stop their habit of helping them a hand.
But now VAR is working in Italy and suddenly the league table looks rather strange. Juventus is not top, instead the perennial winners are five points behind the league leaders Napoli…. and well, VAR might just have something to do with that.
For Arsenal it is rather simple. If we have a bad day like all teams do we will be sure that the ref will screw us to make sure we pay for our bad day. This was a penalty call specially reserved to be given against Arsenal. As can be seen by the blatant not given penalties against Stoke where clear fouls were ignored.
We are not only up against our opponents but also we are up against the PGMO.   That is not a new concept for Untold readers and indeed I wrote in the comment section before the match that I feared we could see some dodgy decisions going against us.  Once again it seems I was proven right. Not because I can tell what will happen in the future but more because of the research that we have been doing all these years of studying refs.
I just feared it would happen and my god did Swarbrick take his chance as it presented itself. With a VAR system the call would have been reversed. And if the VAR system had allowed that penalty to stand then it would have been the moment that I call the end of my football days. But no decent referee would want to see his name attached to such a decision and certainly not a referee who knows that VAR is watching him.
And the media…. they rather focus on things other than truth. Arsenal face XI players each time on the field. And they face refs who still manage to get it wrong (also because of the lack of a VAR system to help them or to correct them) and then we face the media that is full of Wenger/Arsenal hating former football players. We don't stand a chance against such a combination….
In a VAR world we should and would have  six points more. But the PGMO from Mr. Mike –  98% correct decisions – Riley keeps on getting the chance to do us over and over again just as he did in match 50.
---
Last season Untold Arsenal's team of researchers analysed the first 160 games played in the Premier League, and presented their findings week by week with video evidence.   You can read all the results in 160 games analysed.
You might also find interesting: Football analysis: hear it, read it, see it enough, and it starts to become true.