By Jerry Jones
The Gunners have spent £105m this season on two centre-forwards of real world-class quality. Alexandre Lacazette finally secured his move abroad after leaving Lyon in the summer, before being joined by Dortmund's Pierre-Emerick Aubameyang in January. The only issue now is how to get the best from both players at the same time.
Football tactics have evolved over the past decade or so and the days of two up front seem to have passed us by. Once upon a time, a strike partnership was the stable of any great side: Sheringham and Klinsmann, Yorke and Cole or Beardsley and Lineker.
However, the Premier League of 2018 brings more emphasis on the midfield and wide players, with a lone centre forward often the preferred option. With that in mind, can Arsene Wenger possibly squeeze his two prized assets into a starting eleven? It isn't a problem he has to address immediately as Lacazette is on the sidelines with a knee injury, but when he returns, decisions need to be made.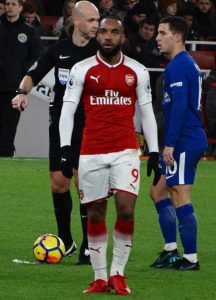 Lacazette by @cfcunofficial (Chelsea Debs) London from London, UK – Arsenal 2 Chelsea 2 (CC BY-SA 2.0)
Wenger has a couple of options, one of which is to play Aubameyang out wide on the left, Ozil in the centre of the attacking midfield three and Mkhitaryan on the right. That would leave Lacazette up top on his own and get both players on the pitch. There are obvious downfalls to this, though, not least it diminishes the effectiveness of Arsenal's record signing. Also, Mkhitaryan and Aubameyang have a relationship from their Dortmund days, but being on opposite sides of the pitch may stifle that. Put simply, that won't happen.
No, Arsene Wenger has brought Aubameyang to play up front which means if anyone is going to make way, it will be Lacazette. French publication L'equipe insisted that it would be Lacazette forced out onto the flanks, despite only being half a season into his £47m switch.
Aubameyang by Dirk Vorderstraße – Pierre-Emerick Aubameyang (BVB) (CC BY 2.0)
If Arsene really wants to accommodate both, he could revert to a 4-4-2 and go 'old school'. Gunners legend Thierry Henry thinks this is the smart way forward and in doing so, he retains both Mesut Ozil and Granit Xhaka in midfield. That might not be entirely positive, though; after all, Xhaka has come in for criticism from some of his own fans.
Currently, Arsenal's odds of qualifying for the Champions League can be found decreasing by the day with Betsafe's football predictions and betting tips, but successfully integrating the two big-money signings could put paid to that. Xhaka has come in for some criticism and certain fans think the solution might not be 4-4-2, but a variation of 3-5-2.
The outcome is the same: Lacazette and Aubameyang start up front, but summer arrival Sead Kolasinac plays as a left-sided wing back and Hector Bellerin on the right. Ozil, Mkhitaryan and Wilshere occupy the middle ground, meaning Xhaka is relegated to the bench.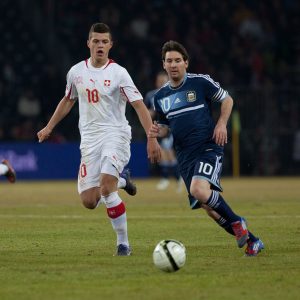 Granit Xhaka (left) by Ludovic Péron (CC BY-SA 3.0)
Arsene Wenger isn't prone to bouts of transfer folly and fans won't stand for having £47m worth of striker on the bench when the team are struggling for goals. Whether the result is to force one out wide or not remains to be seen, but surely to reap the rewards of such extravagant investment, both players must play in their favoured position.
If Wenger gets this right, Arsenal could be set for a glorious 18 months of free-scoring football. Get it wrong and it could accelerate the end of his tenure in charge.