By Tony Attwood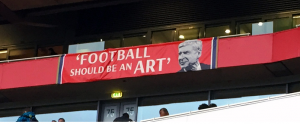 It is interesting when following an unexpected event, to see how long it takes for the mainstream media to come in with one of their conspiracy theories – which is to say, an explanation for events for which there is no evidence at all, and which requires quite a stretch of the imagination to make it fit the facts that are known.  Indeed if we go on at this speed by the time we get to the West Ham game the fake news teams will be out denying that Arsene Wenger ever was manager of Arsenal.
Thus it was about two hours after the announcement came out that Mr Wenger was leaving that the Guardian ran with its "Fear of sack persuaded Arsène Wenger to walk away from Arsenal" headline.
It then ran two sub-headlines
• Arsenal's board increasingly alarmed by team's domestic form
• Wenger to depart in summer having led club to three league titles
Very quickly the headline started being copied, although not by the mainstream media, which for once actually scratched their heads in puzzlement at where the Guardian had got that one from.  Newslocker.com and news.us.uk both went with it in variation formats but otherwise everyone took a step back at least for a moment.  Others may have followed; I really couldn't be arsed to keep checking.
The banner pictured above was paid for by readers of Untold, and has been in the Emirates for several years now.  I'm very hopeful that even when we have a new manager the banner will stay at the ground, as a tribute especially since Mr Gazidis particularly mentioned the phrase we quote in his interview.
It is the phrase which has been on the top of this site almost since the day we started and I'm really pleased that Mr Gazidis thought of it when speaking to the press.
Were the board increasingly alarmed – so alarmed that they forced the manager to announce his resignation at this moment, before the most important games of the season?  It is possible on the grounds that in effect, anything is possible, but is it likely?
I don't have deep enough contacts within the clubs to know what really happened, and any scraps I have picked up are very much on a "don't quote me" basis but on that basis, no I really don't think so.
So why did the Guardian run this piece.  Well, if we look at the three articles the Guardian journalist David Hytner wrote immediately prior to that highly speculative piece presented as a factual summary, we can get a clue as to what is going on.  His three articles for the Guardian prior to that one were…
"

FA Cup victory would not change Tottenham's life, says Pochettino"

Wembley factor can help us win FA Cup, says Tottenham's Jan Vertonghen

Harry Kane on target for Tottenham but Pascal Gross earns point for Brighton
And no, I haven't selected them from a long lists of pieces.  Those were the three stories that preceded the piece about the board sacking Mr Wenger because they were alarmed – presented of course with no evidence.  What we see is that for the rest of the time this writer gives us one fawning Tottenham article after another.
Not everyone was quite this awful.  Miguel Delaney of the Independent in fact was rather good I thought when he wrote, "Working as a journalist covering Wenger, the bottom line was this: if you asked him a proper football question, you got a proper football answer – and usually a whole lot more."  As when on being asked to comment on Danny Welbeck being accused of diving in the AC Milan game Mr Wenger said, "I haven't seen the incident," before smiling and adding "Do you want to accuse the English players of being divers?"
Delaney added, "When it came to his press conferences, every journalist there gained the debate-starting quote for a big issue in the game, a comment that was so brilliantly insightful that it would pretty much have to be referenced any time the discussion came up.
"Wenger remained by far the best at this in the Premier League, probably rivalled only by Jose Mourinho, who is supreme value for such discussions when in in the mood. Even the Portuguese, however, wouldn't go to the sociological levels Wenger was willing to.
As indeed in his classic line, "What has changed, is the society."  If you recall Mr Wenger then went on…
"We live in a society that is more demanding, that is more opinionated. The overall problem in Europe is that the respect for basic things has been lost, or is less strong than it was 20 years ago. As well you have positive things: people are better informed, people are better educated. People have more knowledge of the game. You have to think of balance."
But "balance" and the football media never meet.  Not once, not ever.
From the Arsenal History Society