Lacazette Can Use Arsenal Form to Fire France to World Cup Glory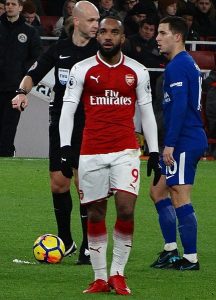 "Alexander Lacazette" by Chelsea Debs (CC BY-SA 2.0)
The World Cup this summer will feature many Arsenal players and the one that looks to have the best chance of winning the World Cup appears to be Alexander Lacazette. He has been in great form for the Gunners, especially in recent weeks and he can take that with him to fire the French to World Cup glory.
Arsenal broke their transfer record last summer to bring Lacazette to the club, and he is a player they will build around for many years to come. While Lacazette looked in good form when playing on his own, his game has gone to another level since the arrival of Pierre-Emerick Aubameyang. The Gabonese striker has quickly built up a relationship with his French counterpart, and the pair of them have scored many goals for the London club. With these two in attack, the future looks bright for Arsenal and their new manager will have two world-class players to work with when he takes over.
When Lacazette heads to the World Cup this summer, he will be looking to take his good Arsenal form with him, and the French fans will be hoping he does just that. France are one of the fancied teams this summer, and went close at Euro 2016, losing in the final to Portugal. They have kept the majority of that squad together – although, Lacazette's Arsenal team-mate Laurent Koscielny will miss the tournament due to injury. His experience and quality will be missed, but France have a good squad and have the players available to step in when injuries occur.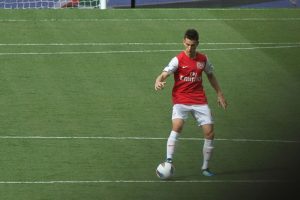 "Laurent Koscielny" by Ronnie MacDonald (CC BY-SA 2.0)
For those who bet on World Cup 2018, France are certainly a team to consider at 6/1. They have been handed a very good draw, with their group putting them against Denmark, Peru and Australia. They should win that with ease, gaining confidence and stringing together some good results before they move on to the knockout round. Their group is not the only thing going in their favour; they have been handed a potentially nice draw in the first knockout round too. Assuming they win their group, they will face the runners-up in Group D, likely to be Croatia, Iceland or Nigeria. France will fancy their chances against any of those three, and a win at that stage would put them into the quarter-finals, where anything can happen.
France are one of many teams that will head to Russia with a big chance of winning the World Cup. However, with Arsenal star Alexander Lacazette spearheading their attack, fans of the Gunners will be even more interested in how they perform this summer. Lacazette has performed very well this season, and he will be looking to take his form with him to Russia and, if he does, he is likely to play a huge part for France when the tournament gets underway next month.
If an Arsenal player is going to lift the World Cup trophy this summer, Alexander Lacazette may just be the man to do it.