By Tony Attwood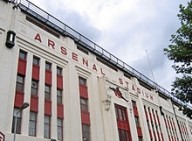 The "last six results" table below reflects where Arsenal is in terms of the last six games played by each club in the top half of the league.  The final column on the right shows the actual position of the club in the current league table.
The fact that the top five clubs that appear in the table of the last six results are also the top five in the league overall, suggests that the clubs below are not going to catch them, as we have probably known this for some time.  In other words the chaotic results that we have seen earlier in the season following the abandonment of crowds at matches, have reduced somewhat and clubs are now playing to form.
However the figures does bring home the stark reality that given the way things are running at the moment there is only one European place up for grabs – that being sixth place.
In the actual league table, sixth spot is occupied by Everton.  In the "last six" table however it is occupied by Arsenal.  Here is that current "last six matches" table.  The final column shows the clubs' actual position in the full league table.
P
W
D
L
F
A
+/-
Pts
Actual
1
Manchester City
6
5
0
1
15
6
+9
15
1
2
Leicester City
6
4
1
1
14
7
+7
13
3
3
Manchester United
6
3
3
0
7
2
+5
12
2
4
Chelsea
6
3
3
0
6
1
+5
12
4
5
West Ham United
6
3
1
2
8
4
+4
10
5
6
Arsenal
6
3
1
2
10
7
+3
10
10
7
Tottenham Hotspur
6
3
0
3
11
8
+3
9
7
8
Everton
6
3
0
3
6
7
-1
9
6
9
Wolverhampton Wanderers
6
2
3
1
5
6
-1
9
13
10
Fulham
6
2
2
2
3
5
-2
8
18
The fact is that being in 10th position in the actual league table, Arsenal have to make up five points in the remaining ten games of the season, and have to overtake Everton, Tottenham, Liverpool and Villa in doing so.  This in effect means we need all of them to stay where they are… below us in the "last six" table, from now to the end of the season.
Making up five points over ten games obviously means making up one point every other game.  So two wins for us and two defeats for each of them them would do it.  But these are by definition clubs in the upper part of the league so they don't drop points so quite so readily.  Besides they too are aiming for the elusive sixth place so will be expected to do well against lower teams.
Which is why watching the last six table is now relevant if we want to know who will end up in the top six.
As you might expect of clubs at the top of the league measured by the last six games, the only clubs they lose to tend to be other top six clubs.  And indeed checking recent results that is almost completely true.  The only exceptions in the last six games of the current top six clubs are
Leicester lost to Arsenal (10th)

Everton lost to Burnley (15th)
But the clubs in the next four positions (Tottenham, Liverpool, Villa and Arsenal) need to be beating everyone else in the top 10 in order to clamber up the table. 
So quite simply, if we take it that the top four are going to be secure anyway we need to watch the form of West Ham, Everton, Tottenham Liverpool Aston Villa and Arsenal.  Here's how they have done against other top 10 teams in the last six.  So we are looking for anything that shows signs of slippage…
West Ham:  Drew with Fulham
Everton: Lost to Burnley
Tottenham: Lost to Arsenal
Liverpool: Lost to Fulham, and Everton.
Aston Villa: Lost to Sheffield United, drew with Brighton, Wolverhampton and Newcastle
Arsenal: Drew with Burnley
Put in terms of points lost in these games will lower clubs we have
| | | |
| --- | --- | --- |
| Club | Points lost unexpectedly | Reason for loss of points |
| Arsenal | 2 | Drew with Burnley |
| West Ham | 2 | Drew with Fulham |
| Everton | 3 | Lost to Burnley |
| Tottenham | 3 | Lost to Arsenal |
| Liverpool | 6 | Lost to Fulham and Everton |
| Aston Villa | 9 | Lost to Sheffield U, drew with Brighton, Wolverhampton and Newcastle |
So, if things carry on like this, yes we will sneak into the top six, but we are totally dependent on the ineptitude of others, and the aptitude of Arsenal.
Beware: nerve wracking experience ahead. 
The Arsenal video collection: free
70 historic Arsenal videos with more being added each day
How referees influence games 
How clubs manipulate referees through their tactics
Proving unconscious bias by referees is rife in the Premier League: penalties